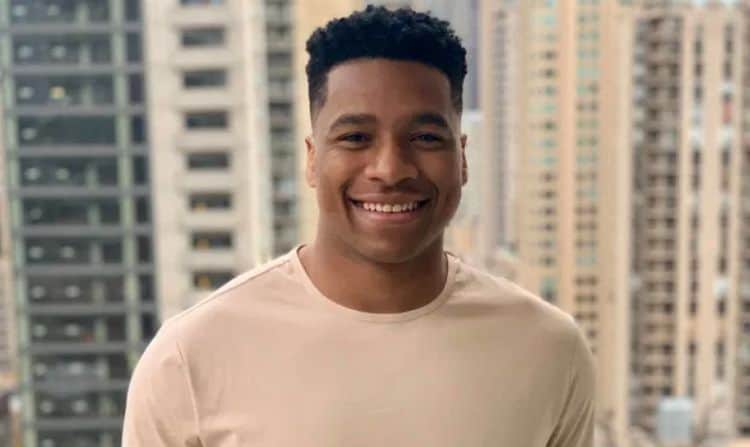 Now that season 17 of The Bachelorette is officially underway, there are a few guys that have started to get lots of attention. Andrew Spencer is one of them. His good looks and confidence are impossible to ignore. Although he and Katie may not have the strongest connection just yet, Andrew has all of the qualities he needs to be a top contender on the show. That being said, Andrew is going to have to work hard to show Katie that he's the one she should choose because this group of guys didn't come to play. Now that people are already heavily invested in his journey, Andrew has a lot of people wanting to see him win. Here are 10 things you didn't know about Andrew Spencer.
1. He Is An Illinois Native
For the most part, Andrew is a pretty private person. As a result, we weren't able to find much information on his upbringing. However, we do know that he is originally from the Chicago area and he's very proud of his midwestern roots. He currently resides in Illinois for half of the year.
2. He Loves To Travel
Sitting still has never been Andrew's forte. He's the type of person who likes to be out and about and he's always looking for something to do. Traveling has proven to be the perfect way to satisfy this itch and he's been blessed to visit places all over the world. Some of the countries he's visited include Turkey and Italy.
3. He Is A Professional Football Player
Sports have always played an important role in Andrew's life. During an interview with American Football International, Andrew said, "Football is my first love, it's something that's always going to have a special place in my heart." He plays professional football in Europe for the Vienna Vikings.
4. He Wants To Have A Big Family
Family is very important to Andrew. He comes from a close-knit family and is especially close to his mom and grandmother. His goal is to eventually keep the tradition going. His bio for The Bachelorette reveals that he would like to have five children one day. The only missing piece is finding the right person to settle down with.
5. He Loves Margaritas
Many people would agree that there's nothing like a nice drink after a long day. Andrew Spencer's drink of choice is a nice margarita. In addition to his love for drinking margaritas, Andrew also likes to make them and he's willing to test his skills by challenging anyone.
6. He Is Stylish
After his first appearance on The Bachelorette, some people have been making fun of the turtle neck Andrew wore during the episode. Andrew, however, isn't sweating what people have to say. He knows he has a great sense of style and he isn't afraid to take risks with his outfits.
7. His Cousin Was Also On The Bachelorette
Apparently, being on The Bachelorette is a family thing for Andrew. His cousin, Clay Harbor, is part of The Bachelorette franchise as well. Clay was a contestant on season 14 of The Bachelorette. He ended up leaving the show early. Clay appeared again in a season of Bachelor in Paradise.
8. He Is Somewhat Of A History Buff
Is there one period in history that you just love to learn about? For Anthony Spencer, the answer to that question is yes. He's really interested in everything having to do with ancient Rome and he wants to learn as he can. Back in 2019, he got to experience a dream come true when he went to visit the Colosseum in Rome.
9. He Is 26
At 26-years-old, Andrew is one of the younger contestants on this season, and he's about four years younger than Katie. To some people, a four-year age difference is a huge deal, but since the competition on The Bachelorette is so fierce, age could end up playing an important role. Andrew's age and the fact that he lives out of the country for half of the year may lead Katie to believe that he isn't serious about settling down.
10. He Has A Knack For Accents
If you've ever tried to mimic someone else's accent, you know that it's not nearly as easy as it sounds. Andrew, however, seems to have a natural talent for picking up accents. His Bachelorette bio states that Andrew "has a great sense of humor, and one of his favorite party tricks is imitating accents from around the globe." Maybe we'll get the chance to hear him do a few at some point during the season.