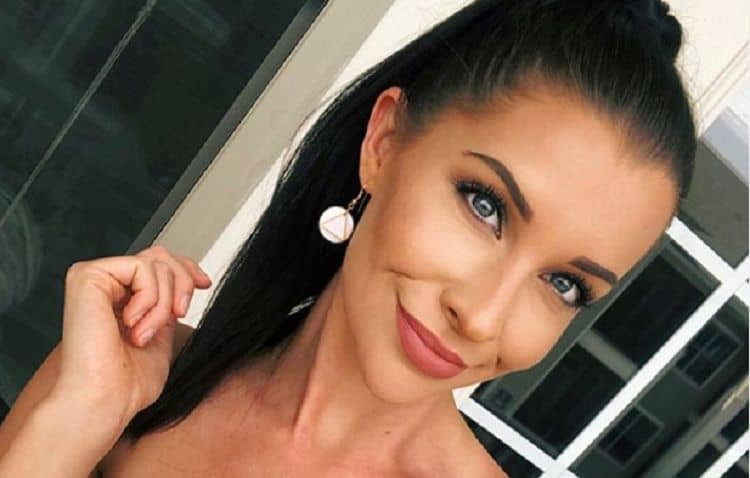 The male gender extensively dominates the world of motorsports, and initially, there was a notion that women could not join this world. However, things have changed, and women are nose-diving into the field and competently competing. Amber Balcaen is a perfect example of the women who are giving it their best shot in motorsports. According to her LinkedIn profile, Amber Balcaen is a recognized professional racing car driver under the umbrella of Kyle Busch Motorsports. She currently competes in the NASCAR races. Furthermore, the motorsport celebrity is also featuring in the hyped CTM's "Racing Wives" reality show. She is not a wife of a racer but a racer of her own making. There are a lot of things that constitute the character of Racing Wives and motorsports racer, Amber Balcaen. Some of the most outstanding things about her that you don't know include the following:
1. Her personal life
According to Answer.com, Amber Balcaen was born in 1992 in Canada. Her parents are Kim Balcaen and Mike Balcaen, and it seems that Amber may have drawn inspiration from her family. Her father happens to be a motorsport racer too with 48 track championships under his name while her grandfather was also a great racer. Currently, the celebrity is said to be dating Jordan Reaves, a Canadian professional football player with whom they have been together since 2017.
2. Her education
Amber Balcaen is not a dumb celebrity but holds a Bachelors Degree in Business Management and Marketing from Red River College. She claims she has applied her deep understanding of marketing in securing sponsorships and cars owners for her racing bids.
3. She is an Entrepreneur
The motorsports celebrity Amber Balcaen is also a renowned entrepreneur applying her business knowledge accordingly. She owns and runs her own racing company, Amber Balcaen Racing Inc., where she leads as the company's president. The company manages upcoming and professional racers.
4. She is a Public Speaker
Unknown to many, Amber Balcaen is an inspirational public speaker. As revealed in her LinkedIn profile, she uses her social status as a celebrity to positively empower the public. Many in society look up to her as their role model. She further claims that her role as a celebrity entails more than winning races but also uplifting others in the community. Moreover, she has a high affinity for brands and sponsors that help her to impact those around her positively.
5. Her Social Media Presence
Most celebrities have a vibrant social media presence as these platforms offer the most accessible pathway for interaction with their fans and even critics. These platforms are also used as a yardstick to measure the popularity of celebrities. Like other celebrities, Amber Balcaen also has a massive impact on social media. She boasts of about 10.5k followers on Twitter and 44.3k on her Instagram account. Her Facebook page also has about 19.6k followers. Such figures are enough proof of the celebrity's popularity in society. She uses these platforms to sell her brand, Amber Balcaen Racing Inc. as well as garner the support of her fans in different events.
6. She was the first woman to win a NASCAR Racing event
In a male-dominated profession, Amber Balcaen has managed to carve her career and even topple the gender that was initially thought to be superior in this field. Back in 2016, Amber Balcaen became the first Canadian woman to win the NASCAR racing event that was held in the USA. She managed to beat high profile male racers to claim the top position. This feat was a strong message to the world that women could also thrive in the world of motorsports.
7. She is currently starring in Racing Wives Show
Adorning her amazing looks, Amber Balcaen is gracing the screen with her appearance in "Racing Wives" reality television show, according to her interview with the HomeWork Help Canada blog. The show focuses on the life of motorsports personalities' wives, but Amber Balcaen will be featuring as a driver. On the show, she exposes her struggles in her career with a lack of sponsorships being her highlighted challenge. She further reveals her thirst to influence the young generation positively.
8. Her Net Worth
Amber Balcaen draws her income from multiple sources, from her racing career to running her company to her appearances on reality shows. As such, the celebrity is thought to be making millions and doing exceptionally well financially. She has however worked tirelessly to get where she is and to earn the millions she receives. As at the start of 2019, Amber Balcaen's net worth stood at precisely 600,000 dollars. This amount is no mean feat for a self-made celebrity. Moreover, it is likely to massively increase over the years since her deep establishment in the motorsports' career has continued to attract well-paying sponsors.
9. Her Other Achievements
According to Earn The Necklace, Amber Balcaen is not only a NASCAR champion but also flaunts multiple successes in the course of her career. Amber Balcaen is a renowned social media personality whose mission is to influence women and young people. Furthermore, she is the current spokesperson for Kal Tire spearheading the company's winter campaigns. Amber Balcaen has also featured as the co-host of season three of "Car's That Rock" show alongside the Rock and Roll veteran, Brain Johnson. The motorsports race driver is also said to have initially made a breakthrough on the screen on "News Rising" show.
10. Her Career's Challenges
All careers have their shares of challenges that haunt those in such fields. Amber Balcaen's job is also full of problems too. It should not escape our minds that our hotshot is out in a male-dominated profession where there is not so much belief in the abilities of the female gender. As such, getting sponsors is very hard. Amber Balcaen reveals that to participate in a race, she requires over $400,000 amounts that are quite high. In the absence of a good sponsor, she may not engage in such a competition.
Tell us what's wrong with this post? How could we improve it? :)
Let us improve this post!