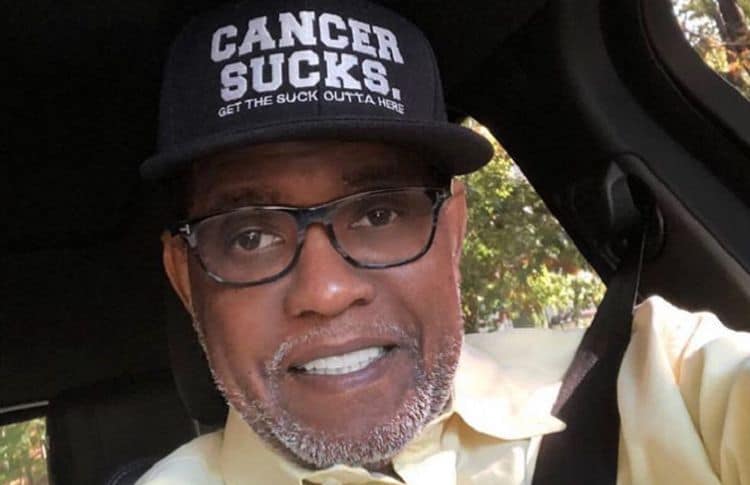 NeNe Leakes has gained a fair amount of fame from her role on reality television show 'The Real Housewives of Atlanta'. It is through her steady role on the Bravo series that Gregg Leakes came into the spotlight, making appearances due to his unsteady relationship with her, which went from hot to cold, and back again, in no time at all. Over the duration of the series, viewers have gotten to know the couple and their relationship better than they wanted to, but they continued to watch as if it were a train wreck playing out before their eyes. Getting to know NeNe has been a bit simple, and thanks to that fact, getting to know Gregg has been just about the same.
But there is more to the man than what has met the eye thus far, and sometimes it's better to get information outside of that which is obtained on a normal basis. Since popularity and fame have come somewhat easily to the stars of the show (and their spouses) we thought it was about time that we got to no Gregg on our own, without NeNe's direct influence, so we began to dig. Our work resulted in what we have here: a brief compilation of facts from the life of Gregg Leakes. Now, maybe you are asking yourself why you would care about learning such things; after all, the man would be essentially unknown to most of us, were it not for the fame of his flame. But I challenge you to consider how we, as viewers of the show, can watch with an impartial eye if we only see what is mostly one side of the story, and told almost directly from NeNe's perspective? Or, at the very least, in a manner that is prejudiced in her favor.
Here is your opportunity to find out the facts for yourself…the superfluous ones, anyway. A list of ten things you probably didn't know about Gregg Leakes are listed below, in no particular order. This information may not sway your stance on the relationship between him and NeNe, or influence you on anything, for that matter. But at the very least it gives the man a chance to be seen from a more human viewpoint. So take your eyes off the main stars for a moment and get to know one of the spouses a bit better. Here are…
10 Things You Didn't Know About Gregg Leakes
1. Occupation
The thing about supporting reality stars is that they typically have a job outside of the show you are watching. Gregg is no exception. In 'real life' he is a real estate investor who also does some consulting in the field. While some might call his relationship with NeNe a full-time job, the fact is that it doesn't pay as well as investing and consulting, so we can leave that where it is.
2. What About NeNe, Anyway?
Jokes were often made on 'Real Housewives' regarding the relationship between Gregg and his ex-wife. The scoop is that the pair were married to each other once prior to the show, but they divorced in 2011. Only two years passed before they were not only together again, but engaged to be married for a second time, according to DreShare. Their relationship runs about as hot and cold as an unstable kitchen tap, or at least, it has throughout its duration. We can say with surety that the man obviously has deep affection for her, or he wouldn't marry her twice.
3. On Cancer…
Yes, the reports given by NeNe on her Twitter account are true: Gregg was diagnosed with cancer. The information wasn't released until she made it public on the social media platform. The actual diagnosis was Stage III colon cancer, and it was given in June of 2018. Initially the cancer was treated by surgery, but Leakes decided against chemo when the surgery was over. In September of this year Bravo TV announced that Gregg Leakes is happily cancer-free. The scare offered the man an excellent opportunity to share his story with other colon cancer victims and help to break the stigma surround this specific cancer type.
4. Birthday and Zodiac
Born August 18, 1954. Leakes is a Leo, which is said to be filled with confidence and strength, and at times can be a bit harsh with those he associates with. Leo's also prefer their lives and the different aspects of it to remain transparent, and they keep their thoughts and intentions clear with others around them as well, which the harshness can likely be attributed to.
5. Early and Persona Life
The sixty-five-year-old was born in New York City, but information on his parents and/or siblings is not readily available. We do know that he has been married and divorced once, to NeNe, of course, and that he has five children from several relationships in his past. The names of his children are Damien, Daryl, Dexter, Denton, and a daughter, Katrina. He has two children from his relationship with NeNe; their names are Brentt and Bryson. A granddaughter, Bri'Asia Bryant, was born in 2012.
6. Leakes' Lists
Believe it or not, Gregg has made several popularity list, thanks to his 'Real Housewives' association. Famous Birthdays has him listed at number 18,116 on their Most Popular list, followed by a rating of number 3 on the First Name 'Gregg' list'. On their Born August 18 list he made number 47, and he came in at number 35 on the 65-Year-Old list.
7. Net Worth
For us, this particular section of the list is always the fun part. While NeNe has an estimated net worth of $14 million thanks to her 'Real Housewives' $1 million-per-episode paydays, Gregg is no slouch in the earning department, either. He has a self-made $4 million, so when their assets are combined, we're talking a very comfortable living situation indeed.
8. Education
While he did attend high school, Mr. Leakes has no formal training in the areas of real estate or business. According to The Famous People, Leakes is completely self-educated in the areas of his profession, including real estate investing and business. In case you are wondering, he also didn't attend any acting classes prior to his stint on RHOA.
9. A Life on Video Tape
After announcing their re-engagement, Bravo, in agreement with the Leakes couple, decided that they would televise the second wedding of Gregg and NeNe, documenting it on 'Real Housewives'. That is just what they did do, and the wedding was chiseled in the history annals of television on an episode of the show entitled 'I Dream of NeNe'. Though he had taken a hiatus from the show after their divorce in 2011, however, he returned after remarrying, which allowed Bravo to continue televising the rest of their life, as well.
10. Criminal History
Gregg and NeNe may be living life on the straight and narrow, but it has come out that no one should judge a book by its cover. According to Lovebscott.com, NeNe herself was arrested on several occasions for theft, but what about business-suit-wearing husband, Gregg? As it turns out, Gregg, too, has a criminal background. The source received a screenshot of charges he had against him in prior arrests, but no mug shots of the man were obtained. All we know is that he had allegedly written bad checks, committed assault at one point, and even received stolen goods. All of this is in his past, however, and both Gregg and his wife seem to be crime-free today.
Well, to be honest, before today I had never heard of Gregg Leakes (though NeNe is hard to miss). Now I can say I not only know who he is, but I probably know more about the man than I initially wanted to. We are glad that he is cancer-free; no one delights in the sickness of another. And to get a second chance at love with the same person is hard to come by. He has enjoyed the blessings of riches and children, and even a stint as a celebrity thanks to RHOA. Even all of that couldn't stop us from saving the best (criminal history) for last, but with all due respect, the past should be forgotten. Hopefully the marriage between Gregg and NeNe works out, and most of all, we hope there is no more larceny between the two. Hope you enjoyed reading about Gregg Leakes' ten things, and may you be able to see us again soon.