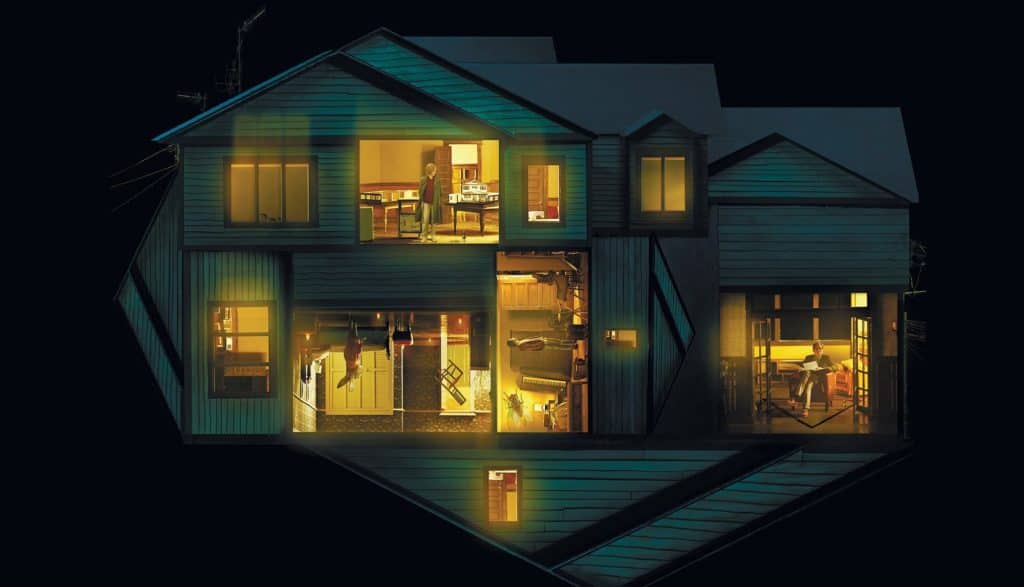 Ask anybody who's been around the block a time or two and chances are that they will tell you that the last four years have been the most abjectly terrifying in recent memory. It's like somebody compressed the 1918 Flu Epidemic, the Great Depression, the Cold War "duck and cover" drills and the mid-century lynchings in the Southern United States and blended together into one nightmarish slurry. Hell, September 11 was right smack dab in the middle of my formative years, and I grew into my teens and adulthood during two generation-spanning wars in the Middle East, two once-in-a-lifetime economic depressions, two grievously failed Republican presidencies and the rapidfire apocalypses that are 2020.
The one silver lining in all of this is that the horror genre has historically thrived during times of economic and social turmoil. The 1930s into the 1940s gave us the Universal Monster movies and the Val Lewton-produced RKO horror movies, the 1970s and 1980s gave us the lead-up to and heyday of the initial Slasher movie cycle, 1990s Japan gave us the J-Horror boom, the 2000s gave us the resurgence of the Zombie movie and the 2010s have been a nonstop litany of classics-to-be. Unsurprisingly, my favorite movies in recent years have almost all been horror movies. We already discussed Us (2019) – although even Parasite (2019), my runner-up from last year, could have worked just as well – and when I get around to talking about 2017, it'll be with another chart-topping spine-tingler. And while there were a lot of great horror movies from 2018 that I could have discussed instead – from Luca Guadagnino's Suspiria to Coralie Fargeat's Revenge – the standout best movie of the year (horror or otherwise) was Ari Aster's debut film, Hereditary.
Following the death of her long-suffering mother, Annie Graham (Toni Collette) falls into a deep and debilitating depression. Although she attends a support group and even makes friends with a kindly old woman who understands exactly what she's going through, she is barely able to cope at home with her husband and two children. After the shocking death of her daughter Charlie (Milly Shapiro), who was being watched by her now-traumatized son Peter (Alex Wolff), their little family devolves into absolute pandemonium. But with a little help from Annie's friend Joan (Ann Dowd), it seems as if Charlie's presence still lingers within their house.
I've said this before and I will say it again: I will never understand how people who have actually seen this movie can think of it as something nothing more than a simple haunting / cult story: something along the lines of Rosemary's Baby (1968) or Aster's own follow-up to this, Midsommar (2019). Like so many of the best horror movies released in the last decade, there is so much more going on in the margins and at the core of this movie than the simple, generic trappings that it drapes itself in for a bit of extra color You see, Hereditary isn't about Charlie's disembodied spirit or a conspiratorial cult or the demon lord Paimon; it's about a deeply unwell woman with a long family history of mental disorders who suffers unbearable trauma after unbearable trauma until her psyche snaps entirely. Repeatedly seeded in the film's first half (with references to Annie's and her family's mental disorders, their history of violent destructive behavior and the many, many real-world stressors that worsen her precarious mental state over the course of the film), the last hour of the film is devoted to her subjectively-told descent into self-annihilation.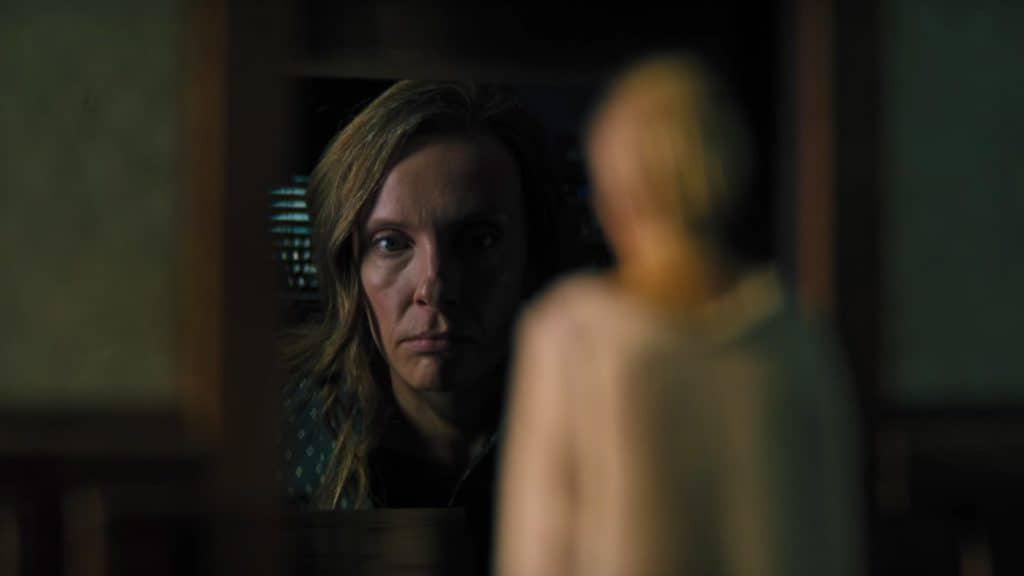 The craft with which Ari Aster constructs his characters and their story is truly unreal, with enough attention paid to the details of each of its parallel narratives that it is almost understandable that so many people have missed the specifically mental focus of the film for so long. Taken just at its surface level, the film works as the chilling tale of a malevolently-orchestrated scheme by the human worshippers of a demonic entity trying to hijack a family to resurrect their dark god. And the thing is that that version of the story is so viscerally satisfying, delivering all of the expected scares, deep-lore and oppressive dread that fans of the genre positively live for. But for those willing to delve a bit deeper and examine the film with a more abstracted lens, the version of events that await is so much more nuanced and humanistically interesting, existing in conversation with movies like The Babadook (2014) and Relic (2020) every bit as much as its more straightforward connections with Rosemary's Baby and The Exorcist (1973). And for viewers who remain drawn towards that more iconic, straight-on cult version of Aster's story, Midsommar (2019) exists to further sate your appetite.
Similar to Lupita Nyong'o in (or, really, the entire cast of) Us, Hereditary is a masterclass of acting that was maddeningly overlooked by the guardians of supposedly good taste during the end-of-year awards blitz. Toni Collette has never been better than she is here, convincingly portraying both the supernaturally possessed and increasingly mentally deranged versions of her character. Like a shadow in the dead of night, Toni Collette seamlessly melded into the role of Annie Graham over the course of 127 minutes, most of which were consumed entirely by her utterly showstopping performance. The dinner scene, where she endlessly lays into her son for Charlie's accidental death is a gutting experience, the kind that hollows you out and burrows into the hole where your beating heart used to be. That it went completely overlooked by so many industry personal (who, by rights, should have known better( is nothing short of critical malpractice.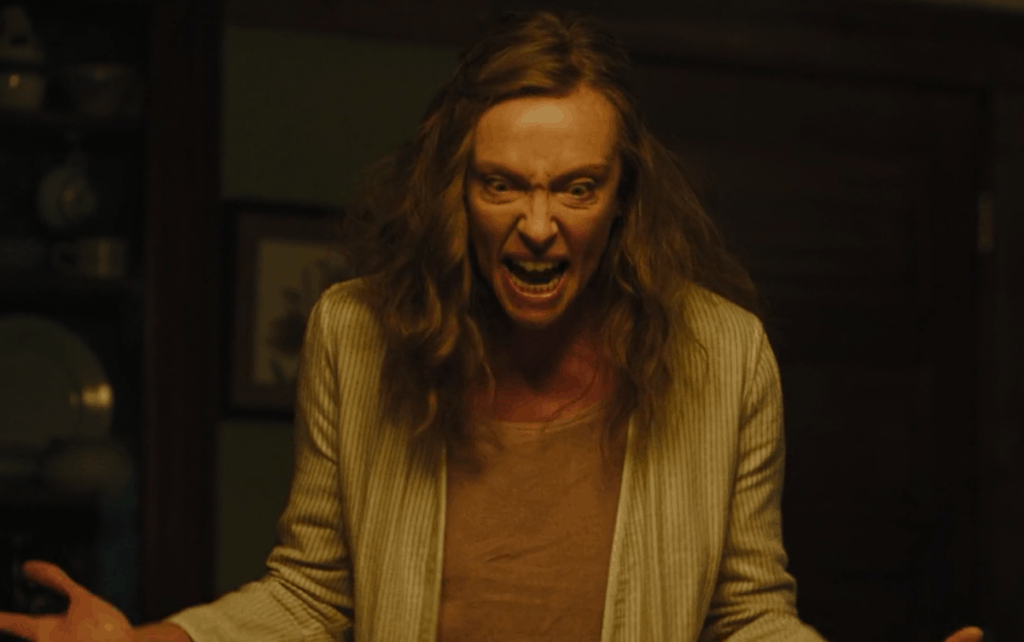 Mr. Aster certainly has a long and prosperous career ahead of him. The one-two punch of Hereditary and Midsommar prove that he is a visionary force to be reckoned with, well acquainted with the subtle nuances of the genre he clearly is compelled to play in. Hereditary is, by rights, a harrowing entry into the horror canon and one of the all-around best films to come out in the last decade.