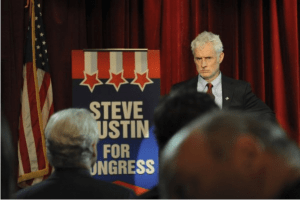 It's a real shame that this episode of 30 Rock didn't air the week before the election. NBC thought it was a better idea to show something called Scared Shrekless. Oof.
Poor network decisions aside (I'm looking at you, too, AMC), tonight's lampooning of congressional candidates was a very refreshing change of pace after months and months of real-life campaign ads.
With representative Bookman (Queen Latifah's character from earlier in the season) publicly denouncing NBC's merger with Kabletown, Jack must throw his weight behind her opponent Steve Austen. The problem is, her opponent has more than a few screws loose. Meanwhile, Liz finds new confidence in wearing the perfect pair of jeans and Jenna hatches a plan to sabotage Tracy's potential Golden Globe nomination.
John Slattery (Mad Men's Roger Sterling) guest stars as Steve Austen, who is either always trying to convince the blind that he's the wrestler, and the senile that he's the $6 million man. Austen is quite the departure from Sterling. It was nice to see Slattery play such a strange and sloppy character.
Tracy's potential to be up for a Golden Globe sounds troubling. I feel like 30 Rock might be jumping the shark if Tracy, the star of Fat and Honky Gramma Be Trippin', is given such an award.
Jenna's plan to sabotage Tracy in front of the Hollywood Foreign Press proved to be one of the more bizarre schemes of hers, including Kenneth as a human sushi bar with a dollop of wasabi plopped right into his mouth. Do. Not. Want.
30 Rock has always been the best comedic social commentary this side of South Park, especially now that SNL is practically unwatchable. John Slattery's Steve Austen would fight right in with recent midterm candidates. Is that frightening or hilarious? Maybe both.
Tell us what's wrong with this post? How could we improve it? :)
Let us improve this post!