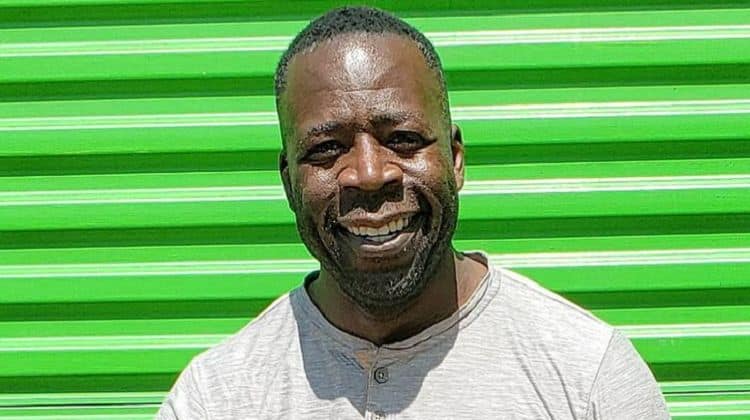 Back in 2005, Demetrius Grosse had no idea how his career would turn out. No one does when they are first getting started in anything that they choose to do for a living, but especially when you choose acting as a career. It's up and down, it's busy and it's slow, and there is never a guarantee that you'll have a role or a job in a day or a week or a month. Acting is not for the weak, and Grosse has proven time and time again that weak is not a word that he's got in his vocabulary. Here is everything you need to know about the actor.
1. He's in His 40s
Demetrius Grosse is a man who celebrated a big birthday in 2021. He was born on February 26, 1981, which means he celebrated the big four-oh in 2021. Now that he is in his 40s, we imagine that he is looking at life a little differently. Every decade has a way of doing that to you.
2. He is from the Capital
He was born and raised in Washington D.C.. Growing up in the capital of the United States of America is rumored to be a very exciting place to live, though no one loves the traffic in and out of the capital. He spend his childhood living there, and it was a place that provided him with many opportunities to study acting and hone his skills.
3. He Has Been Acting Since He Was a Child
At the age of 10, he began to really study acting and consider it something he wanted to refine. His skills were not, at the age of 10, what they are today, but he knew that he could focus on them, and that would allow him to get better, to learn more, and to progress as a child actor.
4. He Studied Musical Theater
Around the time he was just beginning to show a real interest in acting, he joined the Summer Musical Theater Workshop. He was able to practice all his acting skills, including his singing and his dancing to add to his acting chops. He spent much of his childhood learning to practice musical theater, which has become something entirely helpful for the actor today.
5. He Didn't Always Dream of Acting as a Career
Despite the fact that Grosse was a child when he began to study acting profusely, he did not always dream of acting as a career. In fact, he had a different dream entirely. For a time, he was interested in becoming a veterinarian. While he did not pursue that, he did follow in the footsteps of most kids who dream of working with animals in some capacity when he thought that might be his future path.
6. He is College Educated
So many assume that actors and actresses all left their small hometown after high school graduation, took a job as a waiter or a waitress, a secretary, or a stripper, and they went to audition after audition until they landed the big role that made them famous. It's not correct in every instance. Grosse left high school and went to college. He attended Carnegie Mellon University and graduated with a degree in drama.
7. He Continued to Study Acting After College
After college, he continued to study. There was no quitting and going back on his dreams. With his degree from Carnegie Mellon's acting school in his hand, he went on to enroll in two semesters of intense study at the Howard University College of Fine Arts. Following that, he studied drama at the British American Drama Academy in England. He wanted to learn.
8. He Was Accused of Sexual Harassment
Grosse is currently starring in "The Rookie," on ABC, and one of his coworkers, Afton Williamson, accused him, a recurring guest star on the show, of repeated sexual harassment. The claims were met with shock by fans and co-stars of Grosse who couldn't believe her allegations when she decided not to come back to the show. According to TVline, however, the investigation into the allegations issued by Williamson was unfounded and has been disproved. "Nearly 400 hours of interviews and review of the evidence, involving a significant amount of material, including video, those identified in Ms. Williamson's allegations did not conduct themselves in an unlawful manner or demonstrate behavior inappropriate for the workplace," is the outcome of the investigation.
9. He is Grateful to Friends and Family
Following the announcement that his name had been cleared of any wrongdoing after sexual harassment allegations were issued, he made a statement on his Twitter page that he is grateful to his friends and family for standing by him after such a difficult time in his life.
10. He is an Advocate for Respect
He is a man who has made it clear that he wants to have respect in the workplace both given and issued by him, and that he will continue to fight for the empowerment of women who are in any situation where there is an issue. He maintains his innocence, which was proven in an investigation, and he is working through this difficult time in his life.
Tell us what's wrong with this post? How could we improve it? :)
Let us improve this post!