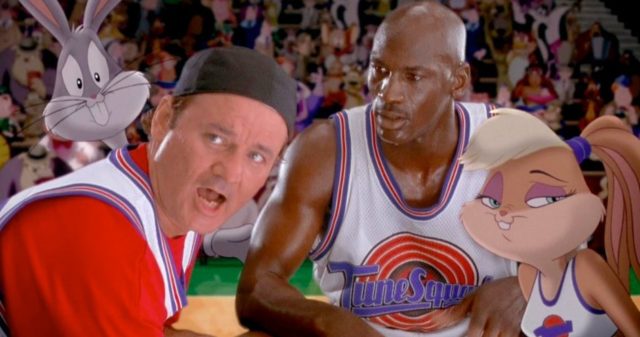 Space Jam was an unexpected treat for its time and something uniquely special that hadn't been seen before. Cartoons and live action had been paired together before but never on this level and never with this type of talent. In creating Space Jam the writers had to put together something that was kind of silly and easy to follow, but also entertaining and dynamic enough to be called a solid story. Looney Tunes wasn't always able to deliver on that note, but this time the effort was more than enough to make it work.
How much do you recall about the movie though?
10. It's the highest grossing basketball movie of all time.
$230 million sounds like a low-end movie as of now but back in 1996 this was pretty good. It's actually the 12th ranked sports movie of all time as of now.
9. Michael Jordan had his own basketball court.
Jordan was actually given his own court to shoot on between takes.
8. It's the first animated film to be edited for content.
There's no really bad language in Space Jam, I mean come on it's a kid's cartoon. But when Daffy Duck says "We're getting screwed" that was deemed to be too much for TV and it was cut out.
7. It's the only acting credit for Larry Bird.
The legendary Celtic player turned coach turned executive didn't do any other acting spots aside from this, or did he? He was also seen in Celtic Pride alongside Daniel Stern and Dan Akroyd, as well as Damon Wayans.
6. It was the debut of Lola Bunny.
This feisty female bunny was the perfect foil for Bugs and at one point was voiced by Kristen Wiig.
5. Roger Ebert was the only critic that seemed to like it.
While the other critics were lambasting the movie Ebert actually decided to give it a 3.5 out of 4 stars. That seemed highly unusual for the stern critic.
4. The sponsors were kind of out of control.
Nearly every product that Michael Jordan was associated with was either named or shown in the movie. This was a little bit of overkill.
3. It poked fun at The Mighty Ducks.
When Daffy tries to throw the name of their team as The Ducks, Bugs says "What kind of Mickey Mouse organization would name their team the Ducks?" This is an obvious and funny jab at The Mighty Ducks that came out years before.
2. It allowed Bill Murray to play upon his hoop dreams.
At one point Bill Murray actually expressed the desire to become a pro ballplayer, but obviously that never came to fruition. Instead he got to play up to the idea that he'd created in the early 90's by assuming the role of the guy who wanted to play but just wasn't quite good enough.
1. The big bad alien boss was voiced by Danny DeVito.
If you didn't recognize his voice as a kid that's quite alright since there was too much going on to really focus on the main villain. If you watch it now though and still can't tell then you should know without question who it is.
Number 1 is kind of a gimme. How many of the others did you know?
Save