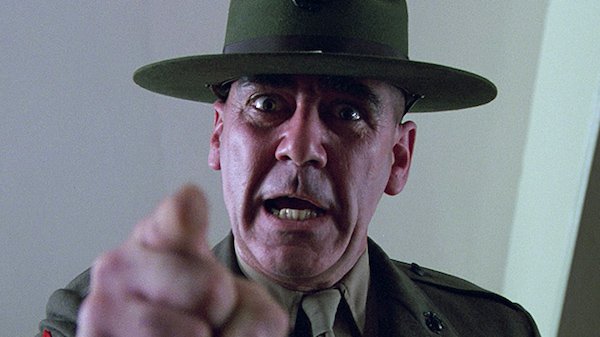 It's one of the more disturbing films based around the idea of going to war since it starts in boot camp and shows the absolute horrors that can befall an enlisted man before he ever sets foot on the battlefield. Full Metal Jacket was one of those films you actually cringed at when you watched it because you couldn't imagine that someone could possibly be so cruel to another human being. Then you remember that it's all in preparation for war and you still cringe because the guys doing the training seem like they're just as bad as the enemy.
But really, how well do you know the film?
10. Many people think the book is a lot better.
This is a commonality among many movies but in this case the book was crafted with different section and even a big difference in the prose. Books often give a more in-depth look into anything than a movie possibly could so it's not too surprising that people enjoyed The Short-Timers by Gustav Hasford a little more than the movie.
9. R. Lee Ermey was a real life drill instructor.
You might think he was just really in character but you have no idea. As a former drill instructor it was his job to belittle enlisted men and make good and sure they knew where they were at on the pecking order. Plus, that attitude didn't just go away when he became an actor. It followed him for nearly every role he's ever played.
8. Ermey got to write his own lines.
Obviously the writers couldn't really hack it when it came to laying down the right lines for a tough as nails drill instructor. Ermey got to write all his own lines and it's obvious that he was leaning for abject humiliation.
7. Vincent D'Onofrio had to pack on about 70 lbs. for his role.
That might seem unhealthy but consider the fact that when he showed up in Adventures in Babysitting not too long after he was trim and healthy-looking. This guy knows how to shape his body for a role.
6. Bruce Willis was almost cast in the movie.
It's not described just what role he was going to be given but he couldn't do it in any case since he was still working on Moonlighting.
5. The actors actually went through boot camp training to get the feel of the movie.
What better way to get in shape and understand just what's going to be coming at you then to be worked to death and have a former drill instructor berate you ten hours a day?
4. The film only earned one Oscar nomination.
It got the nod for its adapted screenplay but nothing else. That seems like kind of a bummer, in this day and age it would surely get more than that.
3. Matthew Modine managed to get D'Onofrio his role in the movie.
Vincent was doing odd jobs when Modine just happened to pass by him one night and started talking to him about a possible role in an upcoming movie. And the rest as they say is history.
2. It took over a year to shoot.
Kubrick was so meticulous that what should have taken three months to shoot took upwards of nine. A single sequence that should have taken a month at best took several.
1. Anthony Michael Hall was supposed to play Pvt. Joker.
Hall was all primed and ready to go but couldn't come to terms with Kubrick over his salary. It might have been for the best.
So, how many little tidbits of knowledge did YOU know?
Save
Tell us what's wrong with this post? How could we improve it? :)
Let us improve this post!