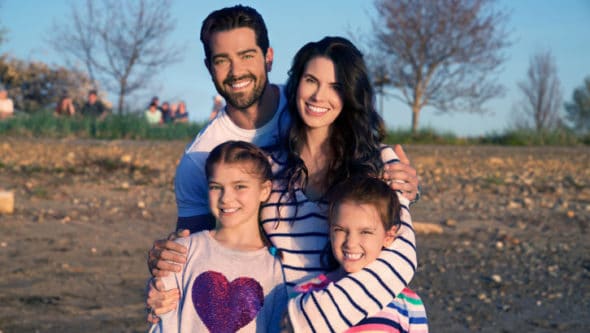 Chesapeake Shores is number two in cable ratings, so we all have high hopes for a renewal, but will it happen? Hallmark hasn't mentioned renewing the show yet, and everyone is waiting breathlessly for the news. Hopefully, it's not over. On the positive side, there are plenty of reasons why this show should be renewed for a fifth season and beyond. With high ratings and a relatable love-based storyline, Chesapeake Shores has a vast audience of loyal fans to help keep the network happy about the numbers. Let's take a look at what makes this show such a hit and why it deserves that fifth season.
You Can Go Home Again
People everywhere have left home to strike out on their own. Many find that home is where people love you, even when they're angry. Plus the world isn't full of greener grass just waiting for whoever comes along. According to a recent Quartz article, more young adults than ever are still cohabitating with their parents. Among people aged 25 to 29 as much as thirty-three percent are still living at home with mom and dad. In 1969 only about twelve out of every hundred people in their mid to late twenties were at home with their folks. That number has steadily risen over the intervening years. While we know Abby isn't exactly taking up her old bedroom, the concept is very similar. Moving back to the place where you were raised, whether it's a small town or the actual family home is something many people eventually opt to choose. Abby's situation is something lots of people understand, and that alone would make the show into something people gel with.
Divorce is Rough & Being a Single Parent is Rougher
American marriages are in trouble. While we don't feel it's our business to speculate on why, and we certainly don't judge, the fact remains; Half of all US marriages end in divorce. Those who remarry are even more likely to divorce again. A staggering sixty percent of second marriages end in divorce or separation. If you marry a third time the chances go up again to seventy three percent. What does that have to do with the show? Everything. There are a whole lot of divorced TV watchers out there right now looking for some excellent programming that resonates with them. Moreover, there are about fifteen million single mothers raising twenty-two million children today. If you include the single dads raising another three million children, it makes a significant impact on any viewing audience. Seeing yourself represented has always been something that draws us to the small screen. Abby's status as a single, divorced mom with two kids is something there's a serious audience out there waiting for. It's no surprise the ratings on this particular show are so high. All the single ladies, and men, out there looking to unwind and find some entertainment and hope at the end of a long day can watch Chesapeake Shores and see a bit of themselves in Abby's predicament.
SPOILER ALERT- SEASON FOUR SPOILERS AHEAD!
The One That Got Away
Sure Abby and Trace kissed again, finally. The hope that they'll come back together drives a lot of fans. Most people, at least briefly, pine for the loves of their youth. Very few people end up together with their high school sweeties. If they do, it's often those early marriages that end in divorce as well.
A New Hope
Season four saw Abby looking at a new man in the form of Jay Ross. The charming third-grade teacher caught her eye after things were definitely, probably… maybe not over with Trace. We all want to see her win, whether we're internally shipping the Trace Abby story for her happily ever after or not. We like Jay, he has heart and depth. Plus we know Jay likes kids, and he's a lot less likely to go on tour and leave her to keep on trucking as a single mom forever. One thing is for certain. The situation is not resolved at all. Trace and Abby had their 'facetime,' and they've still got a fire burning for one another. However, don't count Jay out either. He's a lot less flighty. While young girls may love bad boys, mature women go for a stable partner they can rely on and actually build a life with.
There's More On The Line
Abby may be the center of the Chesapeake Shores storyline, but she's not alone on a pedestal. While Kevin and Sarah contemplate kids of their own, David and Jess got engaged. Those stories haven't been fully explored yet. We want to know more about how all of these new plans turn out for them. Even though the season finale would have made a fine show ender, in Abby's life things aren't packaged up and tied off with a bow. She has the Jay and Trace dilemma to handle for one thing. Meanwhile, she also has some serious soul searching to do where her career is concerned before she can settle down ultimately.
Poor Connor
Connor didn't feel like he was treated well at all in the family during season one. Over the next three seasons, there were some changes in him, and things seemed to smooth out a lot. However, when it was announced that Abby was the choice to take over the family business, he appeared shocked. Is Connor being steamrolled? Perhaps he'll simply be grateful for the opportunity to get away from helping his father out so he can have the life he wants for himself? We don't know, and we won't until season five or beyond. We're holding out hope that he and Abby trade off roles. She's an excellent choice to run the business, and being around to help her father and her family obviously matters more to her than being a big-city dwelling hotshot. Perhaps Connor can let go of the reigns gracefully and find his big-city dream being a lawyer. How and if that goes down, there's bound to be some drama over the issue either way.
Final Thoughts
We'll keep our ears out for any information about next season. For now, at least we can say that there doesn't seem to be any very good reason to drop Chesapeake Shores in favor of some new program. Everyone loves watching Abby struggle to find her path, and we're all rooting for her no matter who she ends up in love with. What do you want to see most on season five? Let us know in the comment section.