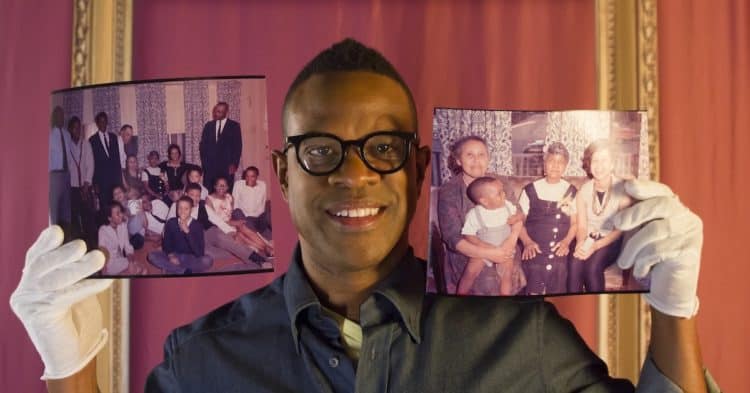 Family Pictures USA on PBS is the latest documentary series developed and hosted by Thomas Allen Harris. Thomas is a producer, photographer, and award-winning director. He is devoted to producing distinctive audiovisual escapades to hunt for identity, family, and spirituality; while also shedding light on human conditions. In the new three-part PBS series, Thomas Allen Harris travels through several United States cities, towns, and villages. He conducts personal interviews with the American community through photo-sharing gatherings. It is during this time that Thomas Allen gets the chance to flip through a variety of family photo books to make a documentary series.
He unburies opulent individual stories which are crucial in expanding the comprehension of our shared past. Thomas Allen Harris exposes the shared diversity and universal values of American people; he portrays that every American is laced to another. Chief Content and Innovation Officer, Maja Mrkoci, terms Family Picture USA as an ingenious, agreeable way to develop public media community. He adds viewers can learn something from the tales of small-town villages behind every picture across American cities as reported on CPB. In a time when America is characterized by rage and division based on race, Family Pictures USA is a perfect film to watch as it unveils profuse American history. It also highlights the fact that America is a country built by immigrants and pliable people who can overcome any form of cruelty.
What it is all about?
All of Family Pictures USA episodes' begin with people gathering around in what is called a photo-sharing event. It is here that old grimy boxes containing stashed away photo albums are brought back to life, and this is the starting point for a conversation between Thomas and his participants. In a recent interview, Thomas compared photo albums to a mobile phone by stating that with the latter. He said that losing a picture is as easy as making one miscalculated click and an image is accidentally deleted.
On the other hand, he can still access photo albums of photographs that were taken 100 years ago, according to the New York Times. He engrosses participants in discussions and pilots them through a narrative of hard work, hardship, love, and perseverance. Let's check out why you should make time for this show.
Teaches us the importance of empowerment and hard work
The documentary promotes empowerment and success as it shows us the importance of working hard. In the first episode of the series, Mr. Harris journeys to North Carolina, a small rural village whose economy was established in the textile industry and tobacco production. People tell stories of attainments, which are fenced with emotional truth and joy, such as the first person in the community to get a college scholarship. Families share pictures of their great grandfathers, relatives, and tell stories of how they worked in plantations for long hours daily to support their families. Furthermore, Allen explores the common roots among different participants to the extensive history of the people of South West Florida and Durham. He also discovers how North Carolina moved from being a dusty village in Durham; to a thriving city with a flourishing population of African American middle class.
Illuminates on importance of understanding oneself and origin
The film also emphasizes the importance of understanding one's background and culture. North Carolina is the home to Occaneechi band and The Saponi Nation. They are descendants of Indian speaking communities whose origin can be traced to the early occupants of North Carolina and Virginia. The Occaneechi group re-bought their ancestral land for it to act a heritage and a cultural reminder to their children of their ancestral tribe. It also serves as an educational gathering place for their young ones to learn about their history.
Educates on importance of unity and resilience
Up to this day, Detroit is still known to many as America's comeback city, and its people are known to be determined and resilient, according to Catholic Online. On another episode, the documentary institutes the offspring of both slaves and Native Americans whose forefathers assisted in the construction of the city. As he is told stories through family pictures of former slave ancestors, Allen grasps knowledge about a boundary wall that was constructed by the United States government to discrete black and white neighborhood.
The rise and fall of one of America's most flourishing cities during the 1060s, Detroit, is profoundly manifested in private nostalgic photos that are accompanied by tales of how people persevered transformation and adapted through economic challenges. Touchy stories and recollections of the disastrous consequences of the Detroit riots of 1967 after the assassination of Martin Luther King Jr. are displayed on pictures of families that lost relatives during the five-day chaos. This multilayered narrative also tells us that unity is the only thing that helped Detroit revive from the impacts of the riots and re-emerged as an economically stable city.
In a state characterized by mass shootings, hate, and division, the spirit of Detroit is what needs to be shown to the people. Therefore another reason you should watch Family Pictures USA is that it displays and spreads the idea that America can choose to be united. It can fight the common enemy, which is racism and hatred, for every American is connected to another. Just as the people of Detroit united and came out victorious after the 1967 vicious riots, the country should learn the importance of resilience and unity from these Detroit stories.
Enlightens on a new point of viewing America
Family Pictures USA also focuses on a tropical region where Native Americans, livestock farmers, and members of the fishing fraternity reside. We learn that Florida is still a cattle ranching state. Native Americans who are descendants of the Seminole people still preserve and pass their way of living down to their children centuries after their ancestors have passed. Thomas Harris notices that America is built on a rich foundation of hard work, resilience, empowerment, unity, and many more essential values. He aims to revitalize and stress on the importance of us remembering our own culture and what is common in all of us. Thomas Allen trusts and believes that once you see America through family pictures, your view on this great country will change forever, as disclosed on Family Pictures USA.