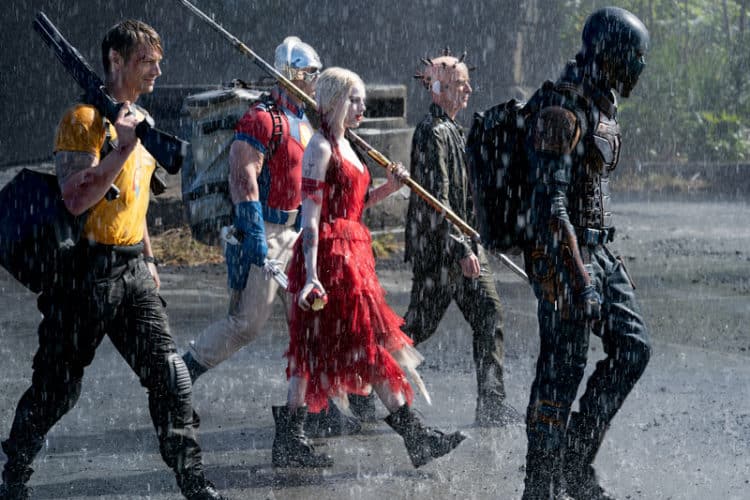 Sadly, James Gunn's The Suicide Squad turned out to be a box office dud. Despite the overwhelmingly positive response to the comic book feature, the world of The Suicide Squad may be put on hold unless Peacemaker becomes such a success that WB can't deny fans of the first film a sequel. Regardless, The Suicide Squad may not be the most original story in the world, but the film is a fun little gem with lively performances and great action. Who could forget the insane, but cool opening action sequence where Boomerang was obliterated by a helicopter? Or Peacemaker and Bloodsport trying to one-up each other by killing civilians in creative, but messed up ways? Or dozens of rats crowding the street and aiding our fellow anti-heroes to victory over Starro? There are plenty of great moments packed into the 2021 feature; however, the one that sticks out the most is the dance sequence at the Corto Maltese bar. No, it's not because of the easter egg that showcases Pom Klementieff, the MCU's Mantis. It's really the interaction between Peacemaker, Bloodsport, Rick Flagg, Ratcatcher 2, and Polka-Dot Man before that meet with Thinker. On the surface, this scene may not seem like it's worth much weight. It's just the gang drinking and having a good time, there's really no stakes nor is it integral to the plot. However, this moment is actually one of the most important scenes in the movie. Before the gang arrives at the Corto Maltese bar, there's a heartwarming moment between Bloodsport and Ratcatcher 2, where we get to understand their characters a bit more and this scene expands on that.
Despite all the posturing between Peacemaker and Bloodsport, the two let their guards down and Peacemaker is completely acting like a loveable dork. First, he acknowledges the rat as a part of the team and him awkwardly dancing. Take this moment for Peacemaker out and it makes his betrayal later in the first less impactful. Here, Peacemaker comes across as a normal and cool dude, which allows for us to connect with him on an emotional level. This also lets our guard down because it genuinely seems like Peacemaker is bonding with the team, so his betrayal is truly shocking since it actually seems that he's growing to like the men and women within The Suicide Squad. But this moment isn't just about adding layers to Peacemaker's character, it's about the entire team bonding.
Rick Flagg and Bloodsport laughing and drinking away highlights their long-term friendship. This dance sequence is all about showcasing a different and kinder side to these characters. It even highlights the loneliness that King Shark feels as he's forced to wait in the car as the gang is doing their mission. Moments like these are vital because it allows audiences to understand these men and women even better. There's a reason why Steven Spielberg's favorite scene in Jaws was three of the main characters sitting around the ship's table, swapping war stories of horrific battles. It's a strong source of character development and an intimate moment that most films tend to skip out on. As crazy as it sounds, a film can't just have a character who solely focuses on his/her mission. They need to let their guards down and open up so audiences can understand what makes them tick. The dance sequence says a lot by saying a little. There's no tragic backstory expressed here nor a moment that connects to a bigger piece of the puzzle later on down the line. Say what you want about James Gunn's movies, but the filmmaker is a master at crafting weird characters bonding. It's not the exciting action or intriguing plot that has most people signing his praise, but the way he's able to make this strange character relatable. During this moment, we can identify with Peacemaker. Who has danced like a dork at the club? Or had a few drinks and laughs with their buddies from time to time? Hell, what guy doesn't wish that a group of women were circled around them dancing? Actions films are mainly notorious for skipping out on pivotal scenes like this. It can't just be action, action, action! John Maclane's personal discussions about his wife with Sgt. Al Powell is another example of this type of moment. The dance sequence may have seemed like the most worthless scene in the entire film, but it's one of the reasons you ultimately care about the group of bad guys in the James Gunn feature.