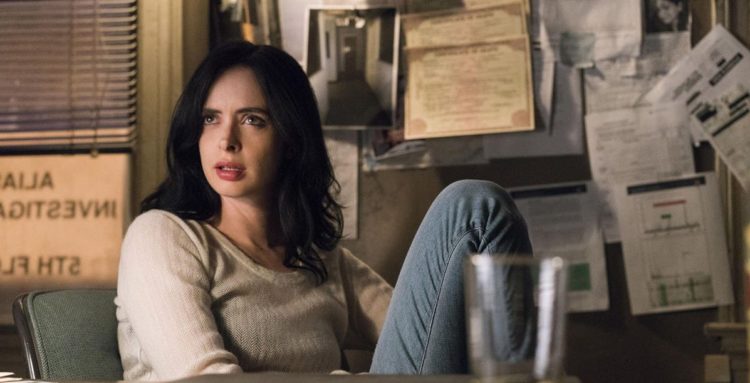 Before anyone gets bent out of shape thinking that the actress is under attack or that the show is being labeled as fraudulent in any real way let's take a step back and remember just who Jessica Jones really is in the MCU series and why this would happen. Obviously the whole social media fraud thing is a promo that depicts how the next and final season is going to go, and obviously there are a few good reasons why Jessica Jones might be suffering through this kind of attack since quite honestly she's a rather caustic and abrasive character even at the best of times. But in this upcoming season there would appear to be someone that has a serious grudge against her and is coming forth in a manner that's both aggressive and vindictive. As Sam Stone of CBR writes Jessica has made no shortage of enemies in her time, and it would appear that at least one of them has found a way to truly ruin her and expose what she is to the world, though what that is will no doubt be a revelation to anyone that's ever known her. Hell, it might even surprise Jessica.
Ray Flook of Bleeding Cool seems to think that the past and present are going to collide and collude to destroy Jessica's reputation in some way, though if anyone's been paying attention throughout the past couple of seasons they would see that Jessica seems capable of doing that all on her own. The one thing that destroys any hero whether they want to call themselves that or not comes when something is revealed that they tried to keep secret, or buried. Whatever is in Jessica's past is coming back to haunt her at this point since everything to date has been something that she's had to deal with in one way or another and either drink away or deal with in her own manner. '
As it's already been established by Eric Abent from Slash Gear there isn't a whole lot that's being given away about the upcoming season. What we do know is that it will arrive on Netflix as of June 14th and will be gone following the finale. Netflix has been cleaning house lately when it comes to Marvel shows as Iron Fist and Luke Cage were the first to go, though no one really seemed to lament Iron Fist moving on. The Marvel shows that have been on Netflix seem to have been hit and miss in some regards since even Daredevil hit his highs and lows during his run on the streaming network. But now that Disney+ is going to be expected in a matter of months it would seem that Netflix is trying to shed as much Disney-related material as it can while trying to possibly get ready for an influx of new material. Hopefully this doesn't mean that the coming season will be rushed, since fans have been waiting and hoping for another one since Netflix decided upon giving the people one more showing before they took Jessica off the network for good.
The oncoming season though seems to indicate that Jessica might be headed for a major fall or could possibly be looking at a life-altering revelation that might change things up in a way that would be hard to grasp if the show wasn't ending after this season. What might be in store is kind of hard to tell since there's so little information coming, but given that Jessica has been able to weather quite a bit to this point it seems that what's coming might be cataclysmic on a very personal scale. The character, as portrayed by the MCU, isn't exactly the friendliest type and has been kind of bulling her way through the series thus far trying to sort her life out and just make sense of things as much as she can. But somewhere along the line it's kind of obvious that she pissed off someone that knows how to be patient and extremely methodical when it comes to getting their desired measure of revenge. Since Jessica's not exactly the type to do much more than react a lot of times it would seem that this coming season she's going to be a step behind, or several steps behind, whoever is coming after her from the get go and might not catch up until it's too late.
However it turns out fans are no doubt going to be lamenting the loss since the idea of losing some of their favorite superheroes that they can see so often as opposed to the movies might leave some folks wondering just what they're going to do with their time now. But no matter what it should be an interesting season when all is said and done.
Tell us what's wrong with this post? How could we improve it? :)
Let us improve this post!