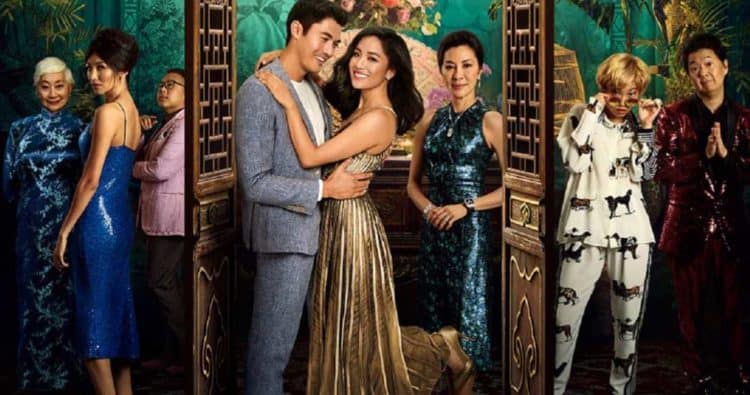 Films that are able to capture the essence of a culture are a rare find. This might very well be the reason why Crazy Rich Asians went on to break box office records, and become one of the most successful studio romantic comedies when it premiered last 2018. The captivating storyline and perfectly casted ensemble seemed to converge at the right place and right time, it's not surprising that a clamor for a sequel continues to grow louder. Here are five reasons why the hit romantic comedy-drama is one of the best movie representations of Asian culture:
5. Family comes first
The film follows Rachel Chu, portrayed by Constance Wu (Fresh Off the Boat), as she flies to Singapore with her boyfriend, Nick Young, portrayed by Henry Golding (Snake Eyes) to attend the wedding of Nick's best friend, Colin Khoo, portrayed by Chris Pang (Tomorrow, When the War Began), and to finally meet his family at the same time. Little did she know that a huge surprise was awaiting her as soon as she landed at Singapore Changi Airport. Unbeknownst to Rachel, Nick belongs to one of the richest and most powerful families in the country. Things start to get complicated as soon as Rachel gets acquainted with Nick's family. It's impossible to escape the prying eyes and judgmental looks, especially from Nick's intimidating mom, Eleanor, portrayed by Michelle Yeoh (Crouching Tiger, Hidden Dragon). Familial bonds are at the heart of Asian culture, and getting the approval of one's parents is of utmost importance. It is also common for parents to have high standards for their children. The same goes for Nick who is heir to the Young fortune. The film depicts tight family bonds, and how conflicts can be created once the family pot is stirred.
4. The film sheds a light on the importance of filial piety
It's common for Asian children to personally take care of their parents when they get older. This practice stems all the way back to the time of the renowned Chinese philosopher, Confucius, who proclaimed filial piety as the central tenet of Confucianism. This involves the act of taking care of, being good to, and exhibiting respect and loyalty to one's parents, or even parents-in-law. The film portrays this teaching in various instances. One of which is when Eleanor talks about sacrificing her own happiness by allowing Nick to live with his grandmother, so that they could form a closer bond with one another. Acts of supreme sacrifice are a common occurrence in traditional Asian culture. The film is able to portray how the younger generation adheres to their elders, and how this can be a double-edged sword when it comes to pursuing one's own happiness.
3. The film highlights how tradition is ingrained in every Asian's life
Viewers are taken on a colorful journey as traditions that Nick's family traditions are explored. These include hosting a viewing party for their Cereus plant, a cactus that only blooms a few nights each year, to making dumplings from scratch. Traditions are an integral part of Asian culture, and must be passed on from one generation to another. The film pays close attention to details, and was consistent in its characters' nuances. This just shows how dedicated the team was to make viewers understand the importance of traditions, and how these can bring a family together. It does not really matter which part of the world you're situated in. The beauty of traditions lies in a family's interpretation of it, and how they are carried out in various ways.
2. The characters prove that dignity can't be bought
The film may have thrived on opulence and wealth, but it was also able to show that money is not everything. Rachel's character exemplified this the most in her method to gain Eleanor's approval. It was a class act to follow, as Rachel did not allow her own values to be compromised in the process. Towards the end of the film, Rachel was ready to give way and let Eleanor get the upper hand. She accepted the fact that Nick's family did not deem her suitable enough for him, but she was not about to let it all go without proving a point. She made sure to let Eleanor know that she could easily take Nick away from his family, but she chose not to do so. This made her the bigger person, and made Eleanor realize that Rachel was really not in it for the money. The film was filled with snippets of strong character arcs that made viewers love and understand each and every personality in the story.
1. The art of negotiation
Asian people are known to be entrepreneurial in nature. The value of hard work has been instilled in them from a young age, as they go the extra mile to excel in academics and extra-curricular activities. This has been a running joke and the root of all the memes wherein Asians are expected to excel in everything they do. Learning the art of negotiation plays into these circumstances perfectly. Getting your way by means of carefully strategizing your next move is a life skill that can come in handy. Rachel applies this in the scene where she finally confronts Eleanor, and proves her worth through a game of Mahjong, a traditional tile-based game developed in China. This pivotal moment changed the narrative of the story, and made the film much more impactful than expected.
Tell us what's wrong with this post? How could we improve it? :)
Let us improve this post!