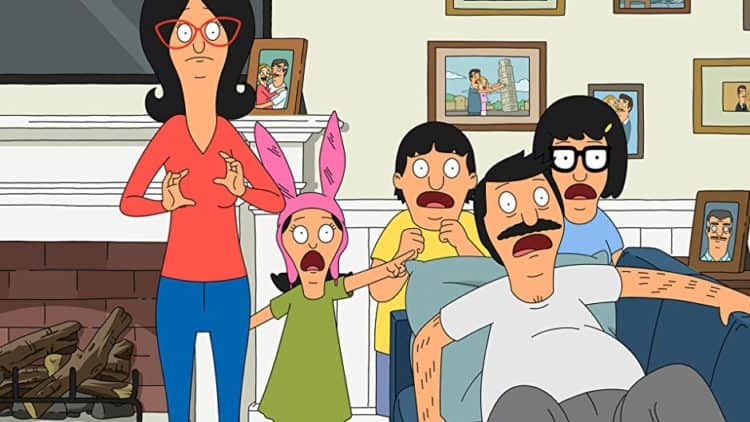 "Bob's Burgers", near contestant for the throne of the best-animated sitcom, along with "Family Guy", "The Simpsons", "American Dad", and a growing list of others every season. New shows that appear to come out every season, on every network, always appeared to be different in their own way but viewers could never help but compare animated sitcoms. Like most animated sitcoms, "Bob's Burgers" follows a structure of a family and their exploits in and out of their owned restaurant, named after the father of the house. Conveniently, the family lives above the restaurant that they operate, which happens to be, or at least assumed to be a New Jersey shore town full of a boardwalk, or wharf as the townspeople call it as it is officially "The Wonder Wharf". Below, we've gone into detail on one of America's favorite animated families, the Belchers from "Bob's Burgers", and how Bob's Burgers fired voice actor Jay Johnston due to his involvement with the Capitol riots.
Bob's Burgers
"Bob's Burgers" was the first, of now several, animated sitcoms involving creator Loren Bouchard, whose other credits besides "Bob's Burgers" include "Home Movies", "Central Park", and "Lucy: The Daughter of the Devil" that truly hit a strong viewership. Central Park could be recognized for its art style very similar to "Bob's Burgers" while "Home Movies" and "Lucy: The Daughter of the Devil" also had very unique art styles but more low budget compared to "Bob's Burgers" or "Central Park". The main reason these show had the art styles that they did were due to the fact that the shows were on Adult Swim and at the time the network was still locking itself in as one of the strangest cable networks ever created. Shows such as Home Movies and Lucy: The Daughter of the Devil helped do just that for the network. The biggest link between these three shows, besides the fact that they were created or headed by Loren Bouchard, was the inclusion of the usual lead voice H. Jon Benjamin, who voices the coach from "Home Movies", Bob from "Bob's Burgers", and Satan from "Lucy: Daughter of the Devil". "Bob's Burgers" has shown that it's starting to be as current as South Park can be with a movie coming out and even a short video about COVID19.
Bob's Burgers Actor Fired
Recently, it was announced not long after images surfaced that featured Bob's Burgers famous character Jimmy Pesto's voice actor Jay Johnston at the Capitol Building riots a year ago this month, that the actor would no longer be a part of the show going forward. Details have come from all corners of entertainment and the country in general featuring celebrities and others at the Capitol riots. Specific details may not have been released about the situation but when it comes to keeping all negative elements away from projects of any kids, there is no longer a tolerance policy in Hollywood, one strike and you're out. Unfortunately, it takes events like this in order for Hollywood to be truthful and remove an actor. Also, unfortunately, this is really only to protect those studios or companies attached to such projects, but everything comes at a cost I suppose. Overall, the team behind "Bob's Burgers" was quick to have the actor fired to avoid any negativity that could be associated with the show due to the behavior of Jay Johnston.
The Future of Bob's Burgers
Just recently, "Bob's Burgers" creator assumed the role of Bill Hader's usual character of Micky when Hader himself wasn't available due to a schedule conflict but the episode was already animated so the character was included without the original voice actor. "Bob's Burgers" may not be as beloved as some of the earlier mentioned animated sitcoms such as "Family Guy or "The Simpsons", "Bob's Burgers" still featured a very distinct family with unique members from the very earliest episodes which have helped the show carry on for as long as it has with other such contenders still competing for the throne. "Bob's Burgers" has been surprisingly dark at times so it wouldn't be much of a surprise if the show killed off the character in the worst way possible in order to show their dissatisfaction with the voice actor and his choices. However they handle the removal of the voice actor and his hiring from "Bob's Burgers" on screen, it can be certain that Bob will be slightly joyful at the "loss" of Jimmy Pesto and the show will handle it with a grande sense of comedy. Overall, "Bob's Burgers" rightfully fired the voice actor of Jimmy Pesto, portrayed by Jay Johnston appropriately by not defending the actor or any reason he could have possibly had for taking part in such events that had happened at the Capitol Building a year ago, and the show should carry on just fine without him.
Tell us what's wrong with this post? How could we improve it? :)
Let us improve this post!