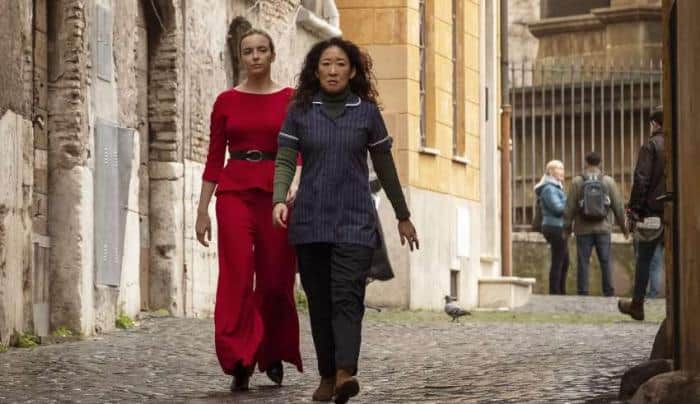 They say you should not cry that something is over, but instead smile that it happened. Fans of "Killing Eve" may have a hard time following this saying after the cliffhanger episode in the finale of the second season. We know that every great story should have suspense for us to keep hooked, but the suspense is killing us. So now that season 2 is over, here are answers to questions you might have.
Are there any changes?
Sometimes women are their own worst enemies while at other times, they use every chance they get to inspire each other. "Killing Eve" has set the precedence for a women empowerment tradition by having each season have a new woman as its showrunner. In the first season, Phoebe Waller-Bridge was the showrunner, and she passed on the baton to Emerald Fennell, the showrunner for the series' second season. Now that we are sure that "Killing Eve" will have the third season the tradition has been kept alive with season three new showrunner being Suzanne Heathcote. Both Phoebe and Emerald shared their thoughts acclaiming Suzanne as the lead writer and executive producer
Will Eve survive?
The season 2 finale leaves more questions than answers not just with Hugo being shot but with Eve lying face flat in the ruins after Villanelle shot her at the back. You could see blood, and the first question that comes to mind is even though the series is titled "Killing Eve" could she be dead? Of course, we reason that she is a lead character, and she cannot possibly die, and we are hopeful that it is not a fatal wound. That said we can expect that season three should start with her recovering from the gunshot wound.
Well if you thought that Eve was playing dead, Sandra Oh disputes that explaining that season three creation revolves around that finale. Sandra tells us that Eve was shot and was bleeding, so in season three, we will know precisely where Villanelle shot her, and it will be an area on the back.
Sally Woodward Gentle, on the other hand, tells us not to hold our breath waiting to see Eve again because she could be dead or alive. When she interviewed with Deadline, Sally was careful not to spill any beans so even if her name is in the title, that should not guarantee us that she will be in season three. We will have to wait and see.
Is there hope for happily ever after for Eve and Villanelle?
Eve and Villanelle have a bizarre relationship, and it would be great to see how season three further explores it. The Washington Post explains as Eve and Villanelle walk through the ruins, Villanelle has plans for the future saying they should go to Alaska, and find a cabin where nobody would bother them. However, within a few minutes, the situation escalates from heightened love feelings to anger when after Villanelle says they love each other, Eve responds that Villanelle does not know what that is. Villanelle without a second fires her gun at Eve affirming to us once again that she is a psychopath. Seriously, how can you declare your love for someone and then shoot them, maybe fatally even? Still, the showrunners wanted Villanelle to shoot Eve and although they did know the exact moment, Eve not responding how Villanelle expected enabled the perfect opportunity to present itself.
Previously we had seen Villanelle kill Peel by cutting his throat when he was trying to convince her to work for him and kill Eve as he watches. Eve had also hacked Raymond to death with an ax after she found out that he was trying to kill Villanelle and Villanelle cannot hide her pride in knowing that Eve was slowly turning into a killer herself and was ready to protect her. With season three, we can only wonder if Eve will feel betrayed by Villanelle and turn on her or Villanelle, may rethink her actions and help Eve. Then again, at this point, we can expect anything from Villanelle so she might as well walk away and hope that Eve suffers in her pain for failing to reciprocate her feelings. Happily ever after for this couple is not happening anytime soon, we can bet on that.
When will season three premiere?
"Killing Eve" has become an addictive thriller, and even the producers seem to understand that fans want to know if they will continue getting their daily dies of entertainment. The first season which premiered on 8 April 2018 gained quite a fan base considering that BBC America claimed that no other show in the last decade had made such unprecedented unbroken weekly rating record among the young adult population.
The future must have looked promising because it was renewed for the second season even before the first premiered. The second season has also received critical acclaim, and it premiered on April 9, 2019 precisely one year after the first season premiered. Following the reception of the first season of "Killing Eve," the third season was renewed by BBC America 12 hours after the second season premiered, and now we should expect it to premiere on April 5, 2020, if the schedule does not change.
Unfortunately for the UK fans, they have had to wait until BBC America aired the first two season in America before they can watch. While the second season finale aired on Sunday, May 26, 2019, on BBC America, the UK fans are yet to watch it although they should expect to catch up in a week. After they announced the June 8 release date, we hope that with the third season the UK fans will not be left behind their American counterparts to catch the thrilling episodes of "Killing Eve."