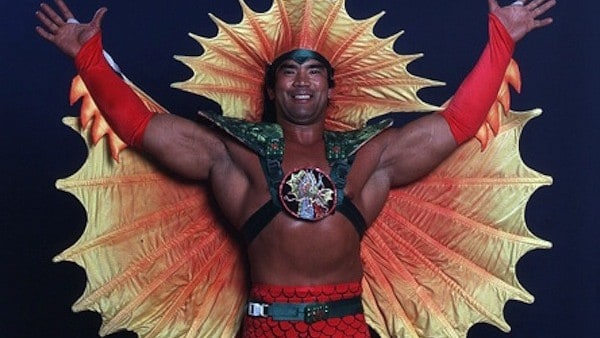 With a real name like Richard Hank Blood it would have been a lot easier to peg Ricky "The Dragon" Steamboat as a heel since his real name alone would have made that possible. But after being given his in-ring name it stuck and he became a face for the company, taking on the persona thanks to his Asian heritage, which came from his mother, who was Japanese American. If you were a WWE fans back when it was still the WWF and all the way back into the mid to late 80s then you'll likely remember Ricky as one of the most entertaining men to enter the ring since his gimmick was to use that Asian heritage for all it was worth. Thankfully he didn't really go so far as to speak with a thick accent, but he did embrace 'The Dragon' aspect of his character quite a bit and made sure that the fans had someone to cheer for. As one of the good guys he definitely knew how to get on the fans' good side since a lot of us cheered for him every time he came out, and along with characters such as the Junkyard Dog, Hulk Hogan, and several others, he was one of those that a lot of us cheered on since when he came to the ring it meant we were in for one heck of a show.
Like a lot of wrestlers Ricky started out on the independent circuit, as for a lot of men and women this is still important as it's a way to pay your dues so to speak and to get noticed thanks to your drive and talent. Of course not everyone that gets noticed gets picked, and not everyone that gets picked even lasts that long. But thankfully Ricky was one of those that managed to put on a good show and put the butts in seats so McMahon wound up keeping him around for a while. He did go off to to a couple of different promotions after a while, WCW being one of them, but he would eventually return to the WWF only to leave again and then return to WCW before coming back to the WWE where he's currently one of the guys behind the scenes helping to make the show run as smoothly as possible. He's been more than just a retired Hall of Famer over the years, as he's also mentored other wrestlers, one of them being none other than CM Punk. It's safe to say that his legacy is pretty safe since Ricky is still considered to be one of the greats and will no doubt be fondly remembered by a lot of wrestling fans for a long, long time to come.
As Ric Russo of ABC Action News tells it, Ricky definitely appeared to have a sense of destiny about him since he was hooked on wrestling from a young age and managed to work with some of the biggest names in the business when he was first coming up. There was something special about the guy from the get go and despite any and all hardships coming up through the ranks, he made his way and managed to cement his legacy without any debate after a while. A lot of people look at wrestlers as actors in goofy costumes and tight little pants that show just about everything, but the skill and athleticism that have to go with that level of showmanship is nothing short of amazing since despite being fake, the hits and the kicks still have to be sold just right, otherwise people can end up getting hurt in the ring if someone's timing is off or if they miss their mark. Anything can happen in a wrestling ring as it's been seen over the years, and while the wrestlers train as much as they can to prevent this things do happen. It's amazing to watch guys like Ricky still doing their thing as they get older, since Ricky, Rowdy Roddy Piper, and Jimmy "Superfly' Snuka took on Chris Jericho at one point when all three men were well past their prime. This is the life of a wrestler though, a lot of them don't want to leave that ring, but some of them have their own reasons since the hard truth is that there isn't much out there for them unless they've managed to secure something throughout the years.
Ricky's own net worth isn't anything to sneeze at but it's definitely not on par with the stars of today that are pulling down pretty good money for what they do. His involvement with the organization at this time is as an experienced and valued member of the WWE, but his wrestling days are pretty much over and done with.
Tell us what's wrong with this post? How could we improve it? :)
Let us improve this post!