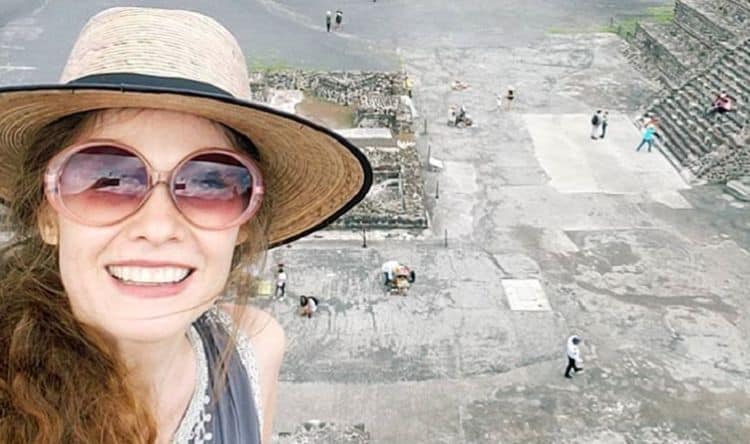 Khrystyne Haje became popular in the 1980s when she starred in lots of films and series, but the one that catapulted her to fame is "Head of The Class" which aired from 1986 to 1991. The show was a hit, and to date, her fans continue asking why the show was never released in DVD, so she posted an episode on her social media, but it was pulled down after only 100 views. All the same fans may not have to wait much longer as there are talks of a reboot. That being said, it has been so long since we saw Khrystyne in another production that received such massive popularity. So if you are wondering what happened to Haje, here is how she started her career and her current life.
Her life as a model
Haje did not grow up watching the Disney Channel, but she loved the Bob Hope roadshows so much that by the age of five she dreamed of being on a roadshow with him one day. However, as much as she loved acting, Haje first became a model at 14 during the school year. The model was a student at North Hollywood High School and had to learn through correspondence since she and her mother frequently traveled to Milan and Paris. Her teachers were very supportive of her modeling career and used to assign her school projects that related to her places of travel. Her history teacher had Haje read "Is Paris Burning" while her English teacher told her to learn more about Michael Angelo by prescribing a book.
Haje juggled her studies with modeling, going to school every couple of months before traveling to Europe again. Even while in school, she had to leave some classes to attend auditions as she told Pop Geeks. Most of her work as a model entailed shooting for commercials and as an emancipated minor, she wrote her own notes to explain why she was missing class. While that would have been a ticket to not attend classes even without good reason, the model loved being in school. Even after taking proficiency tests and legally graduating, she never stopped attending regular school thus did not need a tutor.
Becoming an actress
Haje loved being a model until one day when she did a commercial for Kodak film that she realized she wanted to become an actress. While in most of her other commercials she used to spend only a day to film them, with the Kodak one, they filmed for an entire week. She was supposed to act in different ways such as pretend to be in love, dance and weep and by the end of the week, Haje had had so much fun that she went to the modeling agency and told them her decision of becoming an actress. She also asked them to help her make the transition. Unfortunately, it being a modeling agency did not get Haje the right kind of jobs for a 15-year-old thus she signed with another agency.
Her ambition to venture in the acting industry was fulfilled when she landed her first role in "Crime of Innocence" in 1985. From then on until 2003, the actress never missed a year of work in both the television and film industries. While she has over 30 television credits, Haje is mostly remembered for playing Simone Foster in "Head of The Class." In 2016, Haje disclosed they were working on the series reboot, and according to Variety, HBO Max has ordered a pilot production for a series based on the sitcom.
Being diagnosed with cancer
In 2015, Haje had intense stomach pains which her doctor dismissed as either glucose intolerance or acid reflux, but the actress felt there was more to the condition than the doctor was willing to investigate. She would have severe bloating every time she ate, and on an empty stomach, any kind of bodily functions was also painful. The actress, therefore, went to New York University medical center where the PET showed she had a metastasized breast cancer. According to I hate breast cancer, three years before the diagnosis, Haje had been treated for invasive lobular breast cancer, and after subsequent checks, there had been no sign of regrowth. With the stage IV breast cancer diagnosis, Haje was shocked, considering that no one in her family had breast cancer, and she had never smoked and had even maintained an ideal weight.
Haje said that she researched on treatments and landed on SM-88, a medical trial treatment that had her taking pills and injection once every day. The growth began disappearing within a year, and in 2016, she took three scans that showed no evidence of cancer. However, as of April 2017, she was still taking the pills every day, and today, she counts herself lucky for recovering.
She now enjoys gardening
Although Wikipedia cited her last credits in 2009, the actress has continued being involved in the industry; in 2012 she guest-starred in "You've Got Hate Mail", and in 2015 she attended the opening night of "The Absolute Brightness of Leonard Pelkey." Besides using social media to update her fans in whatever is happening in her personal as well as professional life, Haje is keen on living a healthy life., She enjoys eating fresh fruits and vegetables and mostly buys exclusively organic products.
Her love for nature saw her buy a piece of land that had a peach tree which she watered, but squirrels stole her harvest. She has so many pomegranates on her property that she sells them to Gelataria Uli to make gelato. The owner of the business named Haje's gelato flavor "Khrystyne's Backyard" and the actress loves sharing the literal fruits of her labor. As for making a living, she may not act anymore, but she boasted of having a 25% stake in Silicon Valley firm that was worth $500 million in 2001, so she must be making a fortune currently, or Haje already made her millions of she sold her stake.