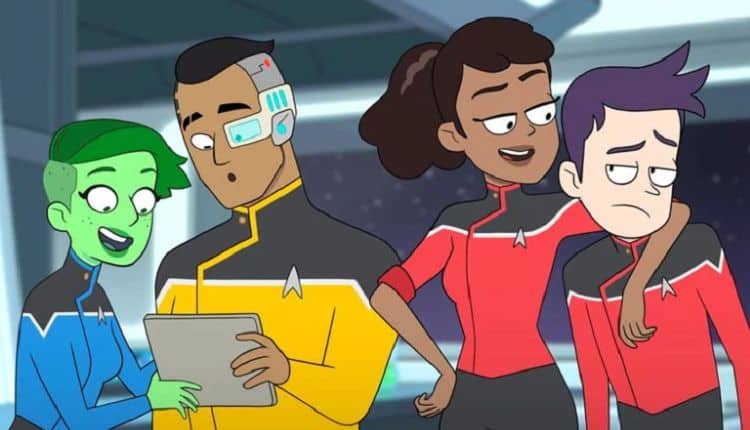 Star Trek: Lower Decks was a major 2020 highlight for Trekkies. The animated comedy was hands down the funniest of the Star Trek Series. Following the dramatic finale in the last season, we have plenty of things to look forward to in Season 2. For instance, what happens after the USS Titan comes in to save Cerritos from the Pakleds? From this trailer, and the initial teaser that came out earlier this year, here's everything we know about Star Trek: Lower Decks Season 2. Spoilers alert! Star Trek recently posted the official trailer, and we are highly anticipating the weeks-away release.
The Release Date and Streaming Platforms
The second season will air on August 12, 2021, via Paramount+ in the US. On the same day, the series will air in Canada via CTV. Previously, Season 1 aired on CBS All Access but the platform rebranded to Paramount+ this year. New episodes are to be rolled out weekly—the final one airing on October 14.
Season 2 Cast
Most stars in the first season will be making a comeback. Beckett Mariner, played by Tawny Newsome, and Brad Broimler, played by Jack Quaid, are the main characters in season 2. Captain Ricker, played by Jonathan Frakes, returns next season, writer McMahan revealed during the panel. His role must be recast, now with Boimler on the Titan. We're excited to hear more of his jazz and trombone solos. Lieutenant Shax is potentially being replaced after he heroically sacrificed himself at the end of Season 1. The Season 2 trailer, however, confirms his return as he is seen in one scene standing among the crowd. We also see the return of Dr. Migleemo from the first season.
He is spotted on the bridge along with the command crew. It will surely be interesting to see how he is featured in Season 2. Tom Paris from Star Trek: Voyager makes a cameo in the trailer as a collector plate. Robert Duncan McNeil is returning to voice his Starfleet character. Jeffrey Combs, the legendary Star Trek actor from Deep Space Nine, makes a comeback as an evil computer voice. Mike McMahan revealed that he wants the stories on Titan to revolve around Captain Ricker and Boimler, mainly in the second season. Deanna Troi's role, played by Marina Sirtis, will therefore not be recast. In the second episode of the season titled "Kayshon, His Eyes Open," we will introduce a new Cerritos' Security Chief. Played by Carl Kart, Lieutenant Kayshon will replace Lieutenant Shaxs, who seemingly died in Season 1. He is a Tamarian and only speaks in complex memes and metaphors to the humor of the entire Cerritos crew.
Season 2 Plot
At the end of the first season, Mariner agrees to peacefully work with her mother, supporting her rather than against her. We cannot wait to see how this strong-minded duo works out their relationship in the second season. Brad Boimler accepted a promotion on Captain Riker's Titan. The trailer, however, shows him back with his original crew at the Cerritos. Whatever the reason, we are just as curious to know what led to his return as you are. To add to that, Sam has to relearn everything he knows about engineering after getting amnesia last season. Of course, he will need D'vana's help to do this.
Easter Eggs in the Trailer
In the first scene of the trailer, it appears Boimler is back with his old USS Cerritos crew. The USS Titan assignment did not last long, and he returns to his original crew. He's seen with the other lower deckers in EVA suits fixing a satellite. The Cerritos then warps away in classic Lower Decks fashion, leaving them stranded. We see the Cerritos visiting Freecloud, the nonaligned libertarian city seen again in Star Trek: Picard. The city is full of large neon business lights, including one of the Quarks. Ensign Mariner is holding a Cardassian hostage aboard what looks like a Cardassian starship. She is firing shots at a group of them with what looks like a Cardassian phaser.
Boimler appears to be assimilated into a Borg. He seems to be recreating the John Luke Picard scene. Hopefully, this is just a holodeck recreation, and fan-favorite Boimler is not a Borg. We are most probably getting a rematch between Pakleds and the Titan. One of the Pakled ships, which showed in the finale, makes a return. We also get shots of the Titan crew, and it appears a new first officer is replacing the saurian officer we saw last season. A group of Ferengi is seen driving along with a kind of dune buggy with a big cage in front of it. It looks like they are kidnapping members of the Cerritos crew.
New Merch
The Star Trek: Lower Decks Season 2 trailer features a Tom Paris commemorative plate available to order. Preorders will begin on August 11, 2021, a day before the premiere. The gold-rimmed plate features Tom Paris and the USS Voyager in the background. Star Trek Unlimited is a new Trek licensee tasked with selling the new merchandise. You can sign up on their website here to get a notification once sales open.
Episode Names Revealed
The names of two episodes from season 2, presumably episodes one and two, were revealed during the panel; "Strange Energies" and "Kayshon, His Eyes Open." Additional stills were released alongside the trailer.
New Uniforms
During the Comic-Con@Home 2021panel by Paramount+, Tawny Newsome, who plays Ensign Mariner, revealed that the second season would feature different Starfleet uniforms. We can already see this in the trailer, with both her and Boimler in a new white uniform. They appear to be the same ones worn in Star Trek: Nemesis and Star Trek: Insurrection. Mike McMahan promises that the new season will follow up all the incomplete stories we had after last season's finale. Season 2 is said to include more history and themes from the Star Trek franchise.
Tell us what's wrong with this post? How could we improve it? :)
Let us improve this post!