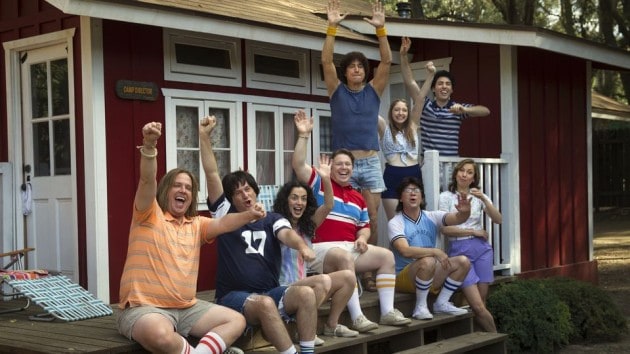 Only in 2015 could a 14-year old satire cult film with a cumulative box office gross of about a quarter million dollars deliver one of the year's most anticipated comedy series; and yet here we are with Wet Hot American Summer: First Day of Camp, which debuted to much fanfare on Netflix this week. Unsurprisingly, the opening two episodes of First Day of Camp are an interesting contrast in the development of the show from a film into a mini series; "Campers Arrive" very much feels like the opening fifteen minutes of a theatrical film, and it's not very good stretched out to a half hour. There's not a lot of movement happening, with plot or character: there's just a lot of hanging out, with Coop being lame and none of the young camp attendees making any impact. "Campers Arrive" offers us Josh Charles wearing three polos with the collar popped, yes, but that kind of broad joke is something Wet Hot can do effortlessly: that visual is the most engaging thing about the first episode, which looks more to tap into the general sensibilities of Wet Hot fans with allusions of what we know is to come, complete with nods like H. Jon Benjamin's character eating vegetables out of a can, or Andy discovering the long-lost FM radio station advertised in Camp Firewood's brochure.
Fortunately, "Campers Arrive" is as close to indulgent lip service as WHAS: FDOC (killer acronym) gets: once "Campers Arrive" can clear the way with the obligatory introductions, "Lunch" comes in like a bat outta hell, bringing the series to life with a single twist: Lindsey wasn't a hot teenage camper, but a 24-year old journalist going undercover at Camp Firewood. That's really all it takes; with that framing device completely reshaping a piece of Wet Hot's chronology, "Lunch" is able to build out the universe of the show in unique ways, carving out its own niche in Wet Hot's original time line.
That twist of story also brings the 80's satires back into focus, delivering much sharper jokes than the first half hour offered; from Greg (Jason Schwartzman) inhaling toxic sludge to Abby's sudden transformation into a 30-something when she has her first period, every single scene and joke in "Lunch" is funnier than the episode preceding it. Using Lindsey as a way to twist the assumed reality of Camp Firewood is an important device in all this: not only does it allow Elizabeth Banks to go nuts with the character's introductory scenes at the camp, but in how it makes the show's presentation of known facts feel fresh again.
There's a lot to love about "Lunch" – and by the same token, not a lot to enjoy about "Campers Arrive" in how it misses the mark on the very same targets (shout out to Yaron, played by David Wain in an impressive amount of make up). It gives some arc to the series that "Campers Arrive" fails to deliver on; while the first episode seems to revel in our knowledge of what is going to happen, "Lunch" makes definitive choices to reshape its quasi-sacred original narrative, playing with our perception of previous events, all while finding new, fun 80's spoofs to toss into the mix (like when Greg and Beth go from up close to the back of the frame hundreds of feet away, in the matter of a second). We may know how Ben and Susie's "relationship" will play out, but adding characters like Blake and Claude into their story offers new intricacies within the framework of the established story – and isn't that really the point of doing this how pre-sequel?
What remains to be seen is whether First Day of Camp can maintain the momentum of its second episode, continuing to flesh out the stories of the younger campers, while continuing to deliver new, hilarious take on its source materials (both the film and the culture it parodies). The film certainly wasn't able to maintain that momentum through it's 95-minute length, so it remains to be seen how First Day will fill out the eight weeks between the fictional "now" and "then" that the show is depicting. Once the cinematic formalities of reintroduction are completed, "Lunch" at least proves there are still some fresh ideas at play – whether it can keep it up for three more hours remains to be seen.
[Photo via Netflix]
Tell us what's wrong with this post? How could we improve it? :)
Let us improve this post!