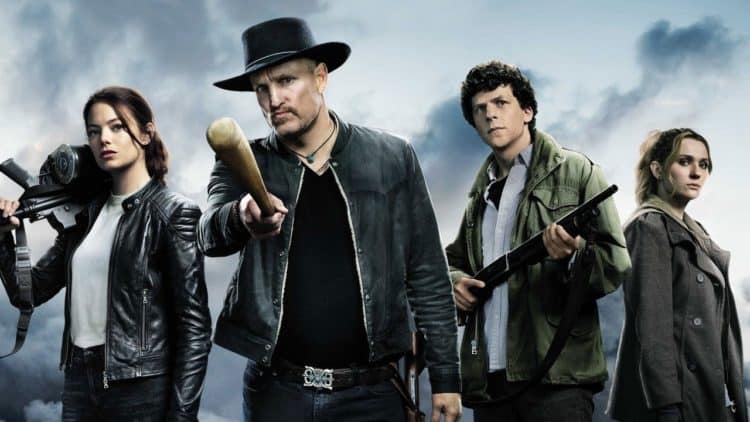 When it comes to horror/comedy, Zombieland is one of the top films on the list of many fans who witnessed the excellent feature back in 2009. To recall, it followed the adventures of Tallahassee, Columbus, Wichita, and Little Rock who are trying to simply adjust to a world that's overrun by zombies. The film was a high benchmark that added something fresh and new to the world of zombie films, and fans have always wanted more of the feature that Ruben Fleischer introduced. There was a brief television series based on the movie, but that was quickly canceled by Amazon. Since then, the world of zombies has vastly changed following the short-lived series.
Most notably, The Walking Dead had become a cultural sensation during that time. Now, when Zombieland: Double Tap arrived, The Walking Dead wasn't exactly a hot commodity at that point. In fact, the genre of zombie films wasn't in a strong state. However, there was still excitement for Zombieland: Double Tap because the original cast members were making a return and it's always fun to catch up to old characters; however, the reception to the sequel wasn't as great as the first film. It was a lukewarm response and though Zombieland: Double Tap did solid business at the box office, it disappeared from the theater without much excitement for another feature. When it comes down to it, was there even a need for a Zombieland sequel?
The core issue with Zombieland: Double Tap was that it felt tired and recycled. Sure, it was great to see Tallahassee, Columbus, Wichita, and Little Rock again and the film isn't bad per se, but it lacked the freshness that the original sparked. The sequel introduced fun new characters like Madison and Berkeley, but it spiraled into an unnecessary romantic arc that had its fun moments but didn't necessarily result in a great film. Madison playing the stereotypical dumb blonde could've really boosted the film had the movie strayed away from the romantic angle that made Wichita and Columbus come across as children. Playing with the dynamic of the four characters was a good idea, and even teasing tension amongst themselves isn't bad. It was fun seeing how these strangers with colorful personalities come together and try to be a family. There's an interesting story to tell about living in a world full of zombies, and though Double Tap didn't exactly fall flat on its face, it didn't hit the mark either.
Zombieland: Double Tap was simply ten years too late. The main source of the issue was that it was been there, done that feel. Once you get over the novelty of seeing Tallahassee, Columbus, Wichita, and Little Rock again then the movie is just…there. As I previously stated, there's nothing bad about it at all. It's fun to watch, but this article is about whether it was necessary and based off the sequel, no. The idea of making a Zombieland sequel could've resulted in something bolder and inventive but given that the zombie genre has been done to death at this point, originality is likely scarce when it comes to doing a zombie feature. There could've been a fun satirical angle played on the genre, like the brief scene where the film takes a shot at The Walking Dead. As it stands, it's an average film that doesn't necessary add to the lore of the overall world and tries too hard to tear the gang apart. It still had the charm that the first entry brought at the "Zombie kills of the week" were still decidedly fun but had a Zombieland sequel never existed then that would've been okay. Plus, it was hard to get into the action because none of the four main characters truly felt in danger. Everyone had plot armor, so even during the huge zombie chaos in the climax, the danger never felt present because the sequel didn't have that unpredictable nature that would make audiences believe Tallahassee, Columbus, Wichita, and Little Rock could actually die.
I know I'm coming down extremely harsh on a movie that's harmless and fun overall, but it was a long ten year wait for the next adventure of these four beloved characters. It should've been better. Zombieland: Double Tap didn't need to go crazy, weird, or out-of-the-box, but it certainty shouldn't have rested on what made the first film so special. At the end of the day, it's a fun rollercoaster ride that serves as nothing more than a temporary distraction you'll forget hours later.
Tell us what's wrong with this post? How could we improve it? :)
Let us improve this post!