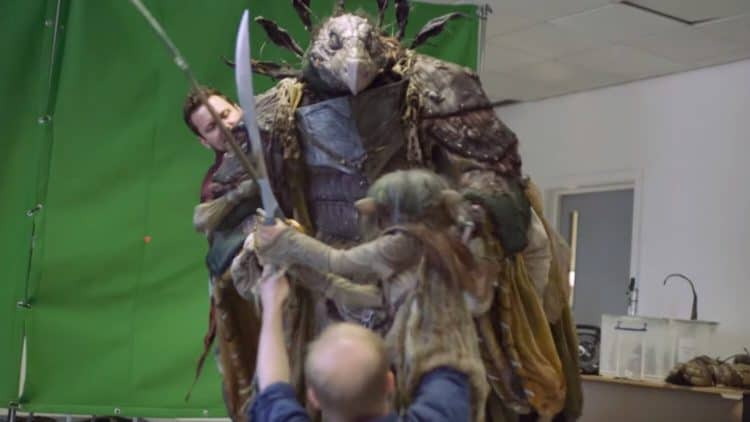 It seems as though there might be a bit of controversy when it comes to wondering just why the puppetry of The Dark Crystal: Age of Resistance, was kept rather similar to the original movie. Liz Shannon Miller of The Verge might give an explanation of this that some might listen to. Some might even go so far as to say that it wasn't nearly as professional as they wanted it to be, as it wasn't quite as smooth as CGI would be, and seemed to be kind of jerky and kind of halting at times. But seriously, what were you expecting? The Dark Crystal was meant to be unique, and it achieved that goal beautifully throughout the years since no one has ever really tried to recapture that same magic or even bothered to mess with the movie. Those of us that watched the movie as kids or younger people, whether we were terrified or loved it, or both, can surely be thankful since this has become a timeless legend that has had a great influence on the evolution of puppets and the Muppets as it became the central hub of Jim Henson's work and the world he returned to quite often it would seem when it came to continuing his work in puppetry and its evolution.
When you think of how Henson started out it's insanely impressive to think how far along he came during his career. The Dark Crystal was in a sense his greatest creation no matter that it was left alone for so long. It still became a cult classic that many people have remembered throughout the years, and in fact as a kid I can still remember seeing it featured in OMSI, which was one of their best exhibits at the time since it drew quite a few people throughout the local area. In fact the dinosaur and Marvel superheroes exhibits were the only others that seemed to draw just as many people since The Dark Crystal was something that catered to a lot of different people since it had more than one element to it that many people enjoyed, much as it does now. The puppets back then had a very limited amount of mobility no matter that Henson and his people were operating at peak capacity and made something quite impressive. Today the inclusion of CGI is kind of hard to go without since without it a lot of viewers might still hang around, but the rich and enchanting world of Thra would not have been nearly as impressive as it became in the first season. What remains to be in the second season, whenever it comes, is no doubt going to blow us away again and show yet another stunning example of why this story is bound to become even more popular.
When thinking about how much goes into each puppet it's not hard to be impressed since from the texture of their skin to the elite actors that stepped up to give an added bit of life to the characters. As Gretchen Smail of Bustle will gladly recite, Taron Egerton, Simon Pegg, Natalie Dormer, Nathalie Emmanuel, Mark Hamill, and many more came together to make this a very special return to a world that a lot of us can claim helped to entertain us as kids. Nearly every big role, even several smaller ones, were taken on by actors that have been around the business for a while and know their stuff, and can easily entertain us without much effort. That made for a show that was nothing less than exciting and that only a true cynic that doesn't like anything could possibly say anything negative about. The movements of the puppets were still close to the same, but it does seem to offer some kind of continuity since it didn't make them into smooth-moving characters that would be recognizable but somehow a little less than what we expected. Sometimes the simplicity of a single movement or the halting manner of several is more conducive to memory than the need to make everything absolutely smooth and without blemish. The creation of the world of Thra and the expansion of a story that had already grabbed the attention of so many is far more important since it shows just how far the story has come and how incredible the works of Henson have been throughout the years.
The fact that each and every person, mostly, that worked on the show were fans of the original movie only helped the effort since quite honestly people tend to do better when they care about more than the paycheck. That might seem a bit cynical but it's very true. How good of a job does the average person do on anything when they're simply concerned about getting paid? Now compare that to the job they'll do when they really care about what they're doing, and one should see a marked difference. As Kelly Lawler of USA Today might agree with, those that shared Henson's vision were deeply invested in this show and continuing the legend that he created, and as such, the show and the continued evolution of his art has only increased as they've moved forward.