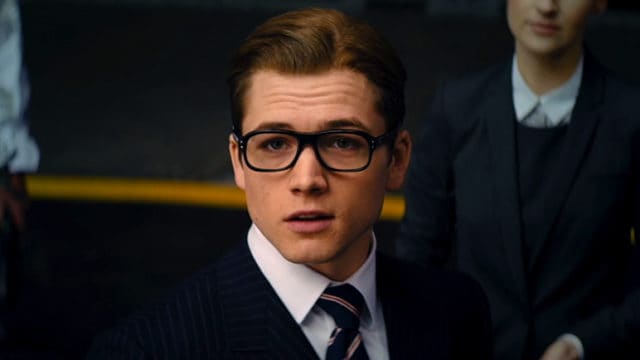 It seems like this young man came out of nowhere. One day, none of us knew his name, and next thing we knew, he's starring in an Elton John biopi, aptly titled, Rocketman. We probably won't see that one until next year, but we somehow know that Taron Egerton will be phenomenal in it. So we know that Egerton can sing. He can also jump off walls and make it look like something we'd all like to do as well. With only 15 actor credits to his name, three of which are coming out this year, we can't help but gush at what he has already accomplished in such a short period of time. Here are our top five favorite Taron Egerton movie roles, so far.
Testament of Youth (2014) — Edward Britain
For many in the UK, this is probably what set his career off back in 2014. It was Egerton's first big role alongside some big names: Alicia Vikander, Dominic West, Emily Watson, and Jon Snow himself, Kit Harington. We didn't really learn about this movie until after Kingsman But we're glad that we finally have because his acting in the film was just awesome. Maybe he'll do another drama soon; it certainly suits him well.
Eddie the Eagle (2016) — Eddie Edwards
In this movie, we finally get to see a little bit of action and comedy from Egerton. The story of the film was inspiring, and Egerton did well yet again. It was largely different from Testament of Youth, and it showed his range more than anything.
Legend (2015) — Mad Teddy Smith
His role in the film might have been smaller than before, but it was a good step for young Egerton to take. This crazy action film made us all cringe from time to time. Egerton's role as Ronnie's psychopathic gay lover couldn't have been more unique for him to play. He was excellent against Tom Hardy's performance, and it certainly made the world notice.
Sing (2016) — Johnny
Every time we see a musical animation, we always think of who could be the voice behind the character. In Sing, we knew who Buster Moon was or Rosita or Mike. We even knew who Ash was even though we hardly knew that Scarlett Johansson could sing. But we all couldn't figure out for the life of us who Johnny was. And when the credits came after the film was over, so did the shock. Taron Egerton is singing as Johnny. We are still very impressed and are still singing I'm Still Standing over and over again.
Kingsman (2014) and Kingsman: The Golden Circle (2017) — Eggsy
We first took notice of him during the first film, and we immediately remember his name. Egerton did so well in that film that it made us look him up, literally. In the second installment of the film, he solidified his performance and actually rose up as lead with no issues. It's our favorite role to date, and we're hoping we'll see Eggsy again somehow in Kingsman Part 3.