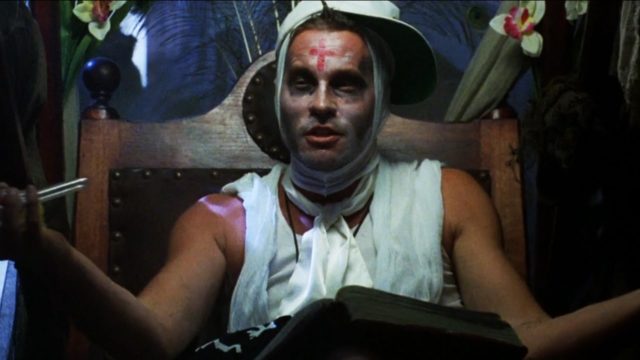 Val Kilmer was a great actor at one time and he could be again if he really tried. His impersonation of Marlon Brando was great to some, amazing to others, but it still felt slightly campy at moments. In the very underrated and underappreciated film The Island of Dr. Moreau, Kilmer plays the assistant and keeper of the animal people, Montgomery. He's the right hand man of the good but slightly insane Dr. Moreau and the eventual nutcase that goes completely off the reservation when Moreau is killed by his own creations.
There have been a few representations of The Island of Dr. Moreau in film but this one was seriously disturbing. It was also, if you want to look at this way, less of a true representation of the book. When you look at the book however this movie really does give a very fair and honest representation but definitely updates the story to fit into modern times. Plus, in the book Moreau is able to go hunting when the need calls for it, and it is always because something has happened that might threaten the safety and sanctity of his island.
Obviously they've changed a few names and added a couple of characters here and there but for the most part the movie holds pretty true to the book in many ways. Plus, watching Kilmer act out a breakdown, as did happen in the book, is pretty entertaining. This was Kilmer at the height of his popularity, when he could do no wrong even in a film that many people vilified and called absurd. Personally I think a lot of people didn't want to look in the mirror and understand that deep down we're all no better than animals at some point.
Be that as it may, in the book Montgomery had a breakdown after the death of Moreau, but his little soiree happened on the beach, not in some dingy bunker with a large number of carnal encounters and a goodie bag of drugs and other substances that might be pleasurable to the beast folk. Some things tend to be better when they're placed in the hands of film makers it would seem, as despite being a classic tale the original story would be a bit dry for cinema. In this manner the director managed to bring it down to a level that was very dark, dirty, and more than a little bestial.
Montgomery was a nut in this film and thus played right into Kilmer's hands since as an actor he's always been a bit of an eccentric. The fact that he played his part so well is amazing, but the sad thing is that the film was considered to be nothing more than a brief spark, not even a flash in the pan. Take notice however that any film that brings into question the humanity of the human race tends to be looked at very carefully. And if it's something that people don't like when they see it then there's a good chance that they'll turn their heads, not in disinterest or even disgust, but in shame, and in fear.
Why fear? Because the moral implications of the movie might be far too accurate.
Save
Tell us what's wrong with this post? How could we improve it? :)
Let us improve this post!