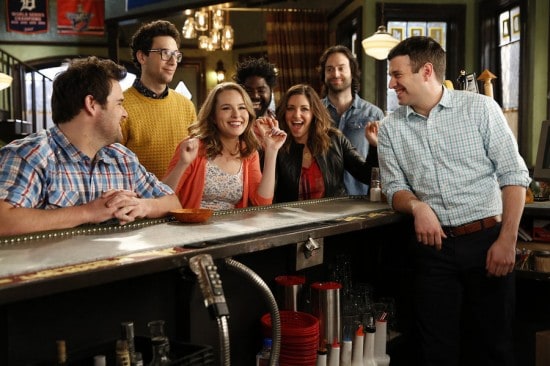 30 Rock's two live episodes are studies in adapting a single-camera show to live television. The first episode (Season 5's "Live Show") took the approach of bringing the show's original format to live television, complete with the cutaways, walk and talks, and recurring gags of any typical 30 Rock episode. Their second attempt at live TV, Season 6's "Live from Studio 6H," was entirely different, a variety show wrapped around the thin conceit of a regular 30 Rock story – this was an episode that dedicated itself to a lengthy The Honeymooners bit, after all. Both worked in their own ways (Season 5 a little better than the slapstick heavy sixth season episode), and both found ways to reflect the talents of their cast under the bright lights of slightly tape-delayed TV.
Undateable's hour-long live episode, "A Live Show Walks Into A Bar," falls somewhere in the middle of these two things – and works. While the opening and closing acts do feature important character-centric stories, large chunks of the middle are lost to musical riffs (including Ed Sheeran and Victoria Justice), fourth-wall breaking jokes, and a never-ending cycle of guest stars, including Scrubs alum Zach Braff, Donald Faison, Neil Flynn Christa Miller, TV's Scott Foley – and Minnie Driver, Drew Pinksey and Mike Catherwood, just for the hell of it. What it made for was a wild, loose hour of television, one prone to breaking awkwardly long pauses while the enthusiastic crowd went nuts over everything and Chris D'Elia improv moments, which threatened to break the illusion of reality on stage at any given time. Needless to say, it was a hot mess – and I loved every second of it.
Some of this is probably attributed to the Undateable fanboy growing deep within me; but there's science to the chaos of "Live Show," one that grabs a hold of the magic of live television and runs with it. The plot is never really a concern, even if this episode does lay the groundwork for next week's season finale with Burski's maturity and Candace's feelings for Justin. "Live Show" is really constructed around Justin and Danny's latest competition (over Victoria's affections), using the setting as an opportunity for a surrealist play of sorts, the dramatic equivalent of serving Undateable as a deconstructed course: all the familiar pieces are in place, but separated and heightened by the episode's shifting attentions towards each one.
And its actors, from the main stays to the guest stars, inhabit the script with a very Dean Martin Show-like quality: Minnie Driver shouting out England as she exits, Chris D'Elia constantly looking into the camera, Brent Morin getting his chest waxed at the end. The looseness of "Live Show" and its script keeps things simple, be it visual gags or in-between scene blocking; nothing here is high concept, which doesn't make the episode feel desperate or pandering, even as it throws guest star after guest star at the episode. Ultimately, the slight framework and energetic goofiness of "Live Show" make for a endlessly fun hour of television, one that brilliantly showcases the show's episodic charms while putting the talents of its central performers front and center (and letting its guest stars slap Brent Morin repeatedly in the face, of course). This episode was a successful attempt to showcase Undateable's personality – and boost its ratings – ahead of a season finale that could determine the show's fate.
[Photo via NBC]
Tell us what's wrong with this post? How could we improve it? :)
Let us improve this post!