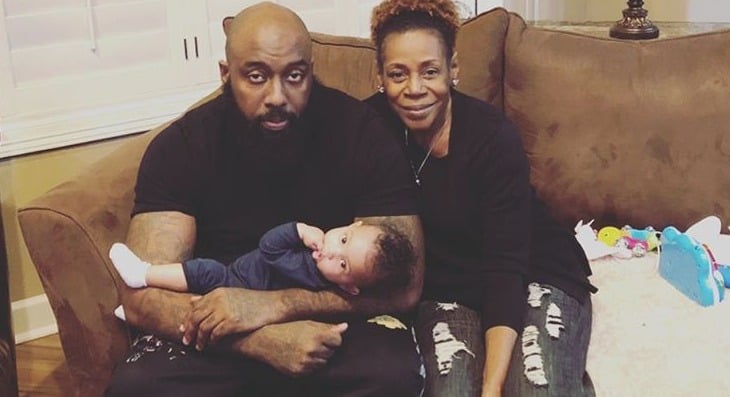 Trae da Truth recently hit headlines after helping local residents of Houston to safety after the city was hit by extensive flooding in May 2019. It's not the first time Houston has had reason to thank the rapper: over the last couple of years, Trae has raised millions of dollars to help rebuild the homes of those left destitute in the wake of 2017's Hurricane Harvey. Outside of his philanthropic endeavors, Trae is a respected rapper who's won international acclaim with his multiple solo projects and collaborations with ABN and Screwed Up Click. Despite some set- backs along the way, Trae's star is most definitely on the rise. Find out more with these 10 fast facts about the Houston native.
1. He grew up in Houston, Texas
Trae was born on 3rd July 1980 in Houston, Texas. He spent his formative years moving back and forth between the Northwest and Southwest sides of the city, encountering every walk of life imaginable, from drug dealers to athletes, from muggers to car- jackers. The constant moving didn't seem to affect Trae too much, who found it easy to adjust to his ever-changing circumstances. "I've been everywhere," he told Houston Press. "Damn near every hood in the city has embraced me. I've been around, a neutral cat. I was younger than a lot of cats and I ran with a lot of the old heads so a lot of youngsters automatically looked up to me because I was next to some of the legends that people love."
2. He's released 10 solo albums
Since releasing his debut solo album Losing Composure in 2003, Trae's output has been nothing short of prolific. Losing Composure was closely followed up by Same Thing Different Day in 2004, and 2 years later, he released his first offering under new label Rap-a-Lot Records, 2006's Restless. In addition to his multiple studio albums, Trae has also found time to release 26 mixtapes and a further two albums as one half of hip-hop duo, ABN.
3. He has his own day
In 2008, Trae won the honor of becoming the first rap artist to be awarded his own day (Trae Day). The award was extended by the mayor of Houston, Bill White, in recognition of Trae's contribution to the community. The honor clearly means a lot to Trae, who sees the day as an opportunity to ramp up his philanthropic efforts even further. "No matter how big people may think I am, I'm always in the streets giving that helping hand," he told MTV. "What I do on my day is I don't make it about me, even though it's called 'Trae Day', I make it a day for the kids and the families that need help."
4. He's been banned by KBXX
In July 2009, Trae was caught up in a controversy that would see his music banned by radio station KBXX. At the 2nd annual Trae Day celebration, 8 people, all below the age of 21, were killed in a gang related shoot-out. Initially, questions centered on why gang members would choose a pubic event involving kids as the setting for their activities. However, within just days of the event, the focus of attention (and blame) was on Trae. While the rapper publicly condemned the incident, critics (including KBXX host Nnete Inyangumia) were quick to pin responsibility on his lyrical content, which they claimed condoned violence. When Trae retailed by calling the KBXX host out on a mix tape, KBXX issued a station wide ban on his music, effectively ending Trae's ability to promote his music in his home city of Houston.
5. He was shot in the shoulder
The events of July 2009 wouldn't be the last shooting Trae would witness. In June 2012, Trae was caught up in gunfire following a performance in Houston. Trae received a bullet wound to his shoulder, but at least managed to escape with his life: his friends Carlos "Dinky D" Dorsey, Erica Rochelle Dotson and Coy "Poppa C" Thompson weren't so lucky. The following month, Feanyichi Ezekwesi Uvukansi was arrested and charged in connection with the incident. He would later be convicted and sentenced to life imprisonment without parole.
6. He had a fight with Mike Jones
In 2008, Trae had a dispute with fellow Texan rapper Mike Jones at the annual Ozone Awards. The fight ended up delaying the start of the show, and only ended after police were called in. The two would eventually issue public apologies for the incident, although Trae couldn't avoid a parting shot at his spurring partner with his: "Things like this happen in life every day and I do not have the time to entertain this anymore," Trae ended his apology. "I would like the world to tell Mr. Jones that he can thank me later for his split second of fame. Right now, I'ma keep it moving."
7. He was one half of hip- hop duo ABN
ABN was a hip- hop duo composing of Trae and fellow Houston rapper, Z-Ro. The pair first collaborated on Z-Ro's debut album, Look What You Did to Me, in 1998. They spent the next few years making regular appearances on each other's albums, before making the partnership official in 2003 with the release of their first joint project under the ABN name, Assholes by Nature. In 2008, the duo released their most commercially successful offering to date (as either a duo or solo artist) with It Is What It Is. ABN parted ways soon after the albums release, citing personal and professional differences.
8. He's been involved in 2 lawsuits
Following KBXX's ban on his music, Trae began legal proceedings against the station in 2010, citing professional damages. Unfortunately for Trae, the suit was ultimately dismissed. Undeterred, Trae launched a second bid in 2018 to end the almost decade long ban. When asked what he wanted the station to do in response to the case, Trae kept it to the point: "Make it right", he asked. "I'm only standing to fight for what's right".
9. He's a member of Screwed Up Click
In addition to his work as a solo artist, Trae has featured on the tracks of numerous other rappers, not least as part of his work with Screwed Up Click, the underground hip hop collective founded by the late DJ Screw. Other notable members of the collective (both past and present) include Big Hawk, Lil' Keke, Z-Ro, the Botany Boyz, Fat Pat, and Big Moe. Despite the deaths and incarcerations of several of its members (including DJ Screw himself, who died in 2000 of an overdose), the collective continues to collaborate, holding a reunion tour in 2012 and coming together again in 2014 to record "The Legendary DJ Screw" in memory of the collective's late founder.
10. He's signed to Grand Hustle Records
In 2012, Trae signed to rapper and actor T.I.'s record label, Grand Hustle Records, after a successful sales pitch from T.I.. "He not trying to change nothing I got going on", Trae revealed to XXLMag.com. "Me and him [are] more of teammates. He put his input, I put my input; at the end of the day if we agree or don't agree, we still gonna keep pushing."