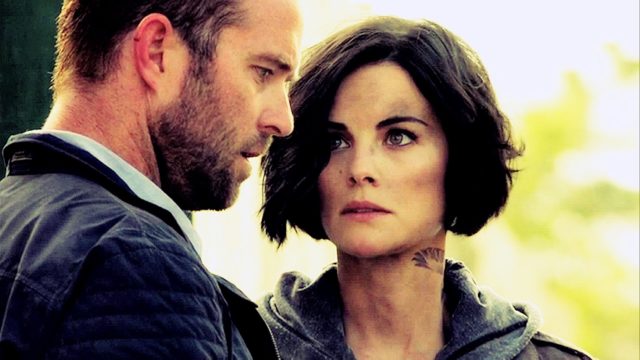 Season two of the thrilling series Blindspot is packed with action and intrigue. The premiere hits the ground running with new dramatic twists that deliver high on suspense. Viewers get just enough new information to stay hooked for life. The story centers around Jane doe and the past that she cannot recollect. The only real connection that she has with her former life are the tattoos which cover her body which give mere shadows of clues as to her real identity.
Here are the top five moments of Blindspot Season 2.
1. Jane Escapes the CIA Black Site
Jane was kept in a CIA black site. She endured painful torture nght and day. She attempts suicide by drowning and is rescued by the CIA. Upon waking, Jane attacks the agents. She had been given an injection and the needle was still in her arm. She is taken to her cell. She removes the needle and keeps it until the guards return to take her out for further torture. Jane is able to pick her handcuffs and bust out of the CIA holding site.
2. Jane and Kurt fight
https://www.youtube.com/watch?v=qO1UcLp6Mz0
In this tense scene, Kurt is hunting Jane but she backtracks behind him. She holds a gun to his head. Kurt tries to reason with Jane and tells her that she has to come in with him. After the torture she endured at the hands of the CIA Jane was not about to go back. Kurt tells her she will have to shoot him. She seems conflicted and in a split second, Kurt turns the table and a violent physical fight takes place between the two. Another member of Kurt's team arrives and makes Jane drop her gun. The pain that each character feels is evident and shown through magnificent portrayal by the actors.
3. Jane and Kurt Reconcile
A new character named Nas Kamal, NSA agent discovers the total of what Jane really knows. They also learn about the deaths of Oscar and Mayfair. After everything comes out, Kurt begins to realize that Jane did not intend any harm. She thought that she was Taylor Shaw and confessed that she wanted to be her. His feeling for her are still present but because of all of the deception and pain, he needs time to work things out before he can truly trust her and put the whole affair behind them. Jane and Kurt have one thing in common at this point. Sandstorm is directly to blame for the sitaution and because both have been betrayed, Jane recommends that they make them pay for what they have done.
4. The Truth Comes Out
Mayfair confronts Jane about setting the whole team up and holds her at gunpoint. Jane tries to explain that she didn't know. Oscar shoots Mayfair in the back. Jane refuses to leave her. Mayfair grabs the gun and tries to shoot Jane but she knocks the gun out of her hands. She is obviously distraught over Mayfair's death in this thrilling episode.
5. Blindspot S01E23 Season finale. Kurt confronts Jane and arrest her
https://www.youtube.com/watch?v=SeO36OMKVPg
Faithful viewers know that Jane and Kurt have feelings for one another. This scene occurred at the end of the season finale. Jane's lies and the secrets that she has kept have finallynbeen revealed. Kurt is angry and finally realizes that she has been using him. The lies that she told about the memories she faked caused Kurt to put his family at risk when he let his father back in his life. Upon his deathbed, Kurt's father told him that he was the one who had killed Taylor Shaw. This was proof that Jane had lied. In her heart, Jane wants to make amends, but too much water has gone under the bridge. Kurt's trust in her has been destroyed. He was seconds from shooting her. The only action that prevented him from executing the action was the fact that she got on her knees with her hands on her head. He arrests her and the show takes yet another sharp turn.
Tell us what's wrong with this post? How could we improve it? :)
Let us improve this post!