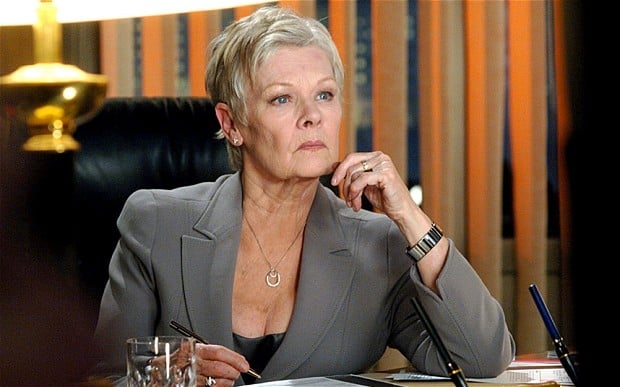 In assembling this list there is one major caveat that is essential to understand – Irish actresses are not considered to be British. The reason is simple: it is a definite no-no to refer to an Irish person as British 98.965 percent of the time. Many, if not most, people of Irish descent have a strong streak of independence (some call it stubbornness) and prefer it that way. That means no Maureen O'Hara.
One thing that is true of this and lists similar to it is that most people will agree on the Top 11 on this list, as we do here with many of the other ranking lists. But after that things get murky. One apparent reason is that the Dames (pronounced dahmz) that deserve to be in the Top 11 are significantly older than their younger counterparts who have had a top box office success but haven't been able to put together the type of resume that has both longevity and excellence. This means it is possible the women who are on top today will remain there 100 years from now. That is an All-time list.
As for choosing the remaining 9 English actresses to make the list, you are asked to refrain from being verbally abusive to your screen or monitor. Some who made the list are a choice of optimism; that they will have even greater future successes and build a formidable body of work for future consideration. Others are personal favorites who will not realistically be able to compile the necessary credentials to break into the Top 11, but have had several memorable performances. As always, if you see someone who belongs in the Bottom 9 and can make a case for, we are open to revising the list at a later date.
No specific order of greatness is assigned to either the Top 11 or Bottom 9. However, I will admit my attraction to women who have that strong British accent, so there may possibly be some bias on my part.
1. Judi Dench
Judi Dench just turned 83 and is recognizable by younger viewers today as "M" in the James Bond franchise. She was killed off in Skyfall at the end of the movie, having ended a string of 6 James Bond movies from 1995 to 2012. But her career goes back to the 1950's as a young actress she was noticed for het amazing performance as Ophelia in Shakespeare's Hamlet. She was a star in both movie roles and on stage, demonstrating her diverse performing talents. She is famous for portraying English queens, snagging an Oscar nomination as Queen Elizabeth I in Shakespeare in Love and earned a Golden Globe nomination as Queen Victoria in Victoria and Abdul.
2. Julie Andrews
One of the classic films of all time, The Sound of Music, Julie Andrews starred and displayed her out of this world vocal range as well as an ability to dominate the stage with her screen presence. Her musical and acting talent has resulted in 3 Oscar nominations, 3 Tony Award nominations, and 5 Grammys — winning twice. Many people may also remember her as Mary Poppins. At age 62 she would undergo surgery for a cancer on her vocal cords, bring to a halt more than 40 years of a singing career. She moved on and directed the stage production of My Fair Lady in 2016.
3. Vivien Leigh
It is hard to imagine that Vivien Leigh would have escaped the social media outrage if she had begun her acting career today, having chosen to leave her husband and child to move forward with her acting career. But that was 1936, and gossip did not spread as far and as fast back then. To be honest, Leigh had her share of mental health issues as well as generally below average physical health. Yet none of this takes away from her role as Scarlett O'Hara, a role that many people believe she was born to play. Oddly, as Blanche DuBois in A Streetcar Named Desire, critics were saying that her Oscar winning performance was more of real life being projected into art, as her new marriage to Laurence Olivier had more than its share of problems and the character of Blanche was apparently suffering from a bipolar disorder. Her poor health would catch up with her, dying of tuberculosis at the age of 54.
4. Audrey Hepburn
The early life of Audrey Hepburn could easily be portrayed as the World War Two version of Gone with the Wind – in reverse. Her father had left her and her mother when they lived in The Netherlands, and she came to a point where she had to eat tulip bulbs from the ground simply to survive. She came to America and began her acting career, in part to help her mother avoid working long hours at menial jobs to support the family. Her many popular and famous movies include Breakfast at Tiffany's, Roman Holiday, Charade, and My Fair Lady. Her early childhood was not forgotten as she became more and more successful. Up until her death in 1993, she continued to be actively involved in the international child assistance organization, UNICEF.
5. Olivia de Havilland
When you think of Olivia de Havilland, there are two names usually associated with her — Joan Fontaine and Errol Flynn. Flynn and de Havilland paired up for no less than 7 movies, including The Adventures of Robin Hood, Captain Blood, and The Charge of the Light Brigade. As popular as those movies were at the time, her award-worthy movies came later in her career. What she will long be remembered for by Hollywood actors is her suit filed against Warner Brothers for limiting her acting roles by extending her contract under less than ethical conditions. The court ruled in favor of de Havilland in what is now known as "the de Havilland law." The second name associated with de Havilland is her sister, Joan Fontaine. (She also appears in the Top 11 of this list.) Their decades long feud was always good for a gossip column headline, and while Fontaine was an excellent actress in her own right, de Havilland was simply the better actress.
6. Maggie Smith
If you have ever watched the British series Downton Abbey you immediately know who Maggie Smith is, as she bagged 2 Emmy awards for her performance. Even if you are only a movie watcher, you will recognize her as Professor Minerva McGonagall in the "Harry Potter" movies. These are two very different acting environments, and add to that her career started in musical theater, you have three of the biggest reasons she is unquestionable one of England's All-Time actresses. She received her first Oscar nomination back in 1965 for Othello. She had to go under the knife in 2016 for hip replacement surgery, but we are confident we will see her perform somewhere in the near future.
7. Joan Fontaine
The sister of Olivia de Havilland, Fontaine had the good fortune of being able to work with two of the most prominent directors of her time — Alfred Hitchcock and Orson Welles. She also has a career boost when she was paired with leading actors such as Fred Astaire, Douglas Fairbanks Jr. and Cary Grant. Her feud with older sister Olivia was in part based on the common sibling rivalry, which Olivia is said to have won. But a more important turning point came with both women were pursuing acting careers and Fontaine turned down the part of Melanie in Gone with the Wind. Older sister Olivia won the role and was critically acclaimed for her performance. But Fontaine would get her "revenge" in 1941 by winning the Oscar for Best Actress in Hitchcock's movie Suspicion — beating out her older sister for the award. The feud would continue unabated, with the point of no return being reached when Fontaine's mother died but was not invited to the funeral by sister Olivia. Fontaine died at age 95, while Olivia lives on at age 101.
8. Helen Mirren
To fully understand this first note on Helen Mirren you should watch the video clip above.) Early in Mirren's career she did several Shakespearean plays and was referred to as "The Sex Queen of Stratford" for choosing the roles she would play. This is an ignominious start for an aspiring actress, and at age 29 this was definitely not the reputation she wanted to move forward with. Appearing in the 1980 film Caligula, which was self-rated X and was criticized for being thinly veiled pornography, didn't help much. Like many successful people, she shook off the stereotype and landed several roles that earned her critical acclaim, including The Long Good Friday, Cal, Mosquito Coast, and The Cook, the Thief, His Wife and Her Lover. She finally escaped the stereotype and found a place on the TV series Prime Suspect. After that her career took off on a serious roll, and she earned a number of nominations as well as an Oscar for her performance as Queen Elizabeth II.
9. Angela Lansbury
For most people, when you hear the name Angela Lansbury you think of the TV series Murder, She Wrote. Or you think of an author and writer. But few people know her as one of stage and screen's most talented singing voices. But where Lansbury made the biggest acting splash was in playing supporting roles in classic Hollywood movies such as Gaslight, The Picture of Dorian Grey, National Velvet, and The Manchurian Candidate. Of course, her musical talents did not go unrecognized as she won Tony Awards for Mame, Dear World, Gypsy, and Sweeny Todd. There are those who reject Ms. Lansbury's considerable achievements because of her personal comments on the recent #metoo hubbub, statements she outright rejects claiming she was taken out of context and misunderstood.
10. Elizabeth Taylor
More people are likely to associate two men — Richard Burton and Michael Jackson — with her name than almost anybody else. There is good reason for this, as Burton was a romantic interest for many years early in her career and Jackson was a longtime admirer of Taylor's, even having an image of Taylor show up in one of his music videos. Yet these two men only cloud the real success of Taylor, who has been quoted as saying, "Some of my best leading men have been dogs and horses." Nominated for Best Actress in a Leading Role 5 times by The Academy, her nominated movies include Raintree County, Cat on a Hot Tin Roof, Suddenly, Last Summer, Butterfield 8, and Who's Afraid of Virginia Woolf? The dog reference as a leading man comes from Lassie, Come Home while the horse was in one of her most famous roles in National Velvet. She did have a number of men in her life, which included 8 marriages, but perhaps one of the lesser known facts about Elizabeth Taylor was she had to overcome scoliosis, a curvature of the spine, throughout her life.
11. Deborah Kerr
One of the first things you need to know about Deborah Kerr is her last name is pronounced like "car." Paramount Studios used that little fact to promote her career, saying Kerr rhymes with star! She had not only the looks, but it didn't take long for producers to see her real acting talent. One interesting "problem" Kerr had during her career was that she didn't like always being cast as the woman who was always prim and proper. It was a problem because while Kerr preferred other roles, her audience wanted more Prim and Proper Deborah. But that casting did not affect her range of acting talent. In From Here to Eternity she shocked audiences with a display of the famous red-headed temper while showing her dramatic chops in Julius Caesar. Add the following movies to her resume – King Solomon's Mines, Quo Vadis, An Affair to Remember, The King and I — and it easy to see how Kerr is considered one of the all-time English actresses.
12. Julie Christie
Julie Christie can be seen as someone whose career shot up like the proverbial star, then faded out for no obvious reason. At the young age of 25, she had won an Oscar for Best Actress in the British movie, "Darling." She had not only leading lady attractiveness but a polished set of acting skills to go with it. But soon after the movies she played in were known more for their scenery than her acting roles. That resulted in her fading starlight from which she has never recovered.
13. Rachel Weisz
The career of Rachael Weisz continues to grow, partly spurred on by her successful husband Daniel Craig. Her role as leading lady Evelyn Carnahan in The Mummy gave her the opportunity to show her acting skills, as she mixed her natural beauty, English accent, a rare combination of naivety and intelligence, and the woman in search of romance into the character. She won an Academy Award in 2006 for Best Performance by an Actress in a Supporting Role for The Constant Gardener.
https://www.youtube.com/watch?v=UO3fqLdPfq0
14. Keira Knightley
Many fans remember her for her role as Juliet, but more recently she has continued her success by picking up an Oscar nomination for Best Performance by an Actress in a Supporting Role in the movie The Imitation Game. She has previously been nominated in the same category in 2006 for Pride and Prejudice. She has not limited her acting to movies, but also has appeared on the TV mini-series Doctor Zhivago.
15. Kate Beckinsale
What can you say about Kate Beckinsale as Selene in the Underworld franchise that has not already been said? The Academy thought her acting was good enough to be considered for an Oscar as Best Actress in 2004. She has been a fan favorite for female action heroes, and has taken on a variety of different roles, including a love interest of Ben Affleck in Pearl Harbor.
16. Vanessa Redgrave
Redgrave is a quality actress who had the misfortune of being too overtly political. This may sound strange in 2017, but while Hollywood likes to make controversial movies, they prefer to keep the politics of their actors restrained so it does not affect the box office revenue stream. Redgrave, as talented as she was, could not get past her past. In the 1980 movie, Playing for Time she was to play the role of Nazi camp survivor Fania Fenelon. The problem was Redgrave was so controversial the real life Fenelon objected to her playing the role. How bad can things get?
17. Emma Watson
Watson was J. K. Rowling's first choice for portraying the book character, Hermione Granger, in the Harry Potter series. Watson was only 9 years old at the time, and since then her career has flown free and high. At age 28, she has had continued success, playing the lead role of Belle in the Beauty and the Beast as recently as 2017. She has plenty of room to grow.
18. Emily Blunt
Blunt is one of the Bottom 9 actresses that has the potential to move up because she has shown a strong consistency over the past two decades. Consider her choice of movies: The Girl on the Train, The Huntsman: Winter's War, Sicario, Into the Woods, Edge of Tomorrow, Looper, The Adjustment Bureau, Charlie Wilson's War, The Jane Austen Book Club, and The Devil Wears Prada. Spectacular movies? Maybe not, but they are solid. To be fair, trying to compare a modern actress with the Top 11 really seems to be unfair. As they say, different generations.
19. Minnie Driver
I'll admit she is a personal favorite of mine largely in part due to her performance in Good Will Hunting where she was nominated for an Oscar. She has decided to primarily focus on TV, doing mini-series such as The Politician's Wife and TV series such as About a Boy. Though she has accumulated 26 award nominations, her lack of consistent outstanding and critically acclaimed performances will keep her in the bottom tiers of the list.
20. Catherine Zeta-Jones
Being married to Michael Douglas does have it challenges, but that does not take away from her consistent history of finding the right leading men to pair up with. She won an Oscar for Chicago in 2003, but one of her most popular movies is The Mask of Zorro. She does not seem to have a problem choosing the right movies to star in, as her movie highlights show: Entrapment, Traffic, Intolerable Cruelty, and Ocean's Twelve.
After all is said and done about the names on this list, it is obvious that the decades that span these actresses Hollywood careers have similar elements to them. Almost every woman on the list made a political statement, some more intensely than others. Most had to deal with the stereotype of the attractive but not particularly talented female that would warrant being cast in a leading role. And most were outspoken about women in Hollywood, business, and being a voice for other women to have successful careers.
Because YouTube wasn't around 30, 40, or 50 years ago, these pre-Internet English actresses got critical exposure through interviews on TV and in magazines, but had far fewer avenues for their talent to be recognized. Yet the modern actresses who made the list have to deal with social media and YouTube, where the focus is not as much on their acting abilities as the 2 minute movie clip or a 10 minute interview on a late night talk show.
The question is whether much has changed for English actresses over the last half century, or can they expect to encounter the same problems as their predecessors. One answer is certain to be that committing to a lifelong career as actresses like Helen Mirren and Judi Dench will be the exception rather than the rule for most English actresses for any reason you choose to insert here. You can select from more money, a shortage of acting roles, or a generally shorter acting career due to advances in technology. We only hope that future Top 20 English Actress lists do not include animated or AI creations.
Tell us what's wrong with this post? How could we improve it? :)
Let us improve this post!