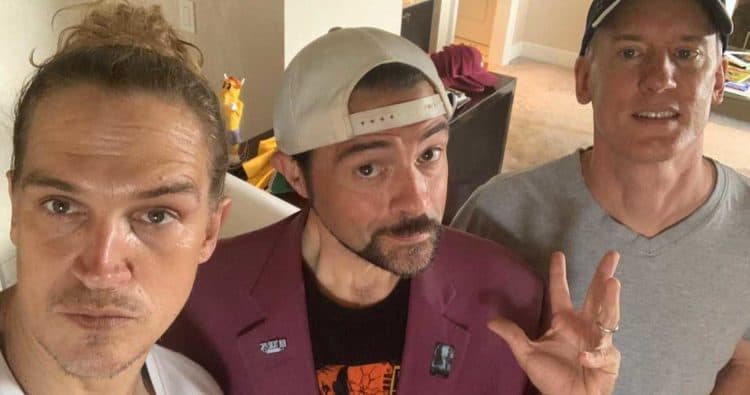 If you're a fan of the two Clerks movies from Kevin Smith, then you might have been waiting for that third movie. I love Kevin Smith, but honestly, who doesn't? Okay, I reckon there are quite a few people out there who don't dig his humor. To be fair, I think his humor isn't for the thin-skinned. If you're like me and like dark comedy, then you probably like Kevin Smith.
I think it's fair to say that the first Clerks movie is really what launched Kevin Smith's career. To be honest, I was kind of late to that movie, but watching it during a tough time really grabbed me. The first Clerks really isn't what I expected it to be. Sure, I was already aware of Jay and Silent Bob. I actually saw their movie before I watched both Clerks movies. Call it sacrilegious if you want, but the View Askewniverse is like a bag of cats. There's a lot going on, but it's a fun and wild party. I wouldn't expect anything less from Kevin Smith.
So what is the deal with Clerks 3? Well, the good news is that it's apparently finally happening, and it will be under Lionsgate. And just in case you're wondering, the original cast will be returning. Jeff Anderson will be reprising his role as the abrasive Randal, Brian O'Halloran will return as down-on-his-luck Dante, and Rosario Dawson will return as his lover Becky. And of course, it wouldn't be the same without the famous dynamic duo, Jay and Silent Bob. This movie needs those two like chocolate needs peanut butter. Okay, maybe not, but it just makes it so much better. All of this seems like the right ingredients for a perfect Clerks threequel.
As excited as I am for this movie, I just can't help but think if it's a little too late. I would like to say no, but reading the synopsis of Clerks 3 doesn't make me particularly excited. The plot will put Randal in the center and pick up right after his near-fatal heart attack. As part of his recovery, Randal decides to make a little movie about his adult life and his beginnings at the convenience store. Who will help him make this movie? His best friends Dante and Elias, along with Jay and Silent Bob.
For some reason, I'm just not very invested in this synopsis. Didn't Jay and Silent Bob have their own movie about trying to get a movie about them stopped from being made? Don't get me wrong, it was hilarious, but I'm not sure if this will work for Clerks 3. To be honest, I didn't really think the Clerks movies needed a third movie.
The second Clerks movie ended on a good note, with Dante realizing what made him happy and staying where his friends and family were. It seemed like a good way to end all characters' stories, since everyone was content in the end. After watching Clerks 2 in full, I thought to myself if a third movie was really needed. For the sake of seeing our favorite convenience store workers Dante and Randal again, I would say yes. No matter what, watching those two interact and talk about their lives and how much they hate customers makes me laugh. Why does it work? Because it's relatable.
That's something I feel like Clerks 3 will fall short on. The first Clerks movie really spoke to me, because Dante wasn't your average movie protagonist. He wasn't a superhero trying to save the world or a spy traveling across the globe to save his kidnapped daughter from thugs. Dante was just a regular guy living one day at a time and dealing with the tough reality of a job he hates. He felt stuck and just spent most of the movie feeling sorry for himself because he wasn't even supposed to be at work that day. It's a very relatable concept, since I was in a similar situation at the time when I finally decided to watch it. After I got done watching it, I realized the true genius behind Kevin Smith's writing.
Kevin Smith uses his humble beginnings as a regular guy as the basis for his storytelling. For the sake of Clerks, it really worked. Now he is capable of being creative and thinking way outside the box. Go watch Dogma and you'll learn why. The second Clerks became more about family and choosing what makes you feel like you, rather than making the decisions that others want you to make. All relatable concepts, so I'm truly wondering what angle Kevin Smith is coming from for Clerks 3.
Since Randal having a heart attack will be his launching off point for the movie, it does confirm that Kevin Smith will be pulling this from his own unfortunate experience. After Smith's heart attack in 2018, we fans saw a significant change in his appearance. In the past, he was always known for being a heavy-set guy with big glasses, but now, he's much thinner. He's taking his health much more seriously now and we're more than happy he was able to bounce back from his heart attack.
Smith has acknowledged that his own heart attack will be a big influence on Randal's story in Clerks 3. That tells me that this movie will tackle more serious issues and have more emotional weight behind it. Will Randal come to fully regret his life decisions? How did he and Dante adjust to owning a convenience store/video store when video stores are obsolete nowadays? This can all be a part of his motivation to make the best movie he can that details where he ended up.
So is it too late for a Clerks 3? As a fan, I would still say yes and no. The plot still doesn't get me too excited, but I am interested. If Kevin Smith puts more dramatic weight behind Clerks 3 while delivering the laughs we all want, then I'll take it. Just please give us more jokes about how insufferable customers can be. Now that's relatable.