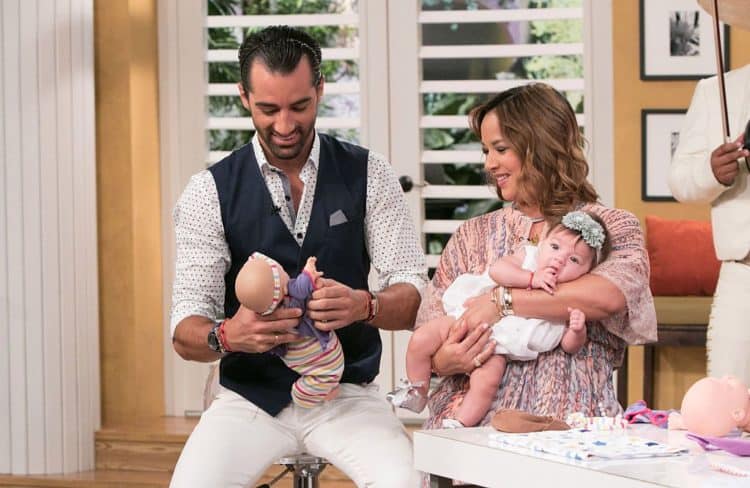 Having a relationship with someone in the public eye means that, good or bad, there are going to be countless people in your business. While this may not be a problem when things are going well, it can get annoying when things take a turn for the worst. Unfortunately for Toni Costa, he's experiencing the latter after he and his longtime partner, Adamari Lopez, decided to call it quits. The announcement came as a shock to the couple's fan base, as many people thought the couple was a match made in heaven. Despite the breakup, they both seem committed to staying on good terms so they can co-parent their daughter. Here are 10 things you didn't know about Toni Costa.
1. He Was Bullied For Being A Dancer
These days, Toni's dancing skills have earned him recognition from people all over the world. However, when he was younger, his love for dance left him feeling like the odd man out. During an interview with Globe Live Media, Toni said, "In the 80s and 90s it was not well seen for a child to dance, so I never told my father and I was a victim of bullying."
2. He Is An Adventurous Person
If there's one thing Toni isn't afraid to do, it's step outside of his comfort zone. He is the kind of person who isn't afraid to try new things and he doesn't back down from a challenge. There's no doubt that this mindset has served him well in his career as a dancer.
3. He Has More Than 17 Million Views On YouTube
When people talk about Toni and Adamari, they tend to refer to her as the famous one. While it's true that she may have a bigger fan base, Toni's following isn't too shabby either. He has a successful YouTube channel that currently has more than 17.9 million total views.
4. He Is A Dog Person
Having a pet is truly one of the best experiences a person can have. While there's some debate over which animals make the best pets, Toni seems to be a proud member of team dog. He has an adorable fur baby named Ava who has made frequent appearances on his Instagram profile. Ava also has her own profile with more than 7,000 followers.
5. He Loves Giving Back To Others
Now that Toni has achieved a high level of success, it would be easy for him to detach himself from 'regular' people problems. That, however, isn't something he's interested in doing. He is all about using his platform to raise awareness of the causes that are important to him and he's all about doing what he can to help others.
6. He Can Be Booked For Individual Classes
Not only does Toni like to share his love of dance with the through performing, but he also loves to share his knowledge through dance classes. The good news is that people can book him for individual dance lessons through his website. People can sign up for a subscription or book classes individually.
7. He Is A Brand Ambassador
There was once a time where having a large following on social media was nothing more than a popularity contest, but those days are long gone. Now, having lots of followers can translate into some very lucrative real-life opportunities. Thanks to his followers, Toni has gotten the chance to partner with brands to help market their products.
8. He Doesn't Plan To Make Any More Comments About His Relationship With Adamari Lopez
On May 27, 2021, Toni issued a statement via Instagram to address the end of his relationship with Adamari. He did his best to address the situation and clear up any misconceptions. While there are still lots of people who have questions, he has made it clear that he doesn't intend to discuss the topic any further.
9. He Is A TikToker
Instagram and YouTube are probably the social media platforms that come to mind when people think of Toni, but many don't realize that he's also active on TikTok. Although TikTok is typically seen as a platform for younger people, Toni has found a good deal of success there. At the moment, he has nearly 702,000 followers.
10. Adamari's Father Didn't Like Him At First
When Toni and Adamari first got together, her father wasn't a fan of Toni. According to The State India, Adamari's father felt like Toni was a player and didn't think that he was going to be serious about a relationship with Adamari. Fortunately for Toni, he was able to prove Adamari's father wrong.