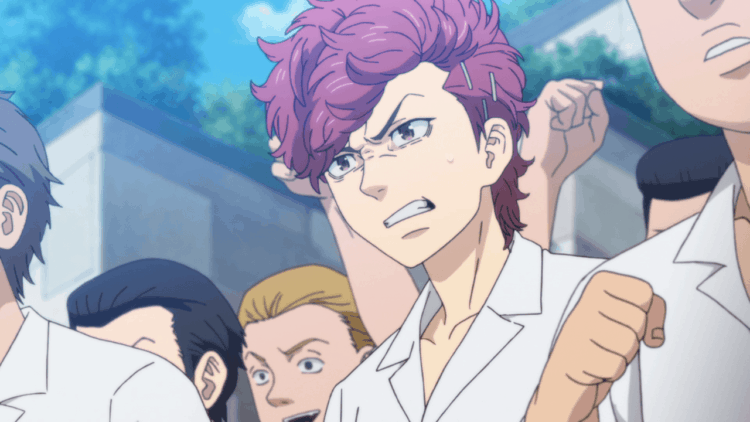 Okay, I'm sure you're getting sick of my Tokyo Revengers episode title puns, but as long as I can, I'm going to keep making them. Tokyo Revengers episode 4 released earlier this week and it was definitely one of the most heart-wrenching episodes of the season, by far. As always, if you'd like to avoid spoilers for Tokyo Revengers, this will definitely contain a ton of spoilers for Tokyo Revengers episode 4, so you'll probably want to go watch that and then come back to read. In episode 4, titled 'Return,' we see Takemichi return to the present day after accidentally shaking Naoto's hand in an attempt to hold Hina's on the roof during a fireworks show. This was super painful for him, because he just got done talking about how he wanted to stay there with Hina forever, but is then ripped from his short bit of peace and returned to Naoto in the present. So, what else happened in Tokyo Revengers episode 4, and what can we hope to see in episode 5?
Reunited
As Takemichi is reunited with Naoto in the present, it's revealed that when Takemichi travels back in time, he can only go back twelve years to the day. Yes, we already knew that, but what we didn't know was that his body will remain as an empty shell in the present until the exact time that he shakes hands with Naoto. For example, if he stays in the past for a week, then he will return to the present exactly a week later, and his body will regain consciousness. Naoto is fairly concerned about this and says that it's dangerous to go back in time, so they'll need to make sure that Takemichi is in Naoto's room whenever he goes back in time. As they start to do some research, they discover that the past changed when Takemichi's friend, Akkun, failed to stab Kiyomasa to protect his friends. Since Akkun did not stab Kiyomasa, he never went to jail, which means that he's now one of the "Upper Echelons" in the Tokyo Manji Gang. Takemichi knows that if he can get in touch with Akkun, that he can find a way to get in touch with Mikey, and figure out how to save Hina.
Akkun got a haircut
After calling up Akkun (who somehow still has his same middle school phone number), they discover that he's now living a life of luxury and running a hostess bar. They enter the bar and after being given grief by one of the staff members, are finally allowed to visit Akkun. Once they arrive, Naoto is pretty concerned about Takemichi's plan, but Takemichi believes his plan to be foolproof and that Akkun would never do anything to ruin their friendship. Akkun appears behind the two as Takemichi turns around to notice that Akkun got a haircut, amongst other changes. He now has tattoos down his left and right arms, and he looks much different than he did as a middle school kid which, for Takemichi, was less than a day ago. Akkun asks permission from Naoto to take Takemichi outside to talk amongst themselves, to which Naoto agrees, and the two of them begin talking like it was just another day in middle school. They begin reminiscing on their old childhood days, and eventually Akkun reveals that it was he who pushed Takemichi onto the train tracks, and that he suspects that Takemichi can go back in the past and warned Naoto to save him in the future. Takemichi is left nearly speechless, but then begins to deny everything that has come out of Akkun's mouth, because he can't believe that one of his best friends in the entire world would betray him in such a way. As he's speaking, Akkun tells Takemichi that he is now just a soldier for Kisaki, and that he is terrified of him. Akkun also tells him that he hasn't actually had any contact with Mikey for years, and that Mikey changed after Draken died. He then proceeds to climb up onto the roof, ask Takemichi to save everyone, and then jump off the edge. Takemichi falls to his knees and screams at the loss of his friend.
The episode ends shortly afterwards, as Takemichi tells Naoto that they need to find out what happened on the day that Draken died, and reveals that the one who turned Toman (Tokyo Manji Gang) evil is Kisaki Tetta. I'm definitely looking forward to next week's episode, because hopefully we'll see Takemichi's first encounter with Kisaki, however, it's going to be incredibly painful watching Takemichi confront the middle school version of Akkun again after watching him commit suicide.
Tell us what's wrong with this post? How could we improve it? :)
Let us improve this post!