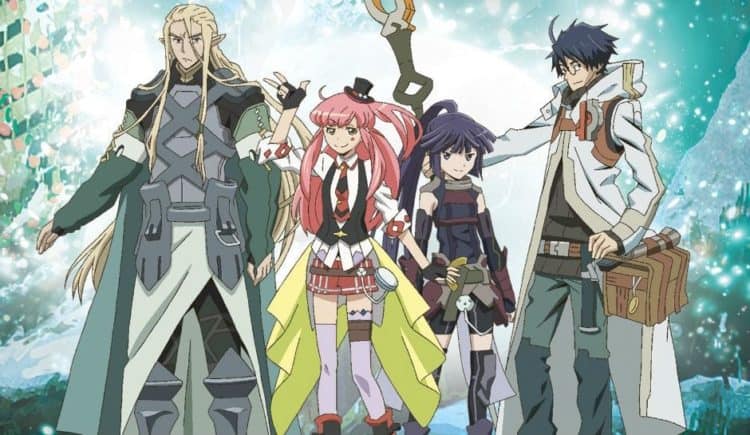 Log Horizon is a Japanese franchise that started up in 2010 and has continued into the present time. It predates the coining of the term "isekai" in the early 2010s. However, Log Horizon can be considered an excellent example, which makes sense because it came into existence in the same sub-culture at around the same time as a number of works that pioneered the modern isekai. For those who are unfamiliar, Log Horizon features a MMORPG called Elder Tales, which is so successful that its user base has millions and millions of people from all around the world. However, the release of its 12th expansion Homesteading the Noosphere coincides with a strange incident in which 30,000 Japanese gamers are transported to the game world as their in-game selves. As a result, they are forced to confront their new reality, which is a process made both easier and harder by the sheer number of them that have been transported.
Perhaps unsurprisingly, this is the kind of setup that can support a number of stories focused on a number of casts. However, the one that is best-known would be the titular guild. For starters, there is the protagonist Shiroe, an Enchanter with considerable strategic capabilities who founds Log Horizon in the wake of the event for the purpose of preventing the ugliest of the potential consequences. Supporting him would be Naotsugu and Akatsuki. One is a Guardian who specializes in protecting himself as well as his companions while still possessing some powerful trap spells for more offensive purposes. The other is a Tracker who is good at exactly what most people would expect based on that class name as well as using those capabilities for the purpose of assassinating her targets. Having said that, Log Horizon is unlike a lot of other "real people transported into MMORPG" stories in that it is focused on social interaction as much as anything else, so it should come as no surprise to learn that it isn't too long before other characters both in Log Horizon and beyond start showing up. Something that makes for a more interesting experience than otherwise possible.
In any case, it is safe to say that Log Horizon has proven to be very popular (https://en.wikipedia.org/wiki/List_of_Log_Horizon_volumes). It is common for successful web novels to make the transition to light novels. Even so, not every light novel can manage 11 novels, which aren't even counting the three novels that have been released on the Internet and only on the Internet. Besides this, it is important to note that Log Horizon has had four manga adaptations, which had made use of the series's premise to focus on characters other than the main cast. Something that doesn't happen without considerable interest in the setting as well as secondary characters. On top of this, Log Horizon has received plenty of merchandise, which should be considered further proof of its commercial power.
Will We See a Season 4 of Log Horizon?
Naturally, the animated adaptation has shown similar signs of strength. It is very common to see successful light novels as well as successful manga receive an animated adaptation consisting of a single season with 10+ episodes, which serves as a particularly elaborate advertisement to get more people interested in the franchise than otherwise possible. However, Log Horizon started out with a first season of 25 episodes that were broadcast from October of 2013 to March of 2014, which spoke of greater than usual confidence in its eventual performance. An expectation that seems to have been fufilled because the first season was followed by a second season of another 25 episodes that were broadcast from October of 2014 to March of 2015. For two seasons of such length to have been created in short succession, it seems safe to say that Log Horizon followed strength with strength because the relevant parties aren't known for throwing good money after bad.
At that point, the franchise hit a major snag. Those who are unfamiliar should know that the author Tono Mamare was charged with tax evasion in 2015. Apparently, he had failed to file 120 million yen in royalties, with the result that he owed the Japanese government 30 million yen in taxes. This was quite a scandal at the time, so much so that a lot of people believed that it would be the end of the Log Horizon anime. After all, businesses can be quite scandal-shy, meaning that the relevant parties would surely want to avoid the controversy of working with a tax evader?
As it turned out, those predictions were too pessimistic. Tono filed his taxes, paid what he owed, and then made his apologies to his fans. After which, a third season of Log Horizon came out in 2021. This time around, it consisted of 12 episodes rather than its predecessors' 25 episodes, which suggests that there was less confidence going into it. However, it is possible that the COVID-19 crisis also played a role of some extent, seeing as how it was already responsible for pushing the initial release from October of 2020 to January of 2021. In any case, its sales suffered compared to its predecessors' sales. This doesn't destroy all hope of a Season 4 because anime sales aren't everything. However, this certainly doesn't help.
Besides this, a bigger issue might be the source material. The third season was based on Destruction of the Round Table, which is one of the three volumes that have been published on the Internet but not in print. As a result, it is unclear if a hypothetical fourth season would be based on other web-only volumes, which would be rather unusual and thus rather uncertain. For that matter, even if the relevant parties were willing to go ahead with a fourth season, it is unclear what is going on with Tono. He has already stated his intention to finish writing the series, which will go beyond the original 15 volumes that were planned way back in the early 2010s. However, he hasn't published anything new since 2018. Theoretically, he might be writing up more material that will be ready to go within a short period of time. In practice, that isn't the kind of thing that one can predict with confidence unless one has very good reasons for being so.
Summed up, there is a decent chance that we will see a fourth season, which presumably will see the cast members make a return. However, there is no guarantee of this happening, meaning that interested individuals might want to continue paying attention to Log Horizon-related news.