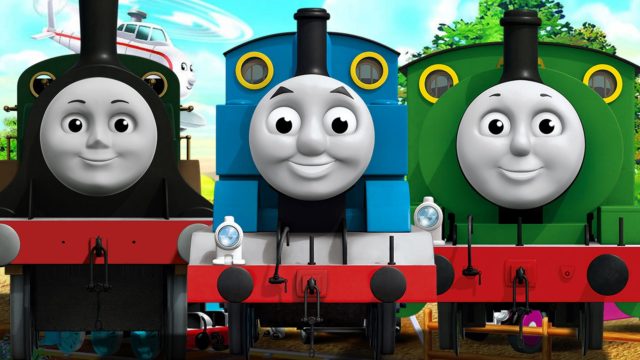 So Thomas the Tank Engine is coming back, and this time the shed isn't going to be primarily a boys club since there are three female engines coming into the mix. Plus, Thomas is going to be leaving Sodor finally to go on adventures elsewhere, and will be meeting one of the female engines in Africa. It would seem like progress is finally coming to this popular show to lift it out of the doldrums and bring it fully into the 21st century.
For a long time now Thomas and his pals have been under a lot of scrutiny that seems to stem from the way that the characters on the show tend to get treated. And yet due to it being a kids show not a lot gets noticed it seems, at least not in the negative way that some articles, even one of my own, have seen fit to point out. It's kind of hard to ignore the glaring inconsistencies however that emerge from time to time when you really take the time to look at a cartoon and wonder why it's still on the air when certain parts of it seem to run counter to what we'd like to allow our kids to watch.
Thomas the Tank Engine has been a story that's been around since the 1940's and has gained millions of followers worldwide. The only issue with it really is that at times it can be kind of brutal for a kids' show. For instance the moments that depict trains being walled away in their tunnel or in a shed to be used as a generator seem kind of brutal. But then some of the characters have also seemed a little off kilter in a way that makes adult dramas seem almost cuddly.
It seems though that adding in a regular female presence might allow Thomas to become a show worth watching again and provided that nothing untoward happens to the characters it could be a very positive change. Some might think this is just a means of washing Thomas' otherwise faded and sometimes dark image but really it seems more like the show is trying to step back into the light and really come across as the type of show that promotes growth and a positive upswing in society.
The darker aspects might still remain since they're still part of the story but downplaying them could create a much more friendly show that allows kids to see the positives while not dwelling on the negatives of being a steam engine. The old episodes in which engines were shown visiting the tank engine graveyard where old and non-functioning engines were tossed about and used for spare parts was kind of grim, as was the episode in which an engine was left to be used as a generator as punishment and was eventually covered by a landslide.
Thomas the Tank Engine has a definite dark side to it, but hopefully this new and improved image will be able to dispel that and bring the show into a new era of greatness.
Save