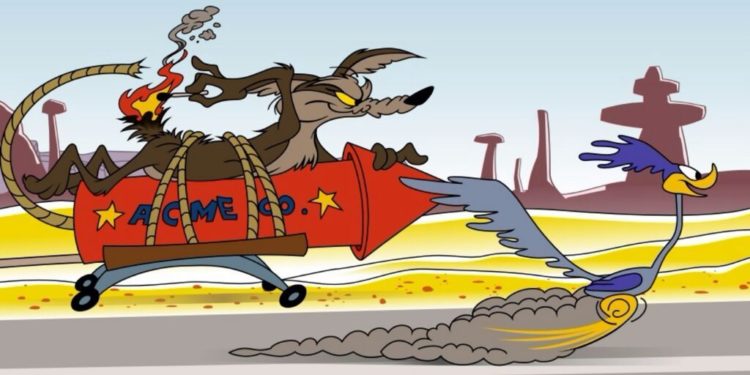 The roadrunner cartoon is about more than just how the roadrunner can get away from Wile E. Coyote since the coyote somehow keeps coming back again and again and again and…well you know. That poor coyote isn't exactly the villain but he's not the good guy either since his machinations tend to involve trying to catch the roadrunner and turn him into a meal, so it's hard to root for Wile E. when his motives aren't really that pure. But some people over the years have expressed more interest in the coyote than the bird and have found it a lot easier to root him than to root on a character that continuously gets away and doesn't seem to have an overabundance of intelligence but relies heavily on speed and a great deal of common sense that the coyote doesn't seem to have for some reason.
Here's a few things you might not have known about the cartoon.
10. Wile E. Coyote was inspired by Mark Twain.
With the writings of Mark Twain the creator of the famed but always ill-fated coyote was set as he became a starved and lean character that was always seeking his prey but never finding it and always being hurt by his own machinations.
9. They've made a lot of cameos.
There are a lot of different areas where the duo have managed to stage cameos within other cartoons and even shows occasionally. Considering how classic they are it's not really too surprising how many shows have decided to take advantage of their fame.
8. They've been shilled for a lot of companies.
The pair have been in a lot of different commercials for various products such as cereal, batteries, and even insurance and for Shell Oil. The last one however was featured only in New Zealand, while the others have been shown throughout the US.
7. Wile. E is not always silent.
There was one cartoon that pitted Wile E. against Bugs Bunny and as you can imagine the witty rabbit won out largely for the same reason that the roadrunner did, because he's just that quick and he's also far cannier than the coyote gave him credit for.
6. Wile. E's biggest enemy isn't the roadrunner.
There are actual rules to the show that state that the coyote's worst enemy is something far more than any object or individual. His real enemy is gravity, since if you'll notice he doesn't start falling most times until he runs off the cliff and actually notices that he's standing on thin air.
5. Coyotes do eat roadrunners.
In real life coyotes aren't too picky about what they eat, and will go after pretty much anything they can consider as prey. They do take after roadrunners but thankfully in the real world they don't have any access to giant rockets or other devices, they simply pounce on them with their front paws.
4. The coyote has a doppleganger.
While the creature in this particular cartoon is credited as a wolf he does look exactly like Wile E. and you can imagine it's done this way for production costs and the interest of keeping them down. His name is Ralph and his job is to try and capture the sheep that Sam the Sheepdog is guarding. But of course we know how that goes.
3. There are actually cartoons where the coyote doesn't get hurt.
Read that twice since it's so unbelievable but there are a few cartoons where the hapless coyote doesn't get hurt. It seems to run contrary to the idea of the show but it has happened, you just need to go online and see it.
2. There's an homage to the coyote in The Matrix.
Remember when Neo attempted the jump program the first time and failed? He sank right through the street and then bounced back up like it was made of rubber. His body even made a classic impression in the simulated asphalt. Now how many times has Wile E. done this? Of course he never really bounced back up.
1. Wile E. did manage to capture the roadrunner just once.
This is another amazing development that might have shocked viewers if a lot of them hadn't wanted to see it coming already. The roadrunner simply got away too many times and the coyote, for all his planning and all his cunning, just couldn't seem to get his paws on the slippery bird no matter what he did. Watching him preparing to eat the bird though might have upset a lot of viewers simply because it meant the cartoon was now over. After all, what was the point after that?
This is one of the most classic cartoons ever brought out by Warner Bros. and it still remains as one of the most well-known duos in cartoon history since the characters are simple and the plot isn't overdone.