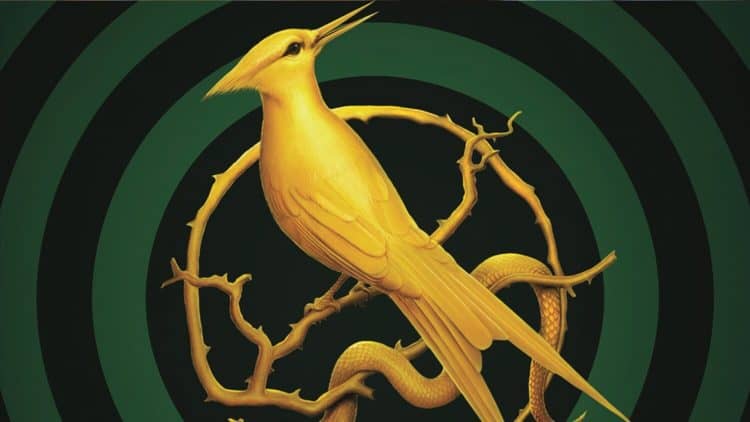 In a way a prequel to The Hunger Games might give us a few more answers since during the books and the movies it almost feels as though we really didn't get everything we wanted, or we did and it was all kind of hidden away within its own explanation. That sounds kind of odd I understand, but watching the movies was something that almost felt as though it could have gone smoother and without as much halt and wait for the action type of moments that the movies were riddled with. It's understandable, there was a lot of information to get out there, but really, the books weren't much better at this practice since if anyone's going to be honest there's a lot to this story and it took a while to get through it all. And despite the fact that it did a lot of people still groused that the movies weren't exactly like the books, which should have been a no-brainer to guess before the first movie ever hit the theater. The Ballad of Songbirds and Snakes, the prequel that is set to come out in May of 2020, is apparently going 64 years in the past before the first book, examining the free for all that was instituted by the ruling government. Any other details haven't been given yet according to Jessica Fisher of GeekTyrant, but with a release date that's relatively close you can imagine that we might get to hear a little more about it as the days go by.
Plus, there's the idea that this might lead to another movie since as you know the original story was picked up amid a great deal of approval from the fans. The idea of making this book into a movie seems a bit premature since there's no way to know just whether fans will like it or not since it's not out yet. But some folks might go ahead and say that of course people will like it since fans tend to like anything that has to do with their favorite franchise, or at least one of their favorites. But still, thinking that it could be an immediate hit is a little arrogant as well as jumping the gun in a way that's kind of dangerous considering that even without the kind of fan support that is typically enjoyed, the book could be made into a movie all the same. Joseph Baxter of Den of Geek! might agree that it makes sense to those that are in the position to get such a project rolling, but to those that watch, read, and anticipate these stories from the moment they become a part of the public consciousness, any story could go any way since there's no guarantee that something is going to be a hit until the people get hold of it. Even the critics that say yea aren't always a match for the fans that say nay. That being said though this series has thus far been something that people have felt quite strongly about and have expressed a great desire to watch no matter that it gets a little slow now and then as the story continues to develop.
It could be incredibly interesting, as David Williams of CNN might agree, to see how different things were six decades before Katniss Everdeen came along, and whether or not she was the first revolutionary or if someone else had an idea to take down the ruling elite at one point and time. It would almost seem folly to think that no one else would even bother to think such a thing since in every system of government that exists to subjugate the people there are always dissidents, no matter if they're seen largely as rebels trying to upset the natural order or true revolutionaries seeking a change in the most defiant way. This story could hopefully be something that will give a little more depth to the overall tale and show us a side of things that we haven't seen yet. The Hunger Games craze isn't nearly what it was when the first movie came out and everyone wanted to be an expert marksman like Katniss, but there are enough diehard fans still around that are likely catching wind of this and are getting a little bit excited about the prospect of seeing another story coming that will tell a bit more about the world that would one day spawn a woman like Katniss. It just seems as though there could be the beginnings of rebellion seen in this book, or at least a glimmer that would force those in power to become even more harsh in their methods leading to the original story. It's hard to think that the government in these movies could get any worse, but when you think of how many movies feature rulers and their followers that are absolutely horrible and need dealing with, this has to be one of the first stories that comes to mind.
Tell us what's wrong with this post? How could we improve it? :)
Let us improve this post!