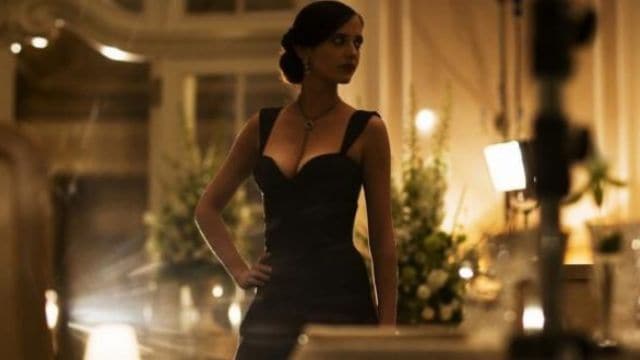 Some actors are like chameleons and can change their appearance so drastically that you have a hard time figuring out that one particular character is them until you look closely. Eva Green is kind of like this but while you can recognize her pretty easily the severity of each role is enough to make you consider that she's quite good at what she does since each persona she takes on is so very different from the one before it. She's definitely a seductive woman on screen since she has the look and the ability to take person in with her eyes or by using her entire body and mannerisms as a means of luring a person into appreciating her act. Having been in some of the most interesting movies of the past couple decades it's easy to see how she might be regarded as one of the more popular actresses of the era.
Here are her five best movies to date.
5. 300: Rise of an Empire
This movie was every bit as brutal as the first one and in some ways it became even more savage as Artemisia was perhaps every bit as hardcore as any three men in the movie. It's easy to tell that historical fact gets shredded and even disregarded in this movie in favor of showing a stunning set of visuals and a story of war that was seeking to compete with the original movie. But while historians could likely tear this movie apart there is enough action and adventure that seeks to make people forget just what really happened during the furious days when Persia thought to subjugate the wrong people.
4. Dark Shadows
Anthony Breznican of Entertainment Weekly gave the skinny on this movie and while some people kind of turned away it was decent enough film to sit down and enjoy since it has to do with betrayal and a kind of 'man out of time' plot that involves a very confused and troubled vampire who was turned into a bloodsucker against his will. Now that he's been revived 200 years after being locked into a tomb he has to try and save his family and get his revenge on the witch that cursed him in the first place. As movies go it was one that seemed to get mixed reviews but it was still enjoyable.
3. Kingdom of Heaven
If you disregarded history and anything that writers such as Michael Livingston from Tor.com had to say about this movie then you had a good chance at enjoying it since there were plenty of moments in which the movie picked up and managed to tell a decent story. When Balian is visited by his father whom he has never met and asked to join the Crusades he eventually joins up and is, as a result, swept up into a holy war that he had no intention of taking part in. As he takes his father's place however he is swiftly subjected to the issues and many goings on at court and finds out that the machinations of the lords that sit high above the people are far more dangerous than those of the enemy.
2. Dumbo
You just can't please some people as Kendra James from The Verge proves since this version of Dumbo did look kind of odd and even a bit disturbing, but the message of the movie was actually a lot different than the original, animated version. One thing that's notably absent is that there are no crows in this version singing to Dumbo since as all of us have heard once or twice at this point the crows were blatantly 'racist' and were highly insensitive. Anyway, Dumbo actually got a pretty happy ending this time since he was reunited with his mother, so you can imagine that some people were a bit a confused while others might have enjoyed the movie.
1. Casino Royale
In a long line of Bond movies this was one of Daniel Craig's that a lot of people found intriguing, not to mention action-packed since it was obviously keeping in line with the spy's reputation and seeking to start the franchise off on a new path with a different actor. The one thing you would think an agent like Bond would know not to do however is get involved with a woman and go all in with his feelings. But of course that tends to happen and as a result he also tends to get wounded in a way that is hard to recover from since even a secret agent tends to have a heart now and again. In terms of being the best Bond movie there's likely to be a debate about that, but being one of the best, that's a certainty.
She's been a talented actress for quite some time now, and she's not even close to being done yet.
Tell us what's wrong with this post? How could we improve it? :)
Let us improve this post!