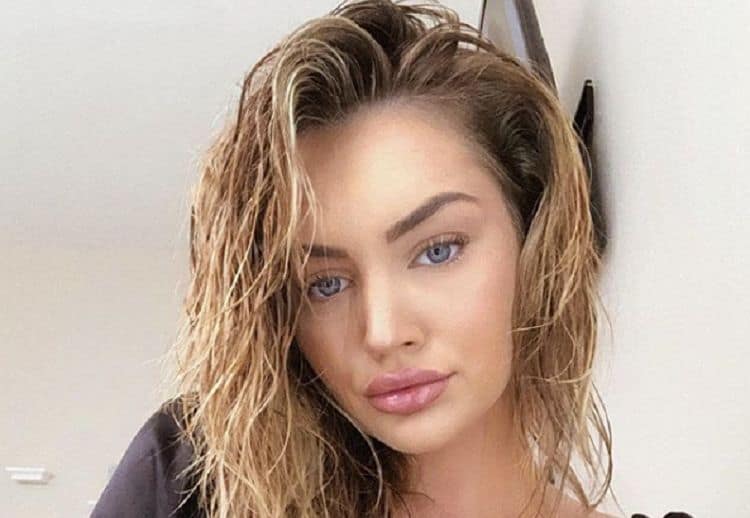 If you follow reality television, you probably know just who Taylor Selfridge is. She's a famous girlfriend of a famous reality star. She's the girlfriend of "The Challenge," star Cory Wharton. He's not only a reality star on this show, but he's also been on the Teen Mom series with his ex. She was a teen mom who got pregnant with his child when she was young, and he spent some time on the show with her. Like many teen mom situations, their relationship did not work out. They might share a child, but they do not share a desire to be with the other. In comes Taylor Selfridge. She's now with this reality television star, and she's living her best life.
1. She's Pregnant
She's a first time-mom to be, and she's having her first baby with her new boyfriend. He's already the father to a little girl, and she's excited to welcome a baby of her own with him. This is their first baby together.
2. She's Also A Reality Star
In case you thought she wasn't the star in this relationship, you'd be mistaken. She's also a reality television star who has been on other shows. She's been part of the "Are You the One," series, as well as "Ex on the Beach," which is where she met the man who fathered her baby.
3. She's a Model
Before she decided to take a go at doing things like working in reality television, she was working as a model. It's easy to see why, too. She's lovely. She spent time working in the modeling world, and she's been working hard on growing her own Instagram following, too. She knows the influencer game is strong, and she can generate another stream of income doing that.
4. She's From Portland
She's a girl from Portland, Oregon. She was raised there, and that's where she was discovered by one of MTV's producers, who asked her to star on one of the network's reality shows. She was in a club one night when the producer saw her, she made an impression, and she was cast on the first reality show she did.
5. She's Been a Teacher's Aide
At one point in her life when she was modeling as a newbie, she was also working as a teacher's aide. We don't know if she was thinking about getting into the teaching industry. But, we do know that many people who become an aide do so to get the experience in the classroom and to have a job when they do their internship. It's a good job to take.
6. She's Got a Great Dynamic
One of the most interesting — and super cool things — about this woman and the man she is with is that she has a great relationship with the woman with whom he shares his first baby. He and his ex might have been teen parents, but they are really good about spending time together. They have a positive relationship. They have a great time together, they spend time with their daughter, and Taylor is part of their extended family. She and his ex get along very well, and they enjoy spending time together. We think that's so amazing.
7. She's Not Always Been A Fan of His Ex
There was once a time when these two did not get along well. His first baby's mother once told him that she thought he could do better. This was not a nice thing to say, but she may have thought that at the time. Perhaps she didn't know Selfridge well enough to form a good impression. Perhaps that was the wakeup call that Selfridge needed to realize that a positive relationship with her boyfriend's daughter and her mother were the best option. We have no idea, but we are so happy it worked out and that they made some excellent peace with one another. It's what's best for their babies.
8. She Loves Her Boyfriend's Daughter As Her Own
She's very clear about the fact that she's not the mother of his fist child, Ryder. However, she is someone who knows and loves that she gets to have a bonus baby in her life. She's been hit hard on the internet by people who are fans of Cheyenne, his ex, and they have accused her more than once of trying to push his first baby right out of the picture. She's made it very clear to everyone that while she is not the mother of this baby and that she is never going to be the mother of this baby, she loves that she gets to have a baby she can love like her own. She called out trolls by saying, "So, quit these comments like I can't hold a 2 year old because she's not mine" on Instagram.
9. She Was Expecting Twins
As a twin mom myself, I cannot even imagine the horror of Vanishing Twin Syndrome. It occurs when you are pregnant with twins, but one of the multiples simply vanishes while the other baby continues to grow. She was originally expecting twins, but one for their babies did not make it. The little girl they are having absorbed the fetal tissue of her twin, and that is what happened in their life. I cannot imagine the news, having 6-year-old twins myself, the one of my unborn babies simply disappeared.
10. His Ex Helped Plan Their Gender Reveal
Cheyenne Floyd made an announcement in an interview that she helped them plan their gender reveal party when Cory and Taylor announced their pregnancy. She said that a lot of vendors called it strange that she was helping her baby's father plan a party for his new baby's mother, but she said it works for them, and that's all that matters. She calls them a dysfunctional, weird, blended family, but in a way that says she's okay with it and that she enjoys doing this life with this couple.