Disney XD's Star Vs. The Forces of Evil might be on hiatus after the mid-season finale (and a holiday special) but that doesn't mean that TV Overmind is completely out of content for the year. We were lucky enough to snag an email interview with the voice of Marco himself, Adam McArthur.
McArthur talked with us about voicing Marco, how the character has changed and what to expect from upcoming episodes.
Like Marco, you're also a martial artist, do you bring your knowledge to the character in any way?
Kind of? I mean, I know what it's like to get punched a lot… and to chop things, so whenever I'm doing "efforts" I definitely bring the pain!
Do you also enjoy kung fu movies? Got any favorites?
Oh man, I'm a kung fu movie aficionado! I don't know if people are ready for the nerdiness! Some of my absolute favs are Kids From Shaolin, Shaolin Master Killer, Shaolin vs. Ninja, Kung Fu Hustle, Shaolin Soccer, Drunken Master 2… with honorable mentions to 3 Ninjas, Surf Ninjas, and Beverly Hills Ninja.
Are there any other traits you share with your character?
Marco is a very loyal friend, and I'd definitely say that I am, too. He also tends to follow the rules, which I'm also a big fan of doing. #safekid.
Tell us a bit about how Marco has changed this season, have these changes affected how you voice him?
This has been a super interesting season so far for Marco. In a way, he and Star reversed roles. He's now the new guy on Mewni and is having to learn what it's like to live in a new place. There have also been a lot of reveals about feelings for Star (and hers for him), which have forced them both to grow in new ways. I'm excited for everyone to see what's still in store for the rest of season 3!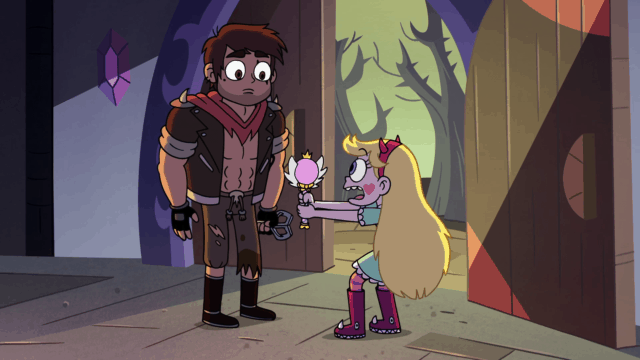 In the episode "Running with Scissors," Marco aged 16 years in an alternate dimension. You had to audition for the role of Adult Marco, how did you approach voicing an older version of the character?
I approached it very similarly to how I would any other role. Daron, the creator of Star, gave me the run down about what she wanted for the character and told me what he looked like. She said she wanted a gruff Mad Max vibe for his adult version. I did what I did, and thankfully, she loved it! I didn't want anyone else voicing my boy.
Walk us through an average recording session, does the cast record together? If so, do you and Eden Sher have as much fun working together as Star and Marco do?
Depending on how many lines I have in an episode and if we're recording anything else like promos, etc. my average sessions last anywhere from 45-90 minutes. I would say that 98% of the time I'm recording solo, although there have been a few times when Eden and I have been able to record together and Rider Strong, too! We always have so much fun when those opportunities arise.
I usually go in to record for each episode two times. Once in the storyboarding/script phase, then again after it's been animated and edited. The second time is when I do ADR, which means I'm matching my voice to animated picture. It's all so much fun and quite the process!
If you had Star's wand, what would be the first spell you cast?
Oh man, I'd either whip up some food or levitate myself. Or maybe both?
You also do some video game voice work, are you a gamer yourself? If so, what's your current favorite game?
I've always loved playing video games! I really got into first person shooters starting in college. Right now, I'm playing Rainbow 6 Siege and Call of Duty: WWII. I'm a huge fan of the Halo and Destiny games too! And of course, anything old school Nintendo. You can also catch me in the arcade still.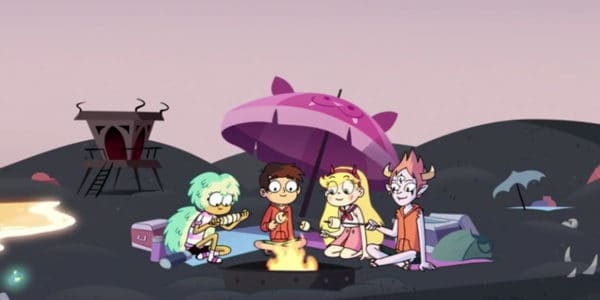 Speaking of "Running with Scissors," you've said that it was one of your favorite episodes to record. Got any other favorites?
There have been some really amazing episodes in Season 3! I'm also a huge fan of Night Life and Lava Lake Beach. And man, oh man, there's another one coming that I LOVED, but, you know… can't say yet.
You're a known supporter of shipping Star and Marco, are Starco fans going to be satisfied with the rest of season 3?
I think no matter what happens between Star and Marco, the fans will be satisfied. Daron and the writers are doing such an amazing job. I'm just excited to be along for the ride!
Lastly, "Star Vs. The Forces of Evil" got renewed for a fourth season, anything you can tell us about it?
Of course not! But, we are recording episodes already, and the hype is real. If you're not watching this show, you need to get on it asap. When season 4 comes out, you'll want to be ready.
You can catch Adam McArthur as Marco on 'Star Vs. The Forces Of Evil' on Disney XD.