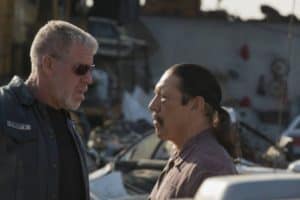 Yet another 90-minute episode of Sons of Anarchy, and I'm left feeling like the entire MC laid rubber on my cranium. Seriously, Sutter and evil minions: there's actual smoke coming out of my ears. Before digging into the meat of tonight's episode, let me just lay some praise on the SOA gang for delivering a spectacularly solid season this year. I'm sure they see warts, as creators have a knack of doing subjectively, but out here in fan-land Sons of Anarchy's fifth season has been one seriously epic run. That said… Two Episodes Left? Seriously!? Great TV has this sort of cruel trade-off, it seems to go by quickly. Another testament to the greatness of SOA Season 5 I suppose.
"To Thine Own Self" was, imho, a character re-defining episode for Jax. Everything he wanted was achieved in terms of getting the club out of the guns and drug running, out from under the control of the Cartel and the CIA. As always, it is the personal issues that are left to complicate everything now. Jax's presidency for the moment is marked by apparent successes, but the foundation is starting to show. Yes, the club stomached his deal with the CIA because it ultimately worked out for the better, but his blood lust for Clay is coming to the surface and forcing members to take sides they don't want to be on. And then there is his deal with Damon Pope, to which he has sworn the fate of Tig. Just as Jax is lowering the criminal profile of the club, he seems to be charging head first into a corridor of murder and revenge that could leave him watching everything he loves bleed out; literally and metaphorically. That brings me to the wild cards:
Mystery Man – He looked like an inmate, then a cop, now he's just looking like a vengeful husband or brother. He beat the heck out of Otto, then he went to spy on Tara. Who is this guy? Let's call him: the consequences. Nothing good will come from what this guy is after, and I'm fairly terrified for Tara at the moment.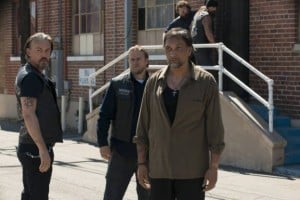 I kind of love how we have this hulking embodiment of vengeance lurking around, breaking people and stuff, at the same time Jax's own thirst for vengeance threatens to undo everything he has accomplished. If it is just a confluence of different things that just happens to work in that way: cool. If they meant it: even cooler. I have mucho respect for the Sons of Anarchy scribes, so I choose to believe they meant this.
Nero – Wow, we saw Nero 'go back' to his roots tonight, and all for the love of a woman he cannot understand. Yet another situation created by Jax, and tonight with Jax at the center. Nero has burnt all bridges in his pursuit of Gemma's love. How can things end for him? Jimmy Smits really went all out tonight. He usually does, of course, but at this point in the story I think he is experiencing psychic vertigo and can barely stand his psyche up straight.
Clay – Okay, this man is flat out duplicitous this season. It used to be we could trust him once in a while, but every move he makes has two purposes this season. The splitting of SOA seems inevitable, but what will be the force that pulls it apart and who will be the crew left representing the Reaper?
Deus Ex Machina – Remember when the Sons were rolling into a big buy, but it was really an arrest party? And then Romeo showed up and flashed a badge. Could that happen again this year? I'm honestly not seeing an end game after tonight, and I kind of like that.
Tell us what's wrong with this post? How could we improve it? :)
Let us improve this post!