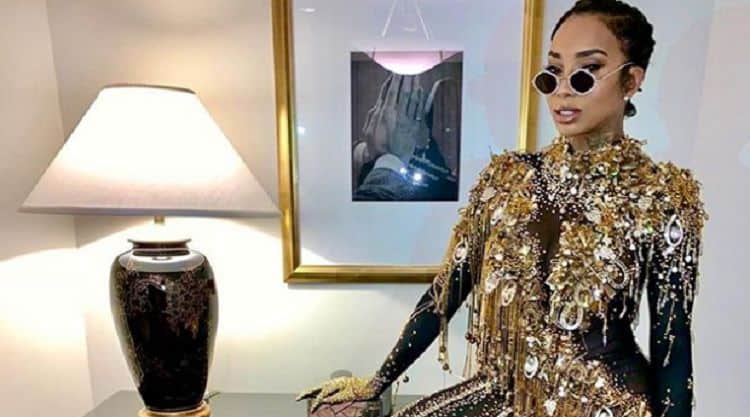 The Black Ink Crew has a cast of some very interesting characters, each with interesting backstories in their lives. Sky Days is a crew member who does her part to keep things interesting. We're highlighting her role in the popular television series about the lives and interactions of these talented tattoo artists and their team who keep the shop running and the drama high. Here are 10 things that you probably didn't know about Sky Days.
1. She gave two sons up for adoption when they were small
Sky didn't have things easy when she was a young mom. She gave birth to two sons and because her life situation was difficult at the time, she made the decision to put her children up for adoption. The boys returned to her and the three are working on their relationship. Although she's developed a great relationship with one of them, her oldest son Genesis is having trouble forgiving his mother.
2. Sky got caught up in criminal activity
Around 2005, Sky was broke. She didn't have any money and she was surrounded by a group of hustlers. Being desperate, she got caught up in a credit card scheme. She was caught and this is something that would come back to haunt her later when she got back on her feet. She was convicted of the charges and was sentenced to a year in and she was ordered to stay in Arizona for her probationary period.
3. Sky was arrested in 2015
Sky left the state of Arizona to move to Atlanta. This was a violation of her parole. It was a bit surprising when two US marshals arrived at her door. They were there to take her back to Arizona for parole violation. She was ordered to serve yet more time in jail because she left the state. Although she could have been imprisoned for up to 9 years for the offense, she ended up serving just 2 months, but this was still a long time.
4. Her boyfriend didn't visit her once when she was in jail
We learned that when Sky was taken back to Arizona and incarcerated, she didn't receive any visits from her boyfriend. What makes this so sad is that when he was in jail, she corresponded with him. She even went and picked in up from the jail when he was released.
5. The Black Ink Crew stood by her in trouble
Even though her boyfriend didn't come through for her, the Black Ink crew was there to support Sky when she was put in jail for parole violation. Teddy Ceasar and Dutchess were all there fro her. Although the officials wouldn't let them in to see her, they had her back and Teddy made a big sacrifice by selling two pairs of his 2014 Jordans that were worth over $500 to get together bail and commissary money for her.
6. Sky's makeshift jail was a desert hell
We learned that the jail that Sky was placed into was more like a tent city. It was in Maricopa County and it was more like a concentration camp. Jail officials used tents that were surplus items from the army from the Korean War. Temperatures rose to up to 145 degrees. Sky had to serve two months in the outdoor prison.
7. He birth name is not Sky Days
Sky Days discovered that her real name is actually different than the name that her family had given her. Her birth name is really Jo Keita. She discovered this when she attempted to get a passport. She typically goes by the name Jakeita Days, which is similar to Jo Keita.
8. Sky is really into plastic surgery
Sky shared the fact that she loves to get plastic surgery. She loves her body and making what she considers to be improvements to her appearance. She doesn't mind having all of these procedures done if it is going to give her the look that makes her happy. From what we can tell, she's already gorgeous but Sky won't settle for less than perfection.
9. She's not afraid to let it all hang out
Sky doesn't hold back in her role on the television series "Black Ink Atlanta." She freely shares her anger, her happiness and her opinions on the show. She's made some significant contributions by just being herself and letting it all hang out so to speak. She's also not afraid to show a lot of skin on the show.
10. She was just a teen when she had her sons
Sky gets a lot of negative press now for allowing her two sons to be adopted. What many fans don't stop to realize is that Sky herself was just a teenager when she had them. She really didn't have any way to take care of her two toddlers and she was faced with making the decision of what was going to be best for them in the long run. Allowing the boys to be adopted meant that they would have the things in life that she was not able to give them at the time.
Tell us what's wrong with this post? How could we improve it? :)
Let us improve this post!