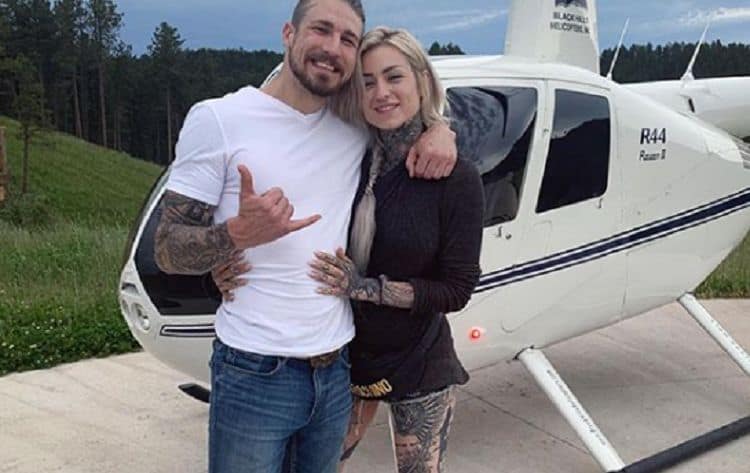 If you're interested in tattoos, you might be familiar with Ryan Ashley, often referred to as Ryan Ashley Malarkey. She definitely knows a thing or two about tattoos and as a matter of fact, she is covered in them from head to toe. There are quite a few things about her that are fairly unique and you can learn about 10 of them by reading below.
1. She lives and works in Kingston, Pennsylvania
Although she didn't grow up in this town, she did grow up nearby and she's remained in Pennsylvania most of her life. These days, she's trying to settle down and even has a business of her own so she's not in the mood to bounce around from one place to another. Eventually, she decided to settle on Kingston and call it home.
2. People first became familiar with her on Ink Masters
She's been doing tattoos for many years but it wasn't until she appeared on Ink Masters that the general public started having an opportunity to see who she was and what she's all about, not to mention how skilled she is at giving people tattoos.
3. She attended college at the Fashion Institute of Technology
She's always had an interest in fashion, she just chooses to express it a little differently. She wanted to learn as much as she could about the different ways that people use fashion to create a certain persona, so she eventually made the decision to attend the Fashion Institute of Technology and get her degree.
4. She has a degree in fashion design
While she was there, she got a degree in fashion design. She seems to be a natural at it and made a number of unique items that you definitely won't find at some run-of-the-mill store.
5. She co-owns a tattoo shop
She also has her own tattoo shop, which she owns with a friend. When she's not being a reality television star, doing a magazine shoot or designing an article of clothing, you can usually find her their getting ready to add a new tattoo for someone.
6. She was considered the top student in her class
She didn't just attend college and get a degree in fashion design, she completely dominated her class. By the time it was all said and done, she was easily considered the top student in her entire class and was frequently lauded for being able to design something unique that just didn't quite seem to be within the realm of possibility for most of the other students.
7. She only does tattoos by appointment
A lot of tattoo studios allow walk-ins but this is not something you will find at her shop. She prefers to do them by appointment only because she likes to be prepared and have an opportunity to not only prepare physically, but also mentally. She feels that she just isn't able to do this when someone walks in and wants a tattoo on the spot so she prefers to know when they will be there and what they want.
8. She specializes in black and grey tattoos
She does a specific type of tattoo work called black and grey tattoos. The name is pretty self-explanatory but it does produce a unique look and it's one that she's very good at creating.
9. She prefers to give people tattoos when they don't have a lot of distractions in the shop
When she's giving somebody a tattoo, she's doing what she does best, creating something completely unique that no one else has. Obviously, she is like most artists in the sense that she doesn't like to be interrupted when she's doing this. As opposed to having a lot of distractions in her shop, she far prefers to be the only person in her section and she likes to have one appointment at a time, with plenty of time to create and do what she needs to do. She has a laser-like focus when she's working and she doesn't like having that focus broken by someone walking in unannounced or someone else coming into the shop needing something. Even a ringing phone can bother her so she has a tendency to silence the phone and simply let it go to voicemail so she can check her messages later.
10. She believes that it's all about expressing oneself
She loves having the opportunity to express herself and giving others that same chance. She doesn't care if it's about clothing, accessories or tattoos, it's all about letting other people know who you are.
Tell us what's wrong with this post? How could we improve it? :)
Let us improve this post!