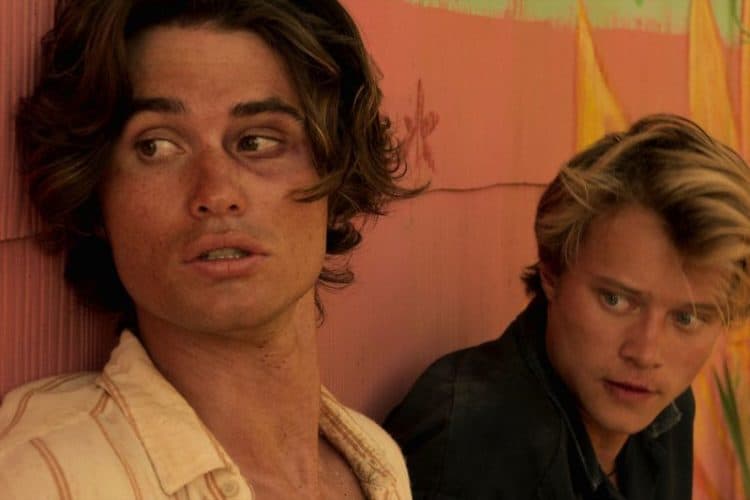 In just three years, Rudy Pankow went from making his professional acting debut to being the start of a Netflix series. Rudy plays the role of JJ in the new series, Outer Banks and many viewers are already intrigued. The talented young actor has only made three other TV appearances (one of which was also a Netflix series), but you'd never be able to tell. Pankow brings a level of confidence to the screen that can be compared with actors who have been working in the business for years. Continue reading for 10 things you didn't know about Rudy Pankow.
1. He Is From Alaska
Rudy Pankow was born and raised in a small town in Alaska along with his brothers. Growing up in Alaska probably has a lot of perks, but one of the downsides is that there isn't much to do most of the time. The fact that his character, JJ, was also born and raised in a small town is one of the things that attracted him to the role on Outer Banks.
2. He Is A Certified Kayak Guide
When he isn't busy working, one of Rudy's favorite things to do is be outside and enjoy the fresh air. He also loves to spend time by the water. His love for both of these things inspired him to become a certified kayak guide.
3. He Was Planning On Going To Culinary School
Rudy's path to acting wasn't a straight shot. He actually almost ended up working in a completely different industry. Before acting, his plan was to go to culinary school in Rhode Island and learn how to be a chef. However, he changed his mine and decided that he wanted to pursue acting instead.
4. How Showers In The Dark
Rudy has admitted that he enjoys taking showers in the dark, with nothing but a candle for light. Most scary movie fans would agree that this is a pretty bold move. We all know that if there's one place you can never let your guard down, it's the shower.
5. He Traveled To Japan
Outside of acting, Rudy Pankow has had some cool experiences. During high school, studied Japanese which resulted in the opportunity to travel to Japan as part of a foreign exchange student program. He also studied French and can speak a bit of Spanish.
6. He Moved To L.A. Right After High School
As much as Rudy loves Alaska, he knew he would have to move in order to pursue his dreams of becoming an actor. He felt that if he was going to give himself the best shot an an acting career, he needed to make the move while he was still young. Immediately after high school, he decided to move to Los Angeles. Shortly after arriving, he began working with an acting couch.
7. He Plays The Harmonica
Rudy isn't just a fan of music, he's also a talented musician himself. He grew up in a household where his parents instilled in him the importance of music and learning how to play instruments. In addition to playing the harmonica, he also plays the drums, guitar, and piano. He learned how to play the harmonica after he moved to Los Angeles. Rudy says that he's not quite at the professional level of harmonica playing, but he still loves to play and practice.
8. He Used To Play Soccer
When Rudy was still living in Alaska, he was involved in several local sports. He was a member of the soccer and cross country teams at Ketchikan High School. He may not have time for organized sports anymore, but he still likes to stay as active as possible. Rudy likes to go swimming, hiking, and snowboarding with his friends.
9. He Was In A Music Video
In 2018, Rudy was featured in the music video for the song "Thought Contagion" by Muse. Since it's release, the video has racked up nearly 22 million views on YouTube. The band Muse is best-known for songs like "Butterflies and Hurricanes" and "Supermassive Black Hole". Through Muse's career, the bank has won several awards including two Grammys.
10. He Enjoys Taking Pictures
Rudy Pankow's Instagram isn't just full of selfies. He also also posted some pictures that show he has an innate talent for taking pictures and recording videos. He hasn't yet expressed in interest in possibly wanting to direct down the line, but it looks like he might be a natural.
Tell us what's wrong with this post? How could we improve it? :)
Let us improve this post!