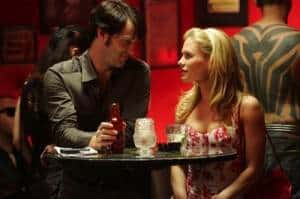 True Blood very quickly became one of HBO's most successful series surprising no-one with the early second and third season renewals, and this Sunday, June 13th at 9:00pm ET should be a record night for this decadent Louisiana gothic. The True Blood phenomenon has continued to grow as evidenced by the strong video sales and voracious online fandom, and HBO upped their game this season with a persistent and well-designed online '˜warm up'campaign that offered tantalizing behind the scenes vids, mobisodes, and a cheeky series of posters kicking off months in advance of the season 3 premiere of True Blood.
Disclaimer: While I was hooked from episode one of True Blood's first season, I became quickly bored with the misdirection, side quests, and '˜orgy of the week'mentality of Season Two. I liked it a lot, but I found the magic and wonder of season one to be a fresh spin on the Vampire genre, transforming the blood sucking beasties from their gloomy archetype to creatures of fantasy and odd beauty. Season two of True Blood still has a place on honor on my video shelf, but I feel a bit odd sitting it next to the vastly superior first season. That said…
So far, I've screened three episodes of True Blood's third season. Don't worry, I'm not going to spoil you, even though I'm dying to. It's not that I want to ruin the surprises, it's just that what happens over these first three episodes is so delectable, so stunning, so creative, and so well done that after you have seen it you just want to corner a fellow True Blood fan and yack their ear off until sunrise. I will warn the spoilerphobes that by virtue of the title alone, some minor spoilers lay ahead. You have been warned.
The first episode of True Blood's third season is titled 'Pack of Wolves.'The term Wolf Pack has all kinds of metaphorical uses, generally describing a ruthlessly motivated gang of folk, in the world of True Blood, as you might imagine, it quite literally refers to a Wolf Pack — one with a supernatural angle: werewolves. If you are thinking True Blood is pulling in the man dog lore as some half-cocked means of spicing up the mythology, get that idea out of your head right now. True Blood's werewolves have an intriguing mythology and a purpose that remains somewhat shadowy in the early moments of the season, but quickly explodes into an engrossing mystery as the season trails on.

True Blood's second season ended with multiple cliffhangers: Bill (Stephen Moyer) disappears shortly after asking Sookie (Anna Paquin) to marry him; Sam Merlotte (Sam Trammell) is closing on his birth parents; Jason Stackhouse (Ryan Kwanten) has just killed Tara's (Rutina Wesley) boyfriend Eggs after incorrectly assuming he was going to attack Andy Bellefleur (Chris Bauer); Eric (Alexander Skarsgard) has been revealed as a key figure, next to the Queen, in the illegal sale of Vampire blood; and the rest of Bon Temps has begun the process of returning their lives to normal after the rein of the Maenad.
Incredibly enough, 'Pack of Wolves'not only services each and every one of these threads, it does so in a way that is entirely fulfilling and won't leave fans of any particular thread in the skein feeling neglected. The writing here is as solid as anything else on TV, and by virtue of the way it manages multiple dramatic arcs without fumbling a single ball I'd go as far as to say Emmy Caliber. True Blood quickly rewires your mind to the adrenaline feed severed last season, and hooks up a couple more ampules for good measure.
Considering that the ensemble is widely separated throughout the first three episodes, the overarching elements have a sense of vastness that some fans might have trouble with. Watching 'Pack of Wolves'I realized that True Blood was very lacking in the recap department. At times my mind struggled a bit to reorient with the various plot lines, but once the episode was in full swing it was like sliding back into a familiar grave. If you were turned off by Season Two's obsession with Caligula-like depravity rest easy; so far True Blood seems more back in touch with its irresistible otherworldly kink and frank sexual humor. If you actually liked that sort of thing, the good news is True Blood is still as perverted as ever — just with less group sex.
In a broader sense, True Blood's third season so far feels much like a fine tuned and complex adventure mystery, with all of True Blood's signature naughtiness intact and the radiant sheen of magic and fantasy as captivating as always.