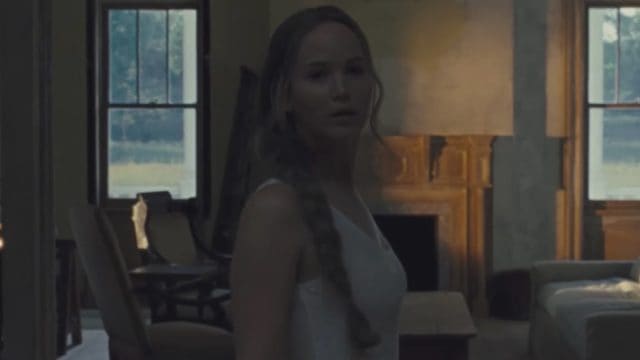 Stuff is about to go to a whole new level with the upcoming Mother! starring Jennifer Lawrence and Javier Bardem. Horror movies on the whole have given us a lot in the trailer most times, but Mother! is giving us almost nothing, and it's all the creepier for it. Those that want that shocking pulse of action or evil on the screen so that they can understand just how bad things are going to get might be disappointed on the outset with this film at first, but when you really listen to the trailer you can tell that things are about to get a little crazy.
It's already been surmised from the title that the film has something to do with a mother, either Lawrence's mother or the fact that she might be trying to become a mother or something equally as diabolical and otherworldly. Keep this in mind after all, she is walking around an empty home, and voices are being heard in the background that allow you to think that something has happened or something is going to happen. Those voices, in which Lawrence contributes, are heard to be getting a little more testy and even panicked as the trailer goes on. As she finally begins to pace faster and faster you hear the conflict and terror in her voice as Lawrence attempts to get the strangers to leave her home.
Something uniquely creepy and horrible is about to be revealed.
The term "mother" can refer to so many things. If you look at the current movie posters that are out you might see a few things that will shock and even frighten you. But there are hints as to what the movie could actually be about.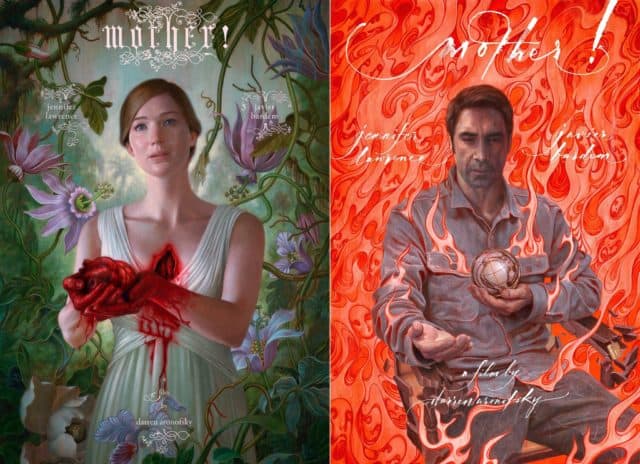 Look at the left picture. Aside from Jennifer Lawrence holding her bleeding heart that has been cut from her chest you also see a rapt, almost fawning look on her face. Perhaps she is the one that attempting to become the mother? Or maybe she's the one making the sacrifice to her mother, or A mother? It's hard to tell at the moment but if you look at the right hand picture of Javier Bardem you can see that he's holding his hand out for something even as the chair breaks around him. Look into the flames and you'll see faces contorted in agony as though these are the fires of hell waiting to claim him.
It's all extremely spooky and it's all quite disturbing but it does have a point, we just need to find out what it is. Some believe that there is a type of cult that is being invited into the home that Lawrence is unaware of but that her father knows very well. Perhaps they are in some way colluding to get her pregnant, or to bring someone back to life, hence the heart cut from the chest, or something equally diabolical but much stranger. There is so much room for theory and conjecture but nothing concrete as of yet.
Save