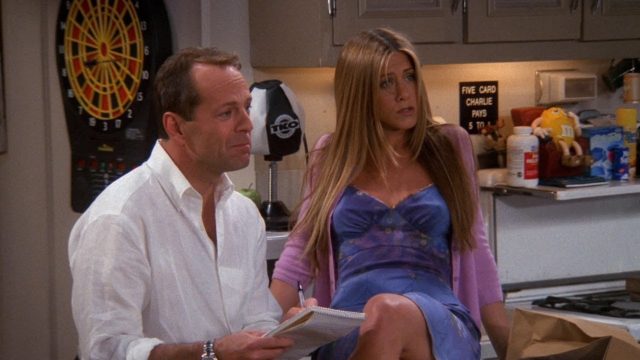 It has been a long time since Friends, so a lot of people might not recall that Bruce Willis showed up in three episodes of Season 6 of the sitcom. To be exact, he showed up as a character named Paul Stevens, who happened to have been the father of Elizabeth Stevens, who was Ross's girlfriend in Season 6. Since Ross was Elizabeth's professor, Paul was less than pleased by their relationship, which was not helped by the fact that he happened to be rather over-protective of his daughter.
Over the course of the three episodes, a fair amount of information was revealed about Paul as well as the reasons why he was so over-protective of his daughter. Partly, this was because Paul had a rather unpleasant childhood, which he revealed to Rachael while crying about the whole mess. Partly, this was because Paul had raised Elizabeth more or less on his own because his wife had died when Elizabeth was still a child. Combined with the implication that Paul's sister had died as well, his motivations become obvious. In the end, Paul accepted Ross and Elizabeth's relationship in a rather begrudging manner, though as it turned out, he was also a bit of a hypocrite by dating Rachael for a time. After all, while their relationship lacked the teacher-student element, they were similar in that they had a significant gulf in their respective ages.
How Was Bruce Willis Convinced to Show Up in Friends?
It was not uncommon for the most famous movie stars to show up in 90s sitcoms. In fact, Friends had had a number of famous guest stars before Bruce Willis made his appearance in it. However, there is an interesting story about how he was convinced to do so, which was not as simple and straightforward as him being asked to do so.
The story goes that Bruce Willis and Matthew Perry met on The Whole Nine Yards, in which Bruce Willis played a contract killer named Jimmy the Tulip and Matthew Perry played a Quebec dentist stuck in an awful marriage. Supposedly, Bruce Willis was skeptical about the movie's chances at the box office, whereas Matthew Perry was much more positive about the movie. As a result, they made a bet in which Bruce Willis would show up on Friends if The Whole Nine Yards was number one at the box office, though it is unknown what Matthew Perry put up in exchange. Regardless, while the movie met with a mixed response from the movie critics, it managed to do quite well from a commercial perspective with $106 million in earnings on a $41.3 million budget.
How Was Bruce Willis's Performance Regarded?
Amusingly, Bruce Willis actually won an Emmy Award for his performance as Paul Stevens on Friends, which suggests that there were a lot of people who liked his guest character in spite of the other people out there who have been much more ambivalent about the matter. Furthermore, it should be noted that he donated the fees that he had earned for the guest character to five charities, which speaks well of him.
Save
Tell us what's wrong with this post? How could we improve it? :)
Let us improve this post!