After almost 2 months, Raising Hope is finally back. I can honestly say that the past months have been less funny without new episodes and it's great to finally have the Chance family back on the air. And needless to say, this week's return proved to be one of the strongest episodes to date.
The one thing I love about Raising Hope is its use of one central story. This week centered on Jimmy's (Lucas Neff) trial and error in making new friends. The storyline was entertaining the whole way through. Starting with Maw Maw (Cloris Leachman) fixing the car, Hope never left me without a smile. The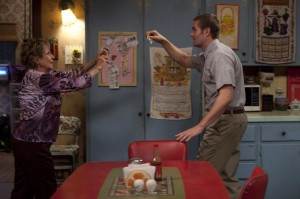 writers seem to always think of new and clever ways for any single member of the Chance family to shine in comedy at any given moment in the episode.
Speaking of the writing, I really have to give notice to the writers of Raising Hope. One scene in particular really hit me hard with laughter. When both Jimmy and Justin's (Brandon T. Jackson) families are eating dinner, the jumping from family to family talk was not only well written but in fact edited nicely. While the semi-college humor of Burt (Garret Dillahunt) and Donovan's (Phill Lewis) stories running together is looked at as low brow by some, I laughed until I cried. The scene has shown me that Dillahunt fits better in a show as a dim-witted Dad than in a show as a psycho mass murderer (sorry Burn Notice fans).
Raising Hope always seems to surprise with the comedy it shows. It's nice to see that at least one of the two comedies that Fox premiered last fall is here to stay for quite some time. A
Favorite Moments and Quotes:
'He went through one of those phases where he grew one of those breads without a moustache. Gross.'— Virginia (Martha Plimpton) talking about Justin
Burt and Jimmy locking Maw Maw in her room by leading her with Taffy
'I'll see anything that doesn't have Matthew McConaughey'— Sabrina (Shannon Woodward) telling Justin about movies she'll see
'What year is it?'(Speaking about the wine)
'2011. That Fancy watch doesn't have the date does it.'— Jimmy unknowingly thinks Donovan is talking about the actual date
How do you feel about Raising Hope? Is it the funniest new comedy or just another run of the mill sitcom? Sound off in our comment section below.