The Queen's Gambit is 2020 Netflix miniseries featuring Anya Taylor-Joy as Beth Harmon. The series, which was a star making vehicle for Taylor-Joy, followed the life of the orphaned Beth Harmon in her pursuit of becoming the world's greatest chess player. The series saw Beth Harmon overcome drug addiction and alcoholism, while facing several chess grandmasters in tournaments in her journey to greatness. The miniseries will go on to be nominated for 11 Primetime Emmy Awards and won the Golden Globes for Best Limited Series or Television Film. Taylor-Joy, who became a household name after her lead role in the series, also took the Golden Globe for Best Actress in a Miniseries or Limited Film. Here's a recap of the Queen's Gambit Episode 1, where the journey all began.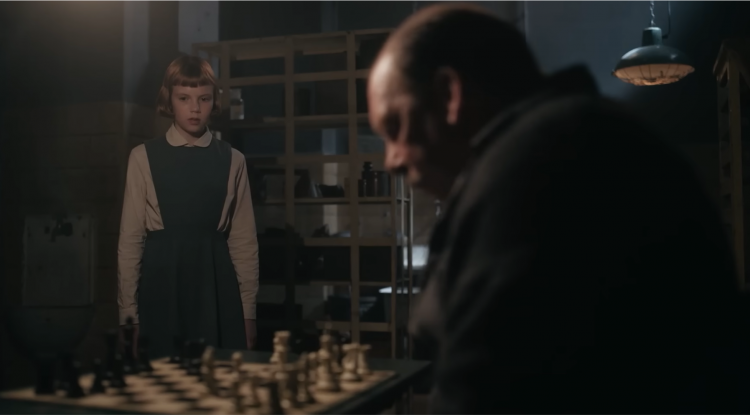 How It All Began For Beth Harmon
The episode began with Beth Harmon rushing to get to a game where she would be playing against Vasily Borgov. In a flashback, it was shown that Beth's parents were involved in a car accident where she lost her mom. Her father, on the other hand, abandoned her family, causing her to be alone. She was then sent to an orphanage where she was raised. Beth was given new clothes and a haircut, as well as daily doses of vitamins and tranquilizer pills – to which she would become addicted later on. She became friends with Jolene, a who kind, enigmatic but never met a curse word she didn't like.
One day, while dusting erasers in the basement, she notices the janitor, Mr. Shaibel, playing chess all by himself. While it piqued her curiosity, she did not talk to him. Later that night, she took her tranquilizer pills, which caused her to hallucinate a chessboard in the ceiling. As days go by, she would go to the basement to see Mr. Shaibel, and the hallucinatory chessboard began to have more details such as pieces, which would then move, where she would practice by herself. Finally, when she could not stand it any longer and talked to the janitor to ask him to teach her chess. The janitor declined because she was a girl. However, when she impressed Mr. Shaibel with her knowledge of chess mechanics, he let her play the game with him. Despite this, Beth lost to a Scholar's Mate. When Beth asked for an explanation to how she lost, the janitor refused, she insulted him which enraged Mr. Shaibel, who locked the basement so that she would not see him the next day.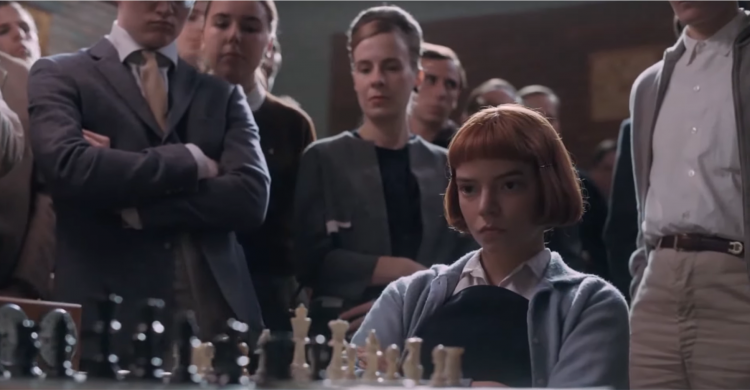 Her Rise to Chess Fame
The next day, when Beth tried to apologize to Mr Shaibel, she found out that the basement was unlocked and that the janitor had already forgiven her. In their next game, Mr. Shaibel lost. As time went by, Mr. Shaibel thought her different chess openings, positions, and tactics. On his second loss, he gave her a gift, a book titled Modern Chess Openings which she could study on her own. He then taught her chess notation to make her understand the book.
One day, during her visit to Mr. Shaibel, she found out that he was with a representative from a local chess club, Mr. Ganz. When she played chess with Mr. Ganz, the latter lost, and was amazed at the young girl's skill. Later, she was summoned to the headmistress' office because Mr. Ganz had proposed that he would take Beth to a local chess club to play a simultaneous exhibition. After some thinking, the headmistress agreed.
Before competing in the chess club, she was nervous because she no longer had her tranquilizer pills to compose herself. At the last minute, Jolene came to give her some. She was met with 12 school boys, who were the best in the school. At first, they were confused about why there was a girl in there, and they assumed a girl could not win. However, they all lost, even their best player, Charles Levy.
However, Beth still felt empty without her pills, so in desperation, she snuck out of their movie viewing to steal some pills from the orphanage pharmacy. She then tried to escape with the jar. Unfortunately, she overdosed, making her pass out with the jar in front of everyone.