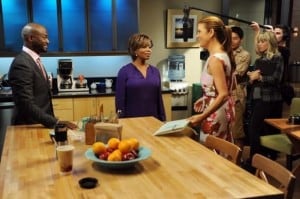 Private Practice went by the way of reality TV last night with an episode revolving around Dr. Sam Bennett.
The long awaited 'documentary' episode of the Grey's spinoff aired last night, and was an interesting mix of 'documentary' and standard episode. Unlike this week's Castle, Private Practice combined the two production styles, giving an interesting take on the raw feelings of these characters.
So why the documentary style shoot? A patient of Sam's set him up to film a pilot for his own reality TV program.
The episode opened simply, just Sam eating his breakfast as usual, until he's told to reset and we're actually introduced to the camera crew. Though nameless, the crew is present throughout the episode and serves to strip Sam down to his most honest self, and provides a medium for his co-workers confessions.
Of course, the crew, and thus the episode, follows Sam through his routine. First, a tour of the office: an obviously staged introduction with Sheldon, an admission from Cooper that he doesn't see the value in reality TV, and a classic threat from Charlotte. These first moments with the crew in the practice bring up the probing aspect of the cameras — the dramatic and salacious stories seem to be much more interesting to them, as they ask about Sam's relationship with Addison and focus in on Violet crying in Pete's office.
Things become even more complicated for Sam with the arrival of his mother (Alfre Woodard). It become apparent very early on that Sam has a lot of respect for his mother, admiration as he tells the camera. He even stresses that he dislikes the term "single mom," because it implies that she was something less than what he needed growing up. Mama Bennett is not here to just visit her son though, but to have him help out her boss, Raymond, who has been having heart troubles. Convenient that her son is a top cardio surgeon, isn't it?
Reality teleivision aches for conflict and drama – something Sam soon learns. In the middle of a party "thrown" to appease the producers of his show, Raymond passes out, cuing frenzied reactions from what is essentially a party full of doctors. Cut to the hospital where Sam takes the man back for emergency surgery after recussitating him, and the cameras proceed to get in his face, desperate for footage of the potentially dying man and Sam doing what he's known for. However, there are only a few moments of surgery seen before the show flips back to documentary style shooting, interviewing Sam about what went wrong in the surgery.
But did Raymond die or not?
He didn't. But he's not doing well, either.
You may be asking – "why the focus on this patient?" Well, when Sam explains that Raymond needs a new lung, or tissue from a living donor, the case becomes an issue of what is realistic – Raymond and his wife have no family….until Sam's mother, frantic and scared, admits that Raymond is Sam's father, and he might be able to save his life. This stunning confession rightly leads into Sam's anger with his mother, which he thus takes out on the camera crew when they, yet again, get in his face about the issue – and this is after they've already interrogated him about his mother's possible – actual – affair with Raymond.
Almost surprisingly, Sam turns to Addison to vent his feelings. The two have been friends for decades, spurring the very comforting chat between them. Addison helps to reassure Sam that he is the man he is regardless of who his father may be. Sam seems determined to retain his fatherless lifestyle, yet when Addison suggests maybe having a relationship with Raymond, he seems slightly distraught by the fact that he is dying. So what is he going to do, the camera crew asks? Is he going to be a donor for Raymond?
He doesn't know. Especially after the very moving scene with his mother (where Alfre Woodard totally kills it!) She explains to her son that there is really no explanation for what happened. Several apologies and tears later, there's no real resolution to how Sam feels about his mother, but he knows the truth, including the fact that his first toy stethoscope was actually a gift from his biological father.
Sam does end up approaching Raymond. This time his anger is more subdued, more of a forced understanding of what happened all those years ago. He tells the man, he is who he is because of his mother, and if Raymond asks, he will donate part of his lung because that is the kind of man his mother raised. Somewhat sadly, Raymond ultimately turns down the offer, instead opting to go home to live out the rest of his days. But the two do share a touching scene as Raymond is leaving the hospital, where Sam thanks the man for that toy stethoscope.
About ninety percent of this episode revolved strictly around Sam, which is exactly what Shonda hinted at when she posed the idea of different episodes focusing on different characters. Obviously, it takes a little adjusting as everyone else is pushed to the peripheral, but the episode was a lot better than I expected.
By integrating reality show questioning Private Practice exposed all of these characters, not just Sam. The questions showed their insecurities – Cooper's nerves over raising triplets – their strength and determination – Violet's fight to find Sarah Nelson, Jake's commitment to quality care – and their admiration for their friend – Amelia ends up caving to the pressure and allows herself to be interviewed, where she shares her respect for Sam, for all the lives that he has saved. These personal testimonies from Sam's coworkers help to show that they are a family, despite all the drama that wee see week-to-week (what the reality show was trying to capture), and I happened to really like this episode.
I also didn't realize until about halfway through the episode that we've never really known much about Sam beyond what was necessary to move the plot.
I still can't really figure out where the series is going to end come episode 13. Is Charlotte actually going to have the triplets? Will Amelia accept Dr. Peterson, lest date him? Will Addison leave the show happy?
All pressing questions that will hopefully be answered in the coming episodes. Though I would advise you now to prepare yourselves for an emotional roller coaster – especially after catching next week's promo.
Watch it here:
http://youtube.com/watch?v=rhZMs_T94EM
Private Practice airs Tuesdays at 10/9c on ABC.
Tell us what's wrong with this post? How could we improve it? :)
Let us improve this post!