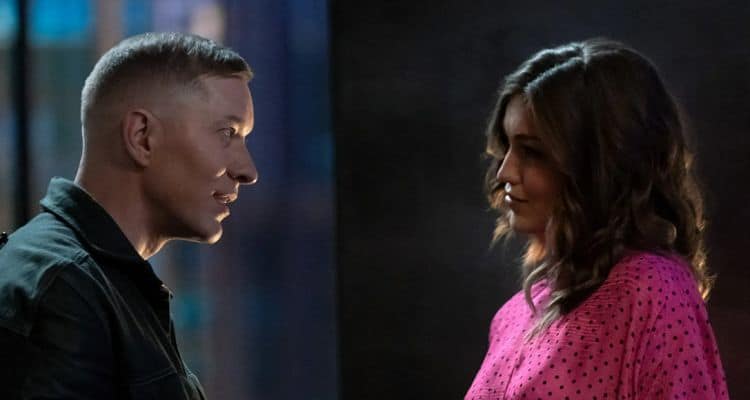 Previously on Power Book IV: Force Season 1, Episode 6 CBI and Victor Flynn cut ties with Tommy after they buried their closest fallen soldiers after taking over the Serbian's territory. Tommy and Claudia rolled out Dahlia and everything goes smoothly. Claudia murders a powerful family friend after she tried to take back her deal on him distributing Dahlia. The Serbs sent a message to Vic by shooting at him and Gloria outside of her bar. Power Book IV Force, Season 1, Episode 7 explores the ins and outs of rolling out Dahlia on the streets. As expected people fell. in love with the beautiful sensation on the first hit. Tommy has big dreams for the drug and is wants to take it to all new heights. That would mean reducing its price, altering jr's composition. Claudia has other dreams. She wants Dahlia to be a designer drug exclusive to a higher caliber of people.
If it's one thing we know about Tommy is that he always gets his way, even if it means reporting to menacing tactics. Despite his stubbornness Egsn knows exactly what he's doing. He reminds Liliana his moving drugs was the only thing be's ever been good at. He spent years under Ghost's shadow for years, now it's his time. Lauren the genius chemist that created Dahlia is resistant about changing the chemical composition if Dahlia as they risking losing it's a signature buzz. Also, by manipulating the drug the possibility of someone elsebeing able to cut it. Tommy won't take no for any answer and forces Lauren do it.
We spend most of the episode with Lauren and Liliana whose job was to watch Lauren and make sure she didn't leave. Meanwhile, Episode 7 brings in trouble for Diamond through a beautiful reporter that low-key has him hooked. Diamond is no spring chicken you would think he would be a little a bit more cautious but it has been 15 years since he's been with a woman. The reporter has been assigned to write a story on the former boxing champion and highlight his current crimes to send him back to jail for good. Jenand on the other hand won't rest until Tommy is dead. For some reason, the only person he can trust to get the job done is D-Mac, who has refuses once he realizes that Tommy is connected to his pops.
D-Mac even goes as far as to tell Tommy to watch his back and have his gun in him at all times because someone wants his dead. In every episode, we get closer and closer to the possibility of D-Mac meeting his father. An explosive fight with Marshall one of the members of CBI, D-Mac finds himself in the outside looking in. D-Mac is a lost soul, Hopefully, at some point, we get to see him rock out with JP and Tommy. The teen could use some solid men his life that truly has his back.
JP insists on being part of Tommy's business to make some extra money. But Tommy won't let him anywhere near the game. He would rather give his brother money for anything that he needs but JP doesn't want to be anybody's charity case. Tommy has lost everyone he has ever loved, including Late due to his business. JP is the only family he has left and he's determined to protect him at all costs even if it means distancing himself from him. Trust an everything in the business and Claudia jeopardized that when she tried to bring Dahlia to some random goons. We saw the old Tommy again when he killed the two guys in cold blood without hesitation. Tommy told Claudia to get rid of the bodies.
Claudia apologized to Tommy for trying to make deals without him on the side and promised her that it would happen again. Tommy accepted her apology and later on Liliani gave him some good advice. Tommy needed to be more patient. Anything worth having was definitely worth waiting for. He needed to give Lauren the time she needed to recreate Dahlia without breathing down her neck and threatening her every five minutes.
In the end, Lauren was successful at recreating the drug. Tommy relieved her from her duties but the doctor decided to stay. Although she had initially been blackmailed into the position, it seems like she was slowly but surely finding her place in the group. They'll tried the new dose of Dahlia and floated off into heaven. Ironically, Diamond approached Tommy about the new drug Dahlia he had heard about. Tommy feigned ignorance. It wouldn't be long before the Vic and Diamond came looking to work with him again.