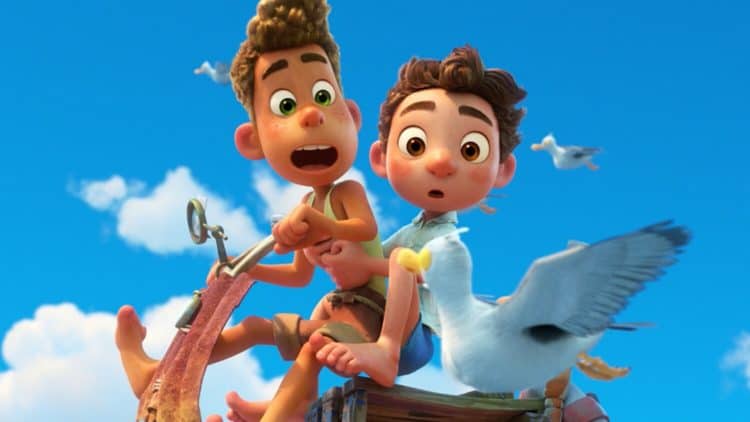 One of the most important parts to remember about Honest Trailers is that, like many similar sites, it's not meant to be taken seriously since it's bound to poke holes in our favorite movies just because, well, that's the point of the site. With Luca being on the docket this time it's not hard to see how it might be compared to Call Me By Your Name since the premise isn't too far away, apart from the fact that one is live-action and Luca is an animated feature. Plus, there's not as much of a creepy vibe in Luca as there is in the other movie, though that's a matter of opinion really. But if one really wants to get into it, the idea of Luca is very similar to a few movies since there are elements of The Little Mermaid in there as well. Seeing this as a movie about friendship and accepting people for who they are is definitely one of the main points, but getting past that there does appear to be a few things that people might want to comment on, such as the idea of stereotyping Italians by their speech and their lifestyles.
The point of a movie like Luca is to focus on the positives and the negatives that run opposite of one another, while at the same time ignoring much of the backdrop in order to focus on the main story. But while it's not usually a huge problem, people these days are finding offense with just about everything possible for one reason or another. But in Luca, the adherence to the main story is likely the smartest to focus on since otherwise one might get bogged down with the numerous details they'd want to focus on instead. To be fair, Luca is a touching story about two friends that come from an entirely different world than the one they want to exist in, and it's easy to see how people would feel about trying to accept those that are so different from them.
With that being said one can't help but wonder if the studio has a carousel of ideas that they spin every now and then in order to get the main theme before they start fleshing it out with a new idea. The truth is that many upon many movies have used many similar themes throughout the years and if one is a dyed-in-the-wool cynic then they'll likely find little difference between a lot of stories other than the artwork and possibly a few ideas that revolve around the main plot. There are plenty of times when it's easier for kids to be entertained by movies such as Luca since they have less life experience and much of what kids see up to a certain age is still brand new to them, meaning it's exciting and can possibly keep them occupied for a while. But after a while even kids might get bored with the same ideas that are repeated over and over, and like it or not, Luca is a movie whose idea has been repeated a few times in the history of cinema.
That doesn't make it a bad movie by any means, it simply means that it's a bit predictable and definitely works off of a stereotype or two that some people would gladly call out if they had the chance. There's also the idea that no matter how different the characters are, they're bound to be stuck in one situation or another that people have already seen a dozen times and can predict quite easily. Finding ways to amaze the audience can be exceedingly simple or insanely tough depending on the story and how it's presented. Luca is a pretty simple story, it's the tale of two friends that want to live above the water's surface and experience the world as humans do, but don't always have that chance since they also have to be who they are. The main theme of Luca is enough to entertain and inform the audience and possibly get an emotional response from them, which is part of the goal after all. In that endeavor, one could say that the movie succeeds.
At the end of the day, one is going to watch Luca or not based on their own personal desires since Honest Trailers and many similar sites are there to offer the same kind of entertainment and possibly inform people of their own opinion of the movie. No matter what anyone thinks, the movies that draw the most attention are either some of the best and brightest simply because they get people thinking or cause them to feel something, or they're the worst and are bound to be ridiculed. It's up to those that watch to make that personal decision.
Tell us what's wrong with this post? How could we improve it? :)
Let us improve this post!