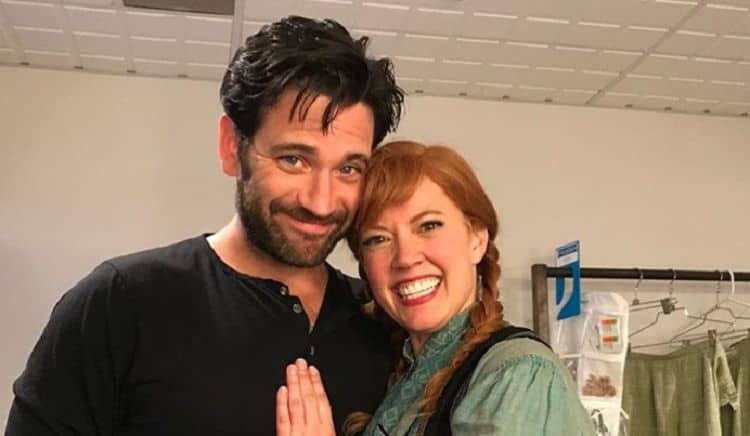 Transitioning between stage and television is not an easy feat to accomplish, and there are definitely far more unsuccessful attempts than there are successful ones. However, someone like Patti Murin is the outlier in this equation. Patti Murin is an American actress, singer, and dancer that continuously shift between stage and screen seamlessly. You might know her as Nina Shore on Chicago Med, or you might recognize her as Princess Anna on the Broadway play Frozen–based on the popular Disney film of the same title. If you have always wondered who exactly Patti Murin is, here are 10 facts about her that you probably didn't know.
1. She's from New York
That might not be a surprise to anyone, but Murin has always been close to the thing she loves the most. 39-year old Murin was born and raised in Hopewell Junction, New York. She ended up staying in New York for college and attended Syracuse University, majoring in musical theatre. Entering college, she already knew what her dream career would be like, and college was just another step towards it.
2. She was a cheerleader
It's hard to imagine someone like Murin being a cheerleader, but cheerleading was actually a big part of her life. She was a cheerleader in high school, and she actually continued cheerleading in college. Murin stated in an interview once that cheerleading in college was unbelievably difficult. The workouts they used to do were designed to make them all incredibly strong. While she liked cheerleading, Murin only used it as a way to perform, since she couldn't perform on stage as a freshman. As soon as she became a sophomore, musical theater took priority over cheerleading.
3. She got her start in Florida
Murin spent some time in regional theater before she made it into Broadway. She played the role of Polly in a romantic comedy musical called Crazy for You, which was based out of Ft. Lauderdale, Florida. The actress gained a considerable amount of experience during that time, working with source material that was written by Ken Ludwig and with music from the great Gershwin brothers.
4. She's played a different princess before Princess Anna
Murin hit it big time when she landed the role of Princess Anna in the Broadway remake of the screen musical. However, that wasn't Murin's first time playing a Disney princess. While Murin was still working Off-Broadway, she had the opportunity to play Belle on a national tour of the popular Beauty and the Beast musical. Murin claimed that Belle was one of her dream roles, and she had wanted to play that ever since she could remember.
5. She was Lysistrata Jones
Perhaps Lysistrata was truly Murin's breakout role, and it's probably one of her most famous works to date. The play Lysistrata Jones had a successful run Off-Broadway before it opened on Broadway in December 2011. Murin was the first one to ever play the title role, and she took that role quite personally. There was a lot in the line for Murin at that point in her career. Playing the role of Lysistrata was either going to make or break her career. Lysistrata Jones turned out to be a hit, and the play is still one of Murin's best performances.
6. She can burp on cue
It's not something that Murin boasts about, but it's also a special skill that she actually has listed on her resume. According to Murin, she can burp on cue. You may find it weird to put on a resume, but it could definitely come in handy for a commercial that might need anyone to be able to burp as needed. In fact, it could come in handy anytime weird skills are needed altogether. It let casting directors know that Murin had other sets of skills besides the talent triple threat.
7. She's got a few good things on television
Apart from playing Nina Shore on Chicago Med–which she actually left for Broadway again–Murin has actually appeared on a few other things on television. Murin has guest-starred on Royal Pains and Chicago Fire. She's also starred in a few TV movies: Before We Made It (2012), Holiday for Heroes (2019), and Love on Iceland (2020).
8. She's married to Colin Donnell
Murin met Colin Donnell when they were doing the play Xanadutogether. Donnell is probably most recently known for playing Arrow's Tommy Merlyn. Their relationship had an on-and-off start before they got serious, but even then they knew that they were meant for each other. They eventually got engaged, and they got married on January 2015–just six months after their engagement. They recently just found out that they will be parents soon.
9. She's never won an award
Her resume is quite impressive. She's also pretty spectacular on stage. No matter these things, however, Murin has never won an award for in her career. She has been recognized and nominated three times so far–once for Lysistrata Jones and two other times for Frozen, but she hasn't had any luck with winning. Many people thought that she would win for Frozen eventually, but Murin's played the role of Princess Anna for the last time on February 2020.
10. She has a blog
At least she had a blog. She was actively maintaining it for a while, until she stopped writing. Murin's blog can still be seen online, but some of the most recent writing on there date back to 2017. It's a great way to get into her head, but not a lot of it is of real substance. You're probably better off just watching her perform. She's got a lot of energy both on and off the stage, so she's truly entertaining to watch. Her blog may not be for everyone. But if you're a Bachelor fan, you'd have that in common with Murin. She wrote quite a bit on The Bachelor on her blog. It wasn't her shining moment, but Murin has redeemed herself plenty of times over.